St Louis Rams: Tuesday's Rams News and Notes at Noon
June 5, 2012

Welcome to Tuesday's St. Louis Rams "News and Notes at Noon," the one stop locale for all major Rams headlines and other updates of interest for Rams Nation. 
Columnist Suggests Big Season Could Help Chances of Striking Long-Term Rams Agreement
Bryan Burwell of the St. Louis Post-Dispatch suggests here that a successful season by the Rams could help spur support and momentum for whatever public financing would be required for an upgraded Edward Jones Dome, if a deal is reached via arbitration and an actual public vote is taken to approve monies for that purpose. 
Burwell insists that by the end of the year it will be clear if the individuals negotiating for the city (including the St. Louis Convention and Visitors Commission) have the creativity and vision to find a way to keep the Rams here and whether or not Rams owner Stan Kroenke will be willing to chip in his own funds along with the NFL and the G4 fund. 
Most interestingly, perhaps, is that Burwell writes that he has been told by several well-informed sources that Kroenke actually desires that the CVC rejects any higher priced plans to upgrade the EJD due to a preference of ending up on a year-to-year lease beginning in 2015, a la the San Diego Chargers. 
You might ask, why would Kroenke possess this desire(if this is indeed true)? The answer is simple: enhanced leverage and additional options could then come into play.
I share my thoughts in that regard, analyze Burwell's piece and discuss the additional leverage and options that could come into play in this new piece.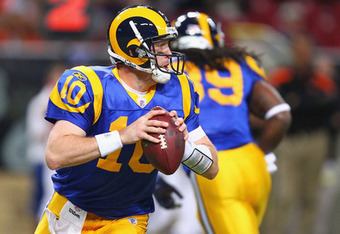 Rams Backup Quarterback Plan Analyzed by ESPN 
Mike Sando of ESPN suggests that the Rams backup quarterback plan inspires the least confidence of any team in the NFC West, as you can read here. 
Sando asserts that the Cardinals and Seahawks, in contrast, rank at the top of the division and shares reasoning for his beliefs for each team in the above-linked submission.
Which Rams Players Should Benefit Most From A Full Offseason? 
Ryan Van Bibber of Turf Show Times presents the players that he feels will benefit most from a full offseason in 2012 in this piece. Van Bibber's list is lengthy and I agree with several of the players named there. 
As most of you probably remember, the offseason was cut short last year to the ongoing collective bargaining negotiations that dragged through the majority of the summer. 
If I had to select one player that I feel will benefit most from a full offseason I would go with none other than quarterback Sam Bradford. 
Mike Karney and Other Former Rams To Participate In Broadcast Bootcamp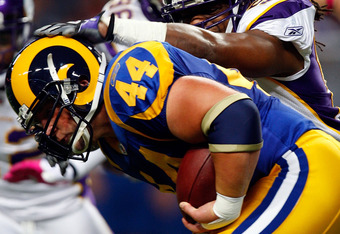 Ronald Martinez/Getty Images
According to a blog post from Nick Wagoner for stlouisrams.com, three former St. Louis players will be participating in the NFL's annual "Broadcast Bootcamp": safety Adam Archuleta (for the second consecutive year), linebacker Brady Poppinga and fullback Mike Karney.  
Other current and former NFL players to participate in the league event include David Anderson, Troy Brown, Nate Burleson and Patrick Crayton, among others.  
Directly from Wagoner's blog, regarding the upcoming event:  
The program, which runs from June 18-21, is directed by the NFL Player Engagement and NFL Broadcasting departments and covers a wide range of topics with instructors from each of the NFL's broadcast partners – CBS, ESPN, FOX, NBC, NFL Network, SiriusXM, Dial Global Radio, plus local radio and TV.

 It will include hands-on work in areas such as tape study, editing, show preparation, radio production, control room operation, studio preparation, production meetings, field reporting and game preparation.  Each player will tape segments as a studio and game analyst and take part in a networking session with television executives.  Each player also will serve as a live guest host on SiriusXM NFL Radio alongside hosts Rich Gannon, Adam Schein, Tim Ryan, Pat Kirwan and Ross Tucker.
Best wishes go out, in particular, to my friend Mike Karney.  I know he will do very, very well. 
Join Mike Karney Tonight on STL Rams Central Radio 
The aforementioned former Rams (and New Orleans Saints) fullback Mike Karney will join STL Rams Central Radio tonight at 8PM central time. 
The optimal implementation of the offense this year in a Jeff Fisher system will be discussed and interactive calls with Karney will be welcomed and encouraged. 
Shane Gray covers the St. Louis Rams daily as a Featured Columnist for Bleacher Report. You are encouraged to check out the rest of his work here. Gray also owns and operates stlramscentral.com.