St Louis Rams: Columnist Suggests Year-to-Year Lease Desired by Rams at Dome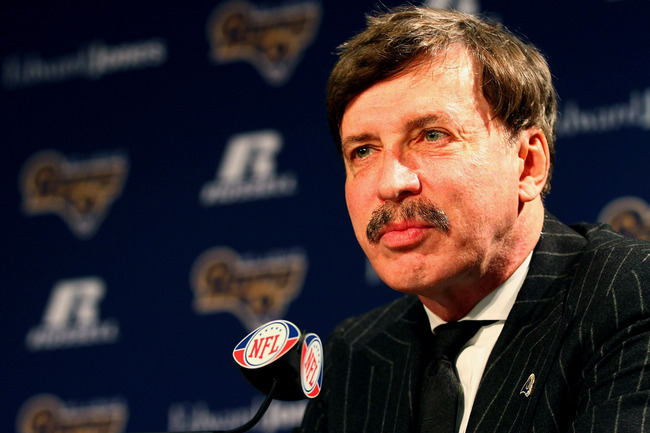 Bryan Burwell of the St. Louis Post-Dispatch suggests here that a successful season by the St. Louis Rams could help spur support and momentum for whatever public financing would be required for an upgraded Edward Jones Dome if a deal is reached via arbitration between the Rams and CVC and an actual public vote is taken to approve monies for that purpose.
Burwell insists that by the end of the year, it will be clear if the individuals negotiating for the city (including the St. Louis Convention and Visitors Commission) have the creativity and vision to find a way to keep the Rams here and whether or not Rams owner Stan Kroenke will be willing to chip in his own monies along with the NFL 's and the G4 fund.
Most interestingly, perhaps, is that Burwell writes that he has been told by several well-informed sources that Kroenke actually desires that the CVC rejects any higher priced plans to upgrade the EJD due to a preference of ending up on a year-to-year lease beginning in 2015, a la the San Diego Chargers.
You might ask, why would Kroenke possess this desire (if this is indeed true)? The answer is simple: being free of exclusive EJD discussions would give Kroenke more options and the ability to exert those options into added leverage.
If the Rams end up outside of the parameters of exclusive negotiations with the EJD, they could not only continue to negotiate there, but they could also bring competing venues and locations into the mix.
For example, Fenton, Mo. threw its hat into the ring via some not so subtle statements from mayor Dennis Hancock regarding the long-rumored site of the old Crysler grounds and a massive five million square feet of available space that would likely be given to Kroenke for him to own and develop with his St. Louis-based THF Realty company.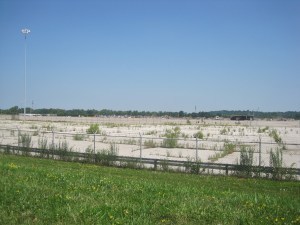 Old Crysler Grounds in Fenton, MO
It could also allow for solicited or unsolicited wooing from the the state of Illinois, as occurred with the St. Louis Cardinals during their quest for a new stadium.
Obviously, if a city in another state (even one just across the river) starts offering their money and land, it only adds options and leverage for Kroenke.
Any real talk about a potential move across the river could certainly provide additional leverage to aid in extracting an enhanced offer from the city or region of St. Louis.
Of course, the longer this drags out, the better chance that Los Angeles could get one of two potential stadium site projects off the ground. If this occurs, that is yet another option for leverage, at the very least, for Kroenke.
As we saw in Minnesota, these things often come down to the very end. All sides may exhaust every method possible in attempting to extract the best deal possible.
Finally, as Burwell pointed out in the above-linked column, if the CVC indeed wants the Rams to stay in the EJD, it is incumbent upon them to find a way to reach a deal with the Rams by the conclusion of the arbitration process.
If they do not strike a deal by the end of arbitration, they may face a nearly impossible task of trying to keep the Rams in the facility long term.
If the CVC ever wants to improve the Convention Center facilities and make it a world-class venue, their best and only real hope is to do so with the additional benefit of upgrading the Rams' home and keeping the NFL in the venue.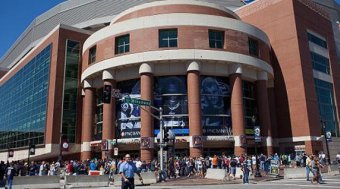 Edward Jones Dome (sportige.com)
If the CVC cannot or will not attempt to gain the support needed to upgrade the EJD with everyone knowing that support would also be going to help retain the Rams and the NFL and killing two birds with one stone, then there is virtually no chance of obtaining that support separately.
If the CVC does not upgrade the Convention Center with the Rams involved, any upgrades they would make would come 100 percent through city contributions. However, right now they have a chance to get help in paying for those enhancements from the Rams and the aforementioned NFL G4 fund by finding a solution that keeps the Rams in the dome.
These enhancements could be a centerpiece for the city and region and also help lure regular Final Fours, bigger and better conventions, Arsenal soccer, FIFA soccer, a national title game in NCAA football, bowl games and a Super Bowl, among other things.
Of course, Kroenke is not called "silent Stan" by chance. Rarely, if ever, does anything get out that Kroenke does not want to be made public. With that said, the information supposedly shared with Burwell from sources likely did not come about by accident.
By this coming out, it applies more pressure on the CVC to find a way to get this this year.
One could suggest that by it being reported that Kroenke desires a year-to-year lease and perhaps an out from the EJD that Kroenke indeed wants just the opposite: a top-tier EJD.
The whole thing is complex and offers enough angles and possibilities to make anyone's head spin.
Stan Kroenke (aerysports.com)
The one thing we do know is this: The soap opera that is any city's stadium situation, as we saw in Minneapolis and now as we are beginning to witness in St. Louis, will almost certainly be one with many twists, turns, moments of confusion and a plethora of speculation, information and possibilities that should be taken with a grain of salt.
Make that a salt shaker. The games are just beginning, folks. It could be a long and highly interesting ride.
Shane Gray covers the St. Louis Rams daily as a Featured Columnist for Bleacher Report. You are encouraged to check out the rest of his work here. Gray also owns and operates stlramscentral.com.
This article is
What is the duplicate article?
Why is this article offensive?
Where is this article plagiarized from?
Why is this article poorly edited?

St Louis Rams: Like this team?