NBA Playoffs 2012: Durant, Duncan, LeBron, Which Players Have the Biggest Impact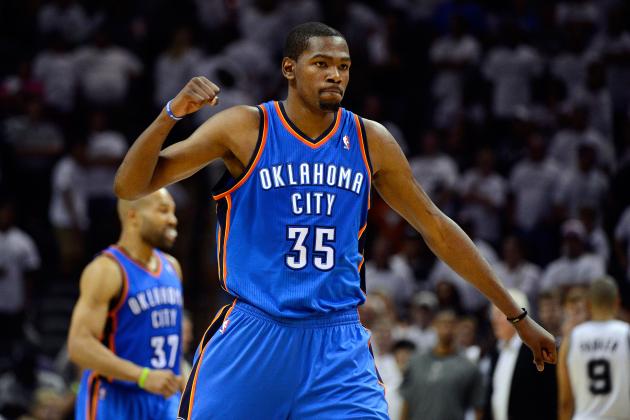 Ronald Martinez/Getty Images

The NBA Playoffs, the most magical time of a year.
Victories aren't pulled out of a hat, but earned in the pregame preparation, the offseason dedication, the cumulative dreams and determination acquired in a lifetime. They come from grit and precision. It is a soutenu of skill, will and opportunity on a stage where high performance can bring more than bravos, but immortality.
The playoffs are special because individual performances are amplified. They impact teams, series, cities, the history of the game. No one forgets Jordan's Game 6, Reggie's 8.9 seconds or Magic at center.
Even in the shadow of the prime time spotlight, plays are the offensive rebounds, hard-nosed defense, a quick pick that can make or break a team. The playoffs are the time where you can either win and make history, or lose and be history, and the performance of a given individual can make that difference.
As Ahmed Rashad said in an ESPN 30 for 30 documentary, "There is a time to play and a time to win. What you do in winning time differentiates the average players from the stars." The playoffs are that time, that moment, that fleeting chance.
Here's a list of the players who are seizing the moment and will have the biggest impact down the stretch.
Begin Slideshow

»
Jonathan Daniel/Getty Images

This is my wild card choice. When Chicago Bulls superstar Derrick Rose tore his ACL in garbage time of Game 1, the landscape of the 2012 playoffs was indubitably altered. The No. 1 seed in the East became a deflating balloon of a team (not to take anything away from Philadelphia who gave Boston a run for their money) and the prizefight-like matchup of Chicago and Miami that everyone had penciled in for the Eastern Conference finals was wiped away.
Injuries are a natural part of the game, and no one can say definitively that the Bulls would have marched their way to the third round, but there are many people asking themselves what if...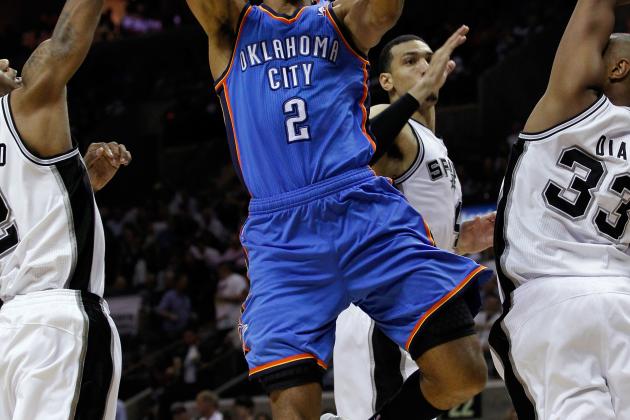 Tom Pennington/Getty Images

Scott Brooks trailing 2-0 in the series needed to switch things up. He decided to go with a smaller, faster lineup and stuck Sefolosha on Parker. The strategy worked, as the 6'7'' guard brought speed and aggressiveness to the lineup.
He plays, as New York Times' Tom Spousta described as felonious style defense, ripe with physicality and turn overs. He is certainly a key to the Thunder's success, especially if he continues to keep Tony Parker uncomfortable and under duress.
His shining performance came in Game 3 where he had 19 points, six boards and six steals, four of which came in a swift three-minute period. He has 12 total steals in the series, which is more than any opposing player in both the Western and Eastern conference totals by a longshot.
Plus he has the added threat of hitting from beyond the arc. Sefolosha won't out perform Westbrook, Harden or Durant, but he is a player that can be a key factor in the Spurs sputtering.
In a question regarding how he plans to handle Sefolosha's D, Popovich retorted "I don't know. I can ask Scotty not to play him."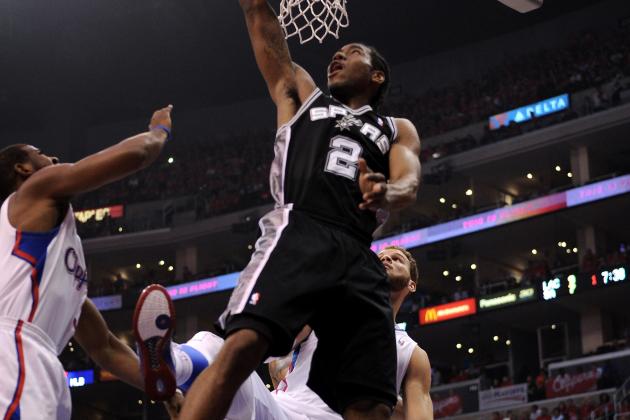 Harry How/Getty Images

While all eyes have been on Parker, Duncan and Ginobili, Kawhi Leonard has been hustling his way into the picture. He hits the boards hard, plays strong defense, and outside of the big three, has scored the most points. And oh yeah, he is a rookie.
Even though people have just started to take notice, Tony Parker explains that this is nothing new. "Kawhi has been playing great all season long for us. Every round he's been playing great, guarding the best guy on the other team. I'm not very surprised."
Leonard has been contributing in all facets to the Spurs success. Popovich has called upon him to guard the three-time scoring champion (with the help of Stephen Jackson), no easy task. Leonard also has the second most rebounds (42) thus far in the series, only trailing future Hall of Famer Tim Duncan.
He also averages close to 10 points per game. His peak performance was Game 2 where he finished with a double-double, scoring a personal playoff best 18 (7-for-12 and 3-of-6 three-pointers) and 10 rebounds. He also put the game out of reach with 0:17 seconds remaining by throwing down an and-one dunk past a hacking Wesbrook.
If Leonard is on, he can put the Spurs over the top.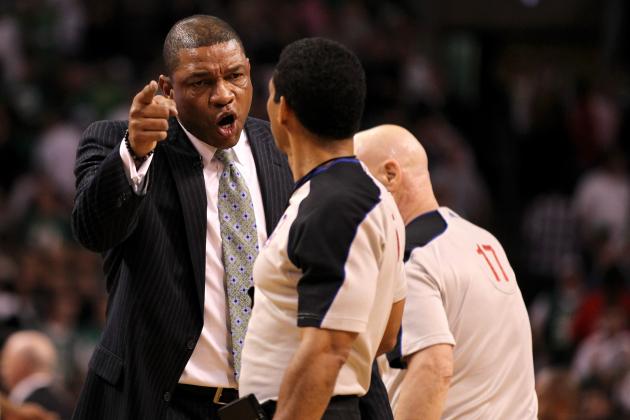 Jim Rogash/Getty Images

The refs are usually the unseen factor in games, but following Game 4 of the Eastern Conference Finals, everyone has their eyes on them. It was an undoubtedly physical game between the juggernaut teams of the East, but there seemed to be as many whistles as there were commercial breaks. The foul calls began to dictate the game's momentum swings and frustration from both sides mounted when the two leading scorers, Paul Pierce and LeBron James, fouled out.
The fouls that really had players and fans barking at the refs were the double foul on James and Garnett who got tangled up under the net, and James' sixth and final foul where it appeared Pietrus pulled him down. LeBron had this to say about it in the press conference after the game:
"I don't think it was a foul. I don't foul out. If I'm going to foul out, that sixth foul, I wish I would have earned it and it had actually been a foul on me. Whatever."
It is never good when the refs begin to play an active role in the game. Paul Pierce who was electric in the first half with 18 of his 24 points was slowed down in the second with his rising foul count. Rondo, Chalmers and James all spent time on the bench because of foul trouble as well.
But Game 4 isn't the only game in this series where fouls have been in discussion. In Game 2 the Celtics were frustrated that Miami shot 14 more free throws and that forward Greg Steisma got hit with 4 personal fouls in just three minutes.
To sum it all up, however, Garnett told the press "The play-calling was all over the place as far as the refs and I thought both teams played through it." Regardless of what presence the refs choose to have in Game 5, that is exactly what both teams will have to do—play through it.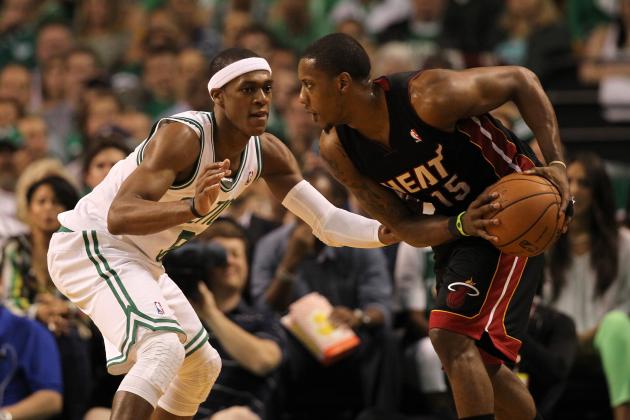 Jim Rogash/Getty Images

Mario Chalmers has helped fill the void of Miami's third leg of the Big Three, Chris Bosh, who continues to sit with strained abdominal he sustained in Game 1 of the Pacers series. Chalmers is a dynamic guard who scores frequently from his three-point range and quick drives to the rim. He also generates points with his passing ability, as he has two more assists than James and one less than Wade in the series.
Chalmers provides a nice alternative point source for the Heat. His big game came in Boston where he put down 22 points (14 in the first half) and had six assists, four rebounds and two steals.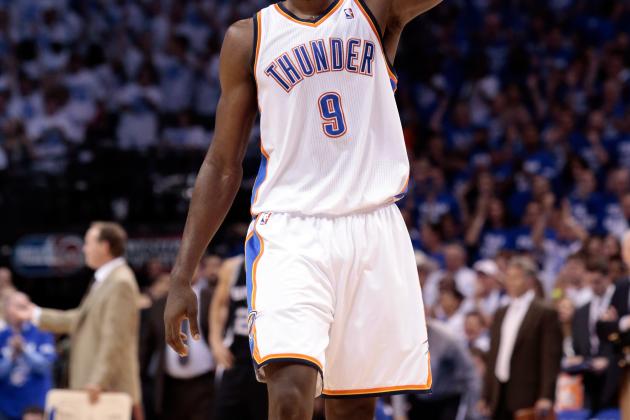 Brett Deering/Getty Images

The Spurs thought the 6'10" power forward was meant to be a down low presence and would leave the mid-range shooting to Durant, Westbrook and Harden. To their dismay, he went 11-for-11 from the field, scoring 26 points and proved he can shoot as well as any of the big three.
"Maybe a surprise for you, but not a surprise for my teammates or myself," he said in the press conference calmly after the game.
In addition to a fluid shot, Ibaka has hauled in 30 rebounds and has a series high 14 blocked shots. The Spurs already have their hands full with OKC's guards and their shooting ability is another threat to deal with. If he is left unattended and heats up, the Thunder will have too much offense for San Antonio to handle.
There is a reason that Boston has won five straight division titles, two Eastern Conference titles and one NBA Finals since 2008 and that is the awesome combination of Garnett, Pierce and Allen a.k.a. the Boston Three Party.
Although they are getting up there in age, they haven't lost an ounce of determination. Garnett this series has been playing like an animal, second in Celtic points and first in the series with 43 rebounds. He maintains a real physical presence around the rim and hits jumpers from the elbow.
Ray Allen has a tendency to disappear for periods and then knock down threes in bunches. He still has one of the smoothest strokes in the league and can get hot at any time.
Paul Pierce is a point scorer, whether from beyond the arc, off the drive or fading away. He was Game 5's leading scorer despite an early departure with six fouls which have been his Achilles heel all postseason. Pierce who rarely fouls out, previously only three times in 122 playoff games, has had an early exit in three of the last five Celtics games.
The Big Three are always a threat to win the finals and never give in, as they try and beat out Miami for the second time in the Eastern Conference Finals. Their experience gives them an advantage over a choke-prone LeBron James in the fourth quarter.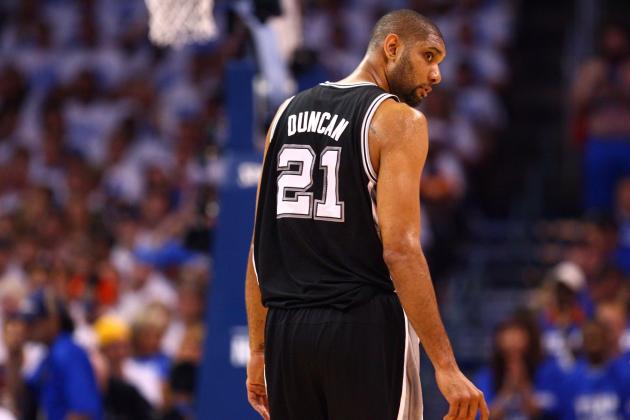 Ronald Martinez/Getty Images

He may be in the twilight of his career, but he doesn't play like it. He is as consistent as the sun rising in the morning. So far in the 2012 postseason, Duncan has averaged 16.8 PPG and 9 RPG. He works the high post screen well, has good vision, and loves to spot up turn around faders that he gently puts off the glass. Everything he does is smooth and his strong free-throw percentage (for a big man) is an effective tool in post play.
In the Western Conference Finals, Duncan leads both teams in rebounds. He is matched up with a combination of Perkins, an excellent and physical defender, and Ibaka. Duncan needs to have the ball in his hands late in the fourth quarter.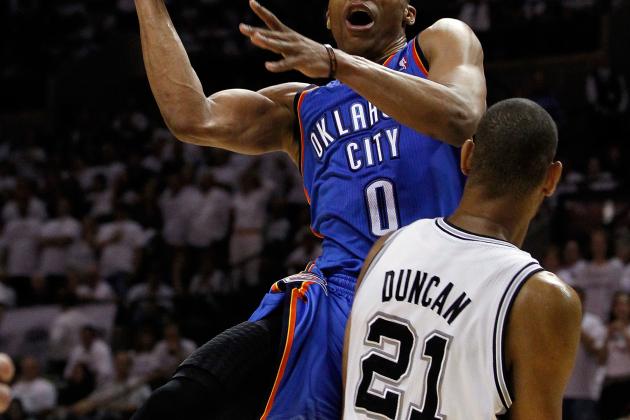 Tom Pennington/Getty Images

Russell Westbrook provides the speed to OKC's transition game. He has done well to capitalize on the Spurs' turnovers which have spiked in the Western Conference Finals. Westbrook has averaged 21.5 points a game and 5.6 assists.
Game 5 has been his best performance against the Spurs, putting up a double-double, 23 points and 12 assists. He has picked up the pace at the right time, when the Spurs are looking vulnerable.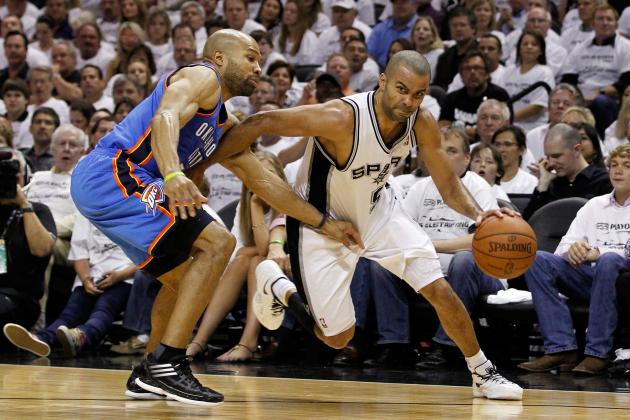 Tom Pennington/Getty Images

Tony Parker, regular season dark-horse candidate for MVP, has revitalized both his career and the San Antonio Spurs. He has always been a threat to drive, and his penetration has allowed for quick dishes and open looks in the half-court set.
Parker has also illustrated that in transition he can run with the much younger Thunder. In the conference finals he has averaged 20.0 points per game and 5.2 assists. So far his one weakness has been turnovers. Trying to play too fast, he had five in Game 3.
With the Thunder as efficient as they are at scoring, the Spurs can't afford to give up possessions or quick points in transition. The matchup of Sefolosha on Parker will be key to whether the Spurs can recover the 3-2 series deficit.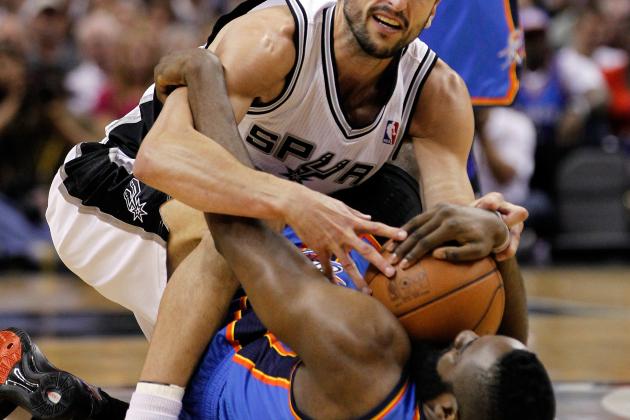 Tom Pennington/Getty Images

James Harden and Manu Ginobili have been ferociously competing to see who is the more talented sixth man.
Ginobili has been dominant this series, driving and scoring points like a mad man. But when it comes to clutch three-pointers, Harden proved he has the onions, not Manu. In Game 5 Harden hit a back-breaking three-pointer with 0:30 seconds on the clock and Kwalhi Leonard in his face. Ginobili's rebuttal at the other end found the back iron.
Harden has averaged 17.7 points per game and 5.2 rebounds. His three-point percentage has been his most impressive attribute in the series, shooting .579. Although Durant is the preferred choice to shoot the final shot, Harden has demonstrated that he doesn't falter under pressure.
Ginobili has been driving at will against the Thunder. Whatever layups don't go in he is fouled on, and shooting 93 percent from the line is almost a sure two points. He is arguably the hottest player in the series and is the Spurs leading scorer. ESPN.com describes the kind of series Ginobili has been having:
"Ginobili has had one bad game in this series (1-of-5 for eight points in Game 3). Otherwise, his 11-of-21 tonight combined with the other games in the series put Ginobili at 30-of-43 from the floor, 11-of-23 from the 3-point line for 23.3 points per game"
In Game 5, Ginobli put together a game high 34 points. He won't go quietly. Expect another big performance in Game 6.
Jim Rogash/Getty Images

Rondo has illustrated his level of growth since entering the league in this year's Eastern Conference Finals. He is the leading scorer for Boston, averaging a double-double with 17.4 PPG and 11.9 assists. he has great court vision and an even better accuracy, threading passes between defenders.
His ability to get to the rim is unsurpassed and he is scrappy on defense. Rondo plays with a ton of emotion, which occasionally can take him out of his game, but wants to win badly. His watermark performance came in Game 3 where he scored 44 points and assisted 10.
Jim Rogash/Getty Images

Wilt Chamberlain once said, "Everybody pulls for David, nobody roots for Goliath." Such is the case with the the Heat and their two superstars LeBron James and Dwyane Wade, who attract a lot of contempt from fans not from Miami. But neither seem to care.
League MVP James leads the series in points, averaging a hair shy of 30 PPG (29.9) and 8.9 rebounds. James needs to ask for the ball late in games and own the fourth quarter. As fast and powerful as he is, there is now reason for him to be standing around the perimeter. He needs to attack the rim.
Wade averages a more modest 23.0 points per game and 4.7 rebounds. He is a fierce competitor, thrives on defense as much as he does on offense and is very good around the rim.
If this pair can combine for 70-plus points like they did on May 19 against the Pacers, then no one in the league or the world for that matter can stop the Heat.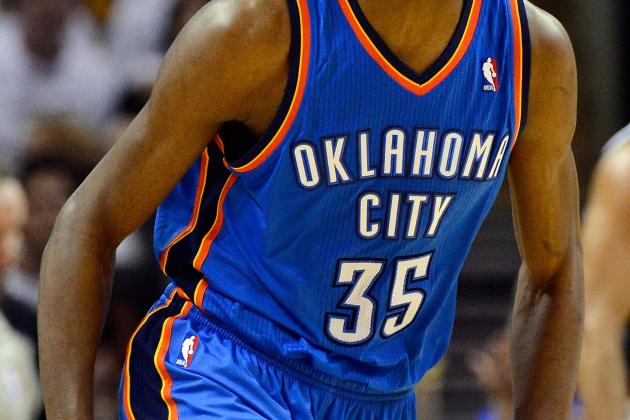 Ronald Martinez/Getty Images

At 6'9" and with a nearly perfect shot, Durant is a specimen. There aren't too many people in this world who can slow this offensive dynamo down. He can hit from anywhere on the floor, including with a hand in his face.
Durant thrives in a fast-paced game and is as clutch as they come in the fourth quarter, He's a superstar and should demand the ball in the fourth quarter, Durant has the capability to take over any game at any moment.
In the Western Conference Finals, KD has averaged 28.6 points a game and 6.2 rebounds. If the Thunder get past the Spurs, I like their chances to win it all and for this man to be the MVP.