Tom Thibodeau: Will His Handling of Players Change After Derrick Rose Injury?
June 4, 2012

Jonathan Daniel/Getty Images
Chicago Bulls head coach Tom Thibodeau is a disciplined, hard-working, no-nonsense kind of guy who expects his players to exude those same traits.
He facilitates tough practices and approaches every game with a degree of importance that most coaches save for the postseason.
This demand for sustained maximum effort is kind of surprising considering that Thibodeau spent the years leading up to his breakthrough gig as an assistant to Doc Rivers with the Boston Celtics.
When the Celtics assembled their Big Three of Kevin Garnett, Paul Pierce and Ray Allen, Rivers understood that he was dealing with aging veterans, and he treated them as such.
Practices were often scheduled to start late in the day, and Rivers did not hesitate to rest his key players down the stretch of the season.
The coaching staff in Boston understood that having their stars available for the postseason gave them the best chance at going deep into the playoffs.
NBA Finals appearances in 2008 and 2010, along with a current berth in the Eastern Conference Finals, give credence to Rivers' safeguarding practice.
Given that experience with Boston, it is somewhat perplexing to look back at Thibodeau's player management over his first two head coaching years and see an almost absent regard for player preservation.
One could argue that the talent he has with the Bulls organization is much younger and, therefore, more capable of handling a grueling regiment, but the team's recent injury history says otherwise.
Now that he faces an upcoming season potentially without Derrick Rose and with Luol Deng possibly missing some key time if his wrist requires surgery, should fans expect to see a gentler Thibodeau for the 2012-2013 run?
Surface signs point to no; Thibodeau has never been one to apologize for the decisions that he has made as a head coach.
Even when questioned about having Rose on the floor with a double-digit lead and fewer than two minutes on the clock in their playoff opener against the Philadelphia 76ers, a defiant Thibodeau responded: "I don't work backwards like you guys do. The score was going the other way." (via ESPN.com)

That point may have been valid thus credibly excusing Thibodeau from total blame, but Game 3 of that same series also found Thibodeau playing Joakim Noah after severely rolling his ankle on a fast break attempt.
Best intentions aside, it's easy to question if Thibodeau's commitment to winning supersedes his obligation to floor the best team game in and game out.
Thibodeau often focuses on the game at hand and nothing beyond that, but that shortsightedness has and will continue to cost the team dearly.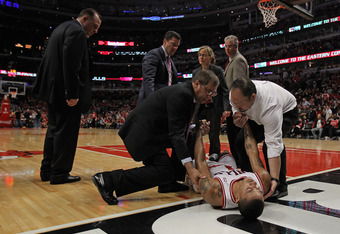 Jonathan Daniel/Getty Images
With two key players missing a considerable amount of time next season, Thibodeau does not have much talent to work with.
If he continues his gung-ho, pedal-to-the-medal approach to team preparation, he is going to find himself even more shorthanded than ever.
Thibodeau can repeat all of the regular season successes that he wants to, but it will all add up to nothing if he keeps going into the postseason with a team operating at less than optimum health.
Teams like the Miami Heat, San Antonio Spurs and the aforementioned Celtics are once again vying for an NBA Finals berth largely because their coaches understand the importance being fully staffed as opposed to being well-seeded.
Thibodeau is going to have to alter how he handles his players or he will run the future of this franchise, along with his future as a head coach, into the ground.