SEC Football: Most Indispensable Players in West Division
June 4, 2012

Andy Lyons/Getty Images
Depth separates the SEC from every other conference in the country, but every team has that one weak spot where injury or ineffectiveness by one player could derail the season. 
Who are the most indispensable players in the SEC West? 
Alabama Crimson Tide: Quarterback AJ McCarron
Alabama's roster is littered with 4- and 5-star recruits, and that depth is the primary reason that the Crimson Tide have been so successful during the last four seasons. The one spot where Alabama isn't deep is at the most important position on the field—quarterback. 
McCarron proved late last season that he has what it takes to not only be a caretaker, but a game-changer at quarterback. Behind him, though, there are some issues.
Phillip Sims—the clear No. 2 at quarterback—decided to transfer following spring practice. That leaves sophomore Phillip Ely as the likely backup to McCarron. Ely never took a snap last season and was a 3-star prospect in the Class of 2011, according to 247Sports.com. 
Incoming freshman Alec Morris will compete for the backup role this summer, and Bleacher Report's Jonathan McDanal points out that running back Blake Sims may be best option for the backup quarterback job in Tuscaloosa.
Arkansas Razorbacks: Quarterback Tyler Wilson
Wilson enters his senior season as a legitimate Heisman contender. As a junior, he completed 277-of-438 for 3,638 yards, 24 touchdowns and six interceptions. He followed that up with a spring where he completed 111-of-145 passes for 1,593 yards, 15 touchdowns and no interceptions in four scrimmages. 
I know, spring practice stats don't mean anything, those stats came against Arkansas' defense, yada, yada, yada. Posting a stat line like that up against anyone—even air—is impressive.
Junior Brandon Mitchell and freshman Brandon Allen will back up Wilson. Mitchell tossed two touchdown passes in limited action last season.
Wilson is the most important piece to the Arkansas national championship puzzle. With him, the Razorbacks are legitimate contenders. Without him, look out.
Auburn Tigers: Wide Receiver Emory Blake
We saw how important Blake was to the Tigers last season.
He injured his ankle in the second half of Auburn's win at South Carolina, which caused him to miss the end of that game and the next three. During that time, the Tigers posted passing games of 104 yards (at Arkansas), 123 yards (vs. Florida) and 161 yards (at LSU). Not good.
His absence caused the Tigers to be even more one-dimensional than they already were, and he will have to stay healthy in order to prevent history from repeating itself in 2012. 
Trovon Reed, Quan Bray, Travante Stallworth, Jaylon Denson and Sammie Coates will all be in the mix, but Blake is the unquestioned No. 1 option at wide receiver. He's the go-to guy that Auburn needs—no matter who's the starting quarterback.
LSU Tigers: Quarterback Zach Mettenberger
The quarterback position has caused a great deal of concern in Baton Rouge ever since Ryan Perrilloux was dismissed prior to the 2008 season. Head coach Les Miles thinks he found his man in the form of junior Zach Mettenberger.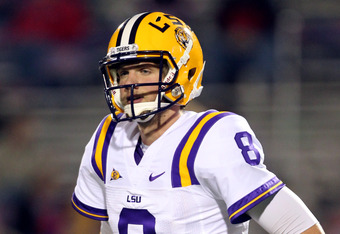 Joe Murphy/Getty Images
Mettenberger nearly beat out Aaron Murray at Georgia in the spring of 2010, before being dismissed from the team shortly after spring practice. He has a cannon for an arm, and as long as he can establish the downfield threat, the Tigers will be fine.
Behind him, though, it's a different story. Redshirt freshmen Stephen Rivers and Jerrard Randall haven't thrown a pass, and true freshman Jeremy Liggins is just that—a true freshman.
It's Mettenberger's show in 2012, and the Tigers can't live without him.
Ole Miss Rebels: Defensive End C.J. Johnson
This spot was reserved for wide receiver/cornerback Nickolas Brassell, but he recently decided to transfer after sitting out this spring to work on his grades.
With Brassell out the door, defensive end C.J. Johnson slides in to his spot at the most indispensable player on the Ole Miss Roster.
He had 32 tackles and five tackles for loss last season, playing both linebacker and defensive end. New head coach Hugh Freeze moved Johnson to defensive end permanently this spring, where he is expected to thrive as a sophomore.
A relentless pass-rush can work wonders for any defense, and Johnson is being counted on to provide that in 2012.
Mississippi State Bulldogs: Outside Linebacker Cameron Lawrence
It's a shame that Lawrence doesn't get the spotlight shined on him, because he is one of the SEC's best players. He's one of the best players in the SEC that you've never heard of.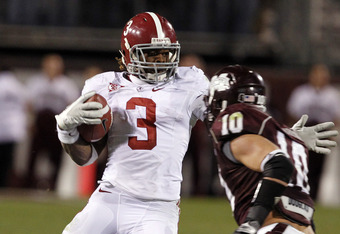 Butch Dill/Getty Images
He finished second in the SEC with 123 tackles last season, which included two sacks and six tackles for loss.
Deontae Skinner and Chris Hughes are battling for the other starting linebacker spot, and both are quality players. One or the other could probably fill in if Lawrence is out.
He's the unquestioned leader of the Bulldog defense, and his high energy is infectious. Without him, Mississippi State would be searching for answers.
Texas A&M Aggies: Wide Receiver Ryan Swope
New head coach Kevin Sumlin is bringing his air-raid attack to College Station. What's the most important piece to that attack? The quarterback.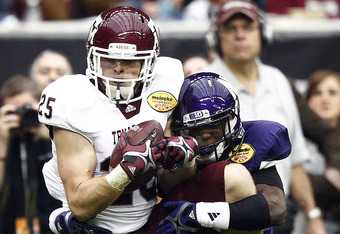 Bob Levey/Getty Images
Well, he hasn't exactly figured out that part of the puzzle yet, although it appears that Jameill Showers has the inside track on the competition.
So since we don't know who the quarterback will be, it will be up to senior wide receiver Ryan Swope to stabilize the offense. He has 2,032 receiving yards and 15 touchdowns over the last two seasons. 
Uzoma Nwachukwu is a solid option at No. 2 receiver, but he has been inconsistent during his time at Texas A&M.