Jimmie Johnson: Monster Tamer at Dover
June 4, 2012

Geoff Burke/Getty Images
Racin' with Russ:
Jeff Gordon and Mark Martin led quite a few laps at The Monster Mile in Dover on Sunday during the NASCAR Sprint Cup race, but it was Jimmie Johnson topping the lap leader charts with 289 laps led to go along with his second points victory over the past three weeks. Johnson's special Madagascar turquoise paint scheme made it easy keep an eye on the car that was in a constant distant mode out front schooling the field en route to his record seventh win in Dover. The race began with Martin securing his 54th pole and third of the year for Michael Waltrip Racing. Johnson was on the outside of the front row and took over the point early and often. It only took nine laps to witness the biggest wreck of the year started by Tony Stewart tapping Landon Cassill, then collecting 11 other cars before it was over. Once underway, Johnson continued out front with drivers such as Kyle Busch and Kevin Harvick looking for the same piece of real estate. Busch retired with a blown motor as did his brother Kurt late in the go, while Harvick pursued Johnson to the checkers as the closest competitor. Others in the top five included Matt Kenseth, Dale Earnhardt Jr. and Clint Bowyer.  Gordon led an impressive 60 laps before mechanical problems took him out of the lead, settling for a 13th place finish.
 
Notables:
Tony Stewart was one of those caught up in the early wreck, yet he managed a 26th finish despite being 69 laps down for repairs while Carl Edwards suffered a right front flat, sending his Ford hard in the wall. His 82 laps behind the wall for repairs landed him one spot behind Stewart yet fell several spots out of the Chase. The latest results now finds Greg Biffle on top of the charts by only one point over his teammate Kenseth and 10 over Earnhardt.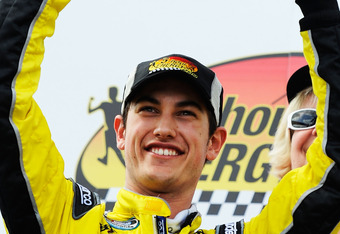 Patrick McDermott/Getty Images
Nationwide:
Joey Logano led a foursome of Toyotas across the stripe at Dover to win his fourth Nationwide race of 2012. The latest stages found rookie Ryan Truex leading the pack with Logano trying to play catch up after a late race pit stop.
When Truex came upon two lapped cars side-by-side, he went in between them, yet lost momentum allowing Logano to sweep on by with a little more than a lap to go. Logano wins, the young 19-year-old Truex grabs a record second place for himself, with Brian Scott, Kurt Busch and Justin Allgaier capping the top five finishers. Coming into this race, points leader Ricky Stenhouse Jr. was confident to stretch his lead over Elliott Sadler. Unfortunately for him, he spun all by himself just past the half, netting a 32nd place finish. This opened the door for Sadler to now top the points by 12 over Stenhouse and 14 over Austin Dillon. Danica Patrick started 17th and finished 30th, the victim of a mid-race incident involving Sam Hornish Jr. She is now 11th in points.
Camping World Trucks:
Friday night at Dover saw the pick 'em ups compete with a rain shortened event going to Todd Bodine, who had spun earlier in the race, only to come back to the front. Parker Kligerman, Kevin Harvick, Nelson Piquet Jr and Cale Gale wrapped up the top five in this one. Harvick led most of the laps before the red flags flew for weather. Justin Lofton leads Timothy Peters by only point with Ty Dillon only 13 points back.
Indy Cars:
The Indy Cars competed in Detroit on Sunday afternoon with a two-hour delay mid-race to repair numerous areas of the street course that came up during the show.
The race was shortened by some 30 laps because of not being fully confident with the materials used to repair the track lasting any longer.
When the final green flag flew, Scott Dixon held on to the top spot, leading every lap of the event. His teammate Dario Franchitti managed to jump up to second with Simon Pagenaud taking third. Penske driver Will Power took fourth and remains atop the standings.
From Rumorville
There may be more problems for Kurt Busch as a result of a verbal tirade to a reporter at Dover on Sunday morning. NASCAR is said to make a decision on the situation early this week as Busch is already on probation until Dec 31.  I wish Kurt would concentrate on his driving and curtail his comments off track as they constantly get this talented driver in trouble.
That's it for this week. Next week, RWR will review the NASCAR races at Pocono, the trucks in Texas along with more racing news from around the globe.           .