Post UFC 146: Is the UFC Heavyweight Division Set to Come Apart?
June 3, 2012

Junior dos Santos sits atop the heavyweight division, having made his first successful title defense, and already people are fighting the urge to claim that the dos Santos era has arrived.
One reason why is because of number one contender Cain Velasquez, who annihilated Antonio "Big Foot" Silva at UFC 146 with such ease it looked like child's play.
The second reason is Daniel Cormier, a fantastic wrestler who just won the Strikeforce heavyweight Grand Prix by dominating Josh Barnett in every aspect of the match.
That gives us three incredible fighters at the top of the division, with one Alistair Overeem out on suspension but still in the picture.
And that's about it.
All of those fighters are excellent, without a doubt. But they are not legion, just four men who can't keep fighting each other forever.
Believe it or not, the picking is getting pretty slim in the heavyweight division.
For the sake of argument, let's look at dos Santos vs. Velasquez II, as odds are that's the next title fight.
Should dos Santos defeat Velasquez again (and chances are good that he will), then what happens to Velasquez?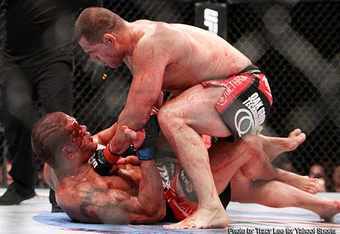 He will have fought and lost to dos Santos twice, straining his marketability in the division. Sure, he can stay at heavyweight, and given how shallow the division is of true talent, he'd probably get yet another crack at the title in about a year's time, or sooner should someone get injured.
But, it wouldn't be compelling anymore.
To keep the division alive and thriving, it looks as if Velasquez must defeat dos Santos.
The same can be said of Cormier and Overeem. Any one of those fighters dominating creates a rapid recycling of the top contenders, which quickly bleeds the drama out of the division.
It's not that the UFC doesn't have some damn good fighters in the heavyweight division, it's that they have three or four great fighters that loom above the rest by several levels.
And god forbid one of the top four decides to go south, because the one thing the heavyweight division doesn't need is to lose any more talent.
Yes, getting Brock Lesnar back in the mix would be good, as would getting Josh Barnett; the more the merrier in the fight game. But who knows if Brock could get his competitive spirit back to the place it needs to be after being routed by both Velasquez and Overeem.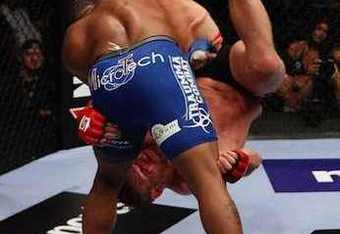 And everyone knows the questions surrounding Barnett.
For the division to continue to thrive it must have serious title contenders, men who possess more than just a name and past glory, but the stuff to take the title by force.
Fighters like Frank Mir, Roy Nelson, Shane Carwin, etc., are entertaining, for sure, but they are honestly not title contenders, not when all roads lead to Cormier, Overeem, Velasquez and dos Santos.
Those four men could run roughshod over all of the above, which is why if even one of them loses, chances are they are but one fight away from another title shot.
So, what is the answer?
Well, in lieu of having (or acquiring) more A+ talent in the division, the powers that be might want to stay away from any more "all heavyweight" main cards in the future. Sure, it was fun, but like anything else, too much of a good thing is a bad thing.
They might also want to start making the top four men fight more than just one outer-limit top-10 opponent before being right back in line for a title shot.
Velasquez, as great as he is, was KO'd in Round 1 against dos Santos, no questions asked. To get back in the mix, he should have to do more than just dominate an overmatched Silva. He should be fighting at least two more times before taking on the champion again.
In short, they need to give the division some breathing room; widen that spotlight to the other fighters instead of each showcase becoming nothing more than another episode of "The Four Musketeers."
Maybe giving Fedor Emelianenko a second look isn't such a bad idea after all.