Shawne Merriman: Could Bills Fans See the Return of 'Lights Out'?
According to recent interviews, Shawne Merriman is feeling better than he's felt in years. That could spell trouble for opposing QB's.
I know, I know. Two years ago, Bills fans were expecting Shawne Merriman to turn around a horrendous pass rush when he was released by the San Diego Chargers and claimed off waivers by the Buffalo Bills. Fifteen minutes into his first practice, his Achilles was re-aggravated, sending him to the IR.
Last year, Bills fans became optimistic again when Merriman registered two sacks of Jay Cutler in a preseason game against Chicago. That impressive performance was followed up by a knee injury that forced him to miss the rest of preseason.
Once the season started, he was nagged by a shoulder injury that limited his playing time until his Achilles again acted up, putting him on the IR and ending his season for good.
Bills fans have spent the past two years fantasizing about a healthy Shawne Merriman terrorizing Tom Brady, Mark Sanchez, and whoever ends up starting for the Dolphins. Fool me once, shame on you. Fool me twice, shame on me.
Fool me three times? I'm not sure what happens at that point, because the saying doesn't go that far.
The difference between this season and seasons past is that Merriman finally had surgery to repair his continuously injured Achilles tendon. Famed surgeon James Andrews removed his Achilles, repaired the small tears, and reattached it.
Recovery from this type of surgery is expected to take six months. Merriman is now seven months removed from the surgery, and has received a clean bill of health.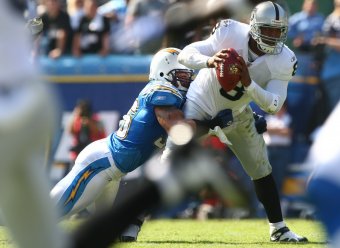 Donald Miralle/Getty Images
Merriman stated that he now feels like Benjamin Button. Time's going backwards and he's getting younger.
The Buffalo Bills already have a collection of talent and athleticism along their front four that is down-right scary.
In 2010, Kyle Williams was adjusting his new position as a nose tackle in a 3-4 defense. Instead of going through growing pains, he led the team in sacks with 5.5.
First off, nose tackles aren't supposed to register 5.5 sacks. Secondly, if the nose tackles leading the team in sacks, that means that the defense is creating no pressure from the edge, meaning that there are no elite edge rusher that the offense has to worry about double teaming, and the line can focus even more attention to stopping the nose tackle.
A year later, in 2011, Kyle Williams went on the IR to remove bone spurs from his left heel. Kyle Williams had a bone spur in his left heel since college that was basically shaped like a pick ax, and was gradually tearing away his Achilles tendon. He had been playing through intense pain for a few years before it became unbearable and he elected to have the surgery done.
That's right, Williams had been playing through pain during the 2010 season. When he registered 5.5 sacks. As a nose tackle. How scary is it to think that he may now be pain free for the first time since his LSU days, resulting in a more explosive, effective, Kyle Williams?
After Kyle went on the IR in 2011, rookie Marcell Dareus basically repeated Williams exact performance from 2010. He stepped in as a nose tackle, and led the team with 5.5 sacks.
If both those guys can dominate as 3-4 nose tackles without any other real pass rushing threats, how scary will it be for opposing O-lines to see those two guys standing next to each other on the inside of a 4-3 D-line? Not to mention the fact that Dareus is entering his second NFL season, after experiencing his first full NFL offseason that isn't shortened by a lockout.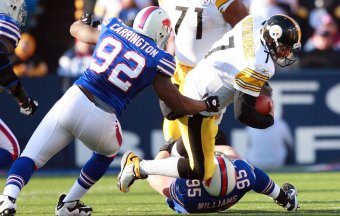 Karl Walter/Getty Images
Serving as bookend on one side of that defensive line will be Mario Williams, the 6'6" 292-pound freak of nature that seems more like a character created in Madden than a human being.
Williams' most productive season occurred in 2007, when he registered 14 sacks for the Houston Texans. He followed that season up with a 12-sack performance in 2008.
Super Mario's biggest problem in Houston, was that he was playing for a terrible defense with no other pass rushers capable of pressuring the opposing QB. In those two seasons, the best complementary rusher the Texans could produce registered 5.5 sacks.
With no other threats to sack the QB, opposing offensive coordinators could dedicate two or three blockers to making sure that Mario didn't get to their QB.
Before his Achilles tendon became, well, for lack of a better term, his Achilles' heel, Merriman was one of the most feared pass rushers in the NFL.
He received the award for Defensive Rookie of the Year in 2005 after recording 10 sacks. He followed that up with a 17-sack performance in 2006, and 12.5 sacks in 2007.
If he plays opposite Mario Williams, with Dareus and Kyle Williams pushing the pocket in the middle, Merriman will not be the player that opposing offensive coordinators are focused on protecting their QB's from. That will result on lots of 1-on-1 battles that Shawne is more than capable of winning.
The main concern at that point is whether Merriman is in good enough shape, after several years of minimal NFL activity, to play at a high level on a regular basis.
Luckily, Merriman will have productive players like Mark Anderson, Chris Kelsay, and possibly even Alex Carrington that could rotate in to give him rest when needed.
Thinking about how dangerous the Buffalo Bills defensive line could be this year reminds me of an old Nike commercial where Dennis Hopper is holding Bruce Smith's shoe.
Do you know what a healthy Shawne Merriman could do to opposing QB's when teamed up with Marcell Dareus, Kyle Williams, and Mario Williams in a revamped 4-3 defensive line? Bad things, man!
This article is
What is the duplicate article?
Why is this article offensive?
Where is this article plagiarized from?
Why is this article poorly edited?

Buffalo Bills: Like this team?