Houston Texans: Would WR Mike Sims-Walker Ease Texans' Receiving Concerns?
June 2, 2012

Sources say the Houston Texans have scheduled former Jacksonville Jaguars WR Mike Sims-Walker to work out for the team, according to ESPN's Adam Schefter.
For a team with a number of question marks within its receiver ranks, it sounds as if Houston is ready to add another if it acquires Sims-Walker. As a Jaguar, Sims-Walker showed a glimpse of serious talent in 2009 when he made 63 receptions for a total of 869 yards and seven touchdowns.
In 2010, he had a similar season with slightly less impressive numbers at 43 receptions, 562 yards and seven touchdowns.
But in 2011, the receiver was traded to St. Louis, reacquired by Jacksonville, then missed the rest of the season after a knee injury in a game against the Texans. Before the injury, his return to Jacksonville saw his numbers plummeting; he'd only made one reception for 11 yards.
Sims-Walker has his own problems to worry about, then, like an extremely strong recovery after being placed on IR and revisiting and exceeding the expectations placed on him after 2009.
Meanwhile, the Texans' receiving corps is promising, but that's about as much as is guaranteed. Andre Johnson will miss OTAs for minor knee surgery, and though this isn't certain devastation for Johnson's performance in the upcoming season, it's not the sword-wielding savior Texans fans hoped to watch all summer.
There's also the up-and-coming Lestar Jean, who head coach Gary Kubiak and crew promise will deliver an outstanding game this season.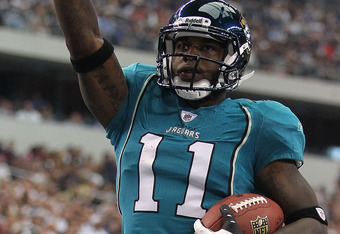 Ronald Martinez/Getty Images
And then there are the rookies, namely Keshawn Martin and DeVier Posey, who, like all good draft picks, have our attention for a number of reasons.
Looking at this list, there's one thing that's undoubtedly missing: veteran presence. I've argued before that the Texans are working hard to make a long-term investment in developing a number of young players. At the same time, they have also been taking chances on a few veterans (like Bradie James) to run in the mix.
This is exactly where Sims-Walker would fit in.
Sure, he's got to prove his ability to play uninjured; while he's doing that, however, the Texans continue developing their young players. This may be better news for Sims-Walker, who will likely be seeing a number of passes early on as No. 2 receiver if the Texans do choose to hire him.
In the end, Sims-Walker will have a perfect opportunity to bounce back from his injured history and the Texans will have paid a good price for insurance of both time and talent.