Houston Texans: Time for a Contract Extension? Don't Count Kubiak out Just Yet
May 9, 2012

Rob Carr/Getty Images
News that Houston Texans GM Bob McNair is considering extending Head Coach Gary Kubiak's contract has brought some heated debate about the coach's past and future successes.
The problem is that little of the criticism of Kubiak is warranted.
Of course, Kubiak's statistical profile as the Texans' head coach leaves much to be desired. Kubiak was hired to coach the team in 2006, which had at the time an 18-46 record in four seasons under coach Dom Capers. Under Kubiak's watch, the team has played six seasons with a 47-49 record.
It's hard to argue that these statistics are excellent, by any means. They don't promise the success of the team next season or afterwards. Moreover, they absolutely don't guarantee Kubiak's job security, just as this contract extension doesn't.
But for McNair to make the short-term investment in Kubiak now is a smart move. Most of Houston—including McNair and Kubiak—are still waking up every morning with a tingling sensation from the Texans' playoff appearance last year, a year that also stands as the team's best yet. There's also the Texans' ominous history that seems ready to haunt them from the first kickoff of this season.
I'd argue that most Texans fans believe the upcoming season to be somewhat of a coin toss. Last year was a thrill, and the playoff loss to the Baltimore Ravens left most of us thinking that while the season was over, whatever made that season a success was just getting started.
In other words, it ended too soon.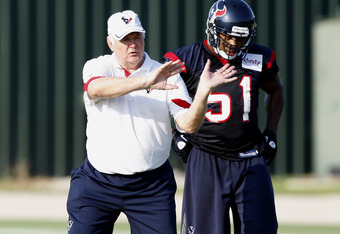 Bob Levey/Getty Images
That, then, is my contention: McNair doesn't want to end this one too soon.
The Texans' current position is eerily similar to that of both of its neighbors, the Dallas Cowboys and the New Orleans Saints.  The Cowboys' first head coach, Tom Landry, brought the team to a 0-11 record during the team's inaugural year. It wasn't until six years later that the team finally found a winning season; before that, they'd done no better than .500.
But Cowboys owner Clint Murchison Jr. had already signed Landry to a 10-year extension in 1964, when the team posted a 5-8 season record. That extension was likely a key component in allowing Landry to do whatever he had to do in order to get the Cowboys to the Super Bowl—11 years after their first season at .000.
Landry was already known as the "Great Innovator" long before this time, however. His landmark concepts that we remember him for—namely the 4-3 defensive scheme—were developed during his time with the New York Giants. But even that wasn't enough to immediately make the Cowboys a winning team.
What made them a success was Landry's idea of building a team as a long-term investment.
Landry saw the potential in a system of players, not in star power alone, and he stocked players who met the needs of his overall scheme in both size and ability. Perhaps Mike Ditka said it best when he recalls the 1971 Cowboys Super Bowl win: "When you really look at that team, you don't see people build a club the way [head coach] Tom [Landry] built that team any more."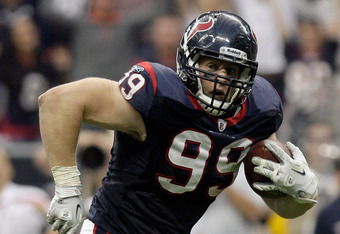 Thomas B. Shea/Getty Images
More recently, New Orleans Saints Head Coach Sean Payton was hired in 2006 to save the team from their 3-13 2005 season. Payton was able to immediately turn the team around, leading them to a 10-6 season his first year on the job, only to follow that performance with two seasons under .500.
The team brought on Gregg Williams as defensive coordinator to bolster their defense, ranked 23rd in total yards allowed, in a season when their offense ranked first in total yards per game. Ultimately, this bolstered the Saints' overall performance, and they ended up Super Bowl Champions in 2009.
Similar examples can be made for days, as, I'm sure, can examples of the contrary. My end point, however, is simple. Kubiak's statistical performance in Houston means little compared to the overall restructuring of the Texans that we are watching. Statistics are one thing, but correlation is another.
The changes going on in Houston are huge—Wade Phillips' first year was more than encouraging, injuries proved that the Texans' depth chart is solid to the bottom, and breakout players like J.J. Watt and Brooks Reed revealed the team's smart recruiting and development (not to mention the pure and maturing talent of many of these players).
In all of this, it's hard to build a complete argument that Kubiak should go.
Admittedly, the extensions the team is considering don't sound like huge investments. But even now, time is in favor of Texans, and this time means player and scheme development, team building and franchise growth. If nothing else, Kubiak has shown that he's been using that time wisely.
While this doesn't promise future championships, it does support McNair's logic and reveal his vision of creating a winning team by allowing one to develop.