Brooklyn Nets: Failed Hopes, Dwight Howard, and a Legacy of Poor Management
April 1, 2017
Mike Stobe/Getty Images
Two years ago the New Jersey Nets appeared to be one of the brightest franchises in all of professional sports.
They added a high-profile Russian owner in Mikhail Prokhorov and they had a celebrity minority stock holder in Jay-Z.
The franchise had just chosen big man Derrick Favors out of Georgia Tech who was getting comparisons to a young Dwight Howard and sold the hopes of landing Lebron James, Dwyane Wade, Chris Bosh or Carlos Boozer in the free agency frenzy of 2010.
Unfortunately the Nets were not able to swing a deal for any of the marquee free agents. Left with millions in their pocket, Nets management decided to throw $57 million in guaranteed money to Travis Outlaw, Johan Petro, and Anthony Morrow.
This would not have looked as bad if it were not for Outlaw's behemoth five year, $35 million contract. Outlaw was so useless in New Jersey that the Nets decided to use their amnesty clause on him just one year later. Outlaw came off their books, but they still have to pay him $16 million over the next four years as part of the amnesty provision.
Even though they struck out in free agency during the 2010 offseason, they had another door emerge in February 2011. The Nets agreed to trade Derrick Favors, Devin Harris, two first-round draft picks and cash considerations to the Utah Jazz in exchange for Deron Williams.
The move signaled a changing of the guard in New Jersey where the team finally had a franchise player to build around. The problem, however; was that the Nets acquired Williams without an extension agreement.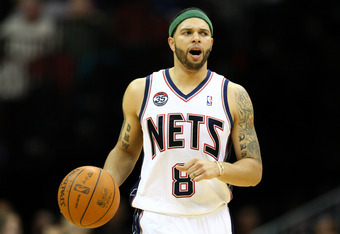 Chris Chambers/Getty Images
So the team had two years to build a contender and give Williams reason to sign an extension during the offseason of 2012 when he can and likely will opt out of his player option to test the free agent market.
The 2011 class of free agents was extremely weak, especially in comparison to the 2010 and potential 2012 class that was shaping up. So the Nets turned most of their attention to trying to arrange a deal with the Orlando Magic to land All-Star center Dwight Howard. Acquiring Howard would have assured the Nets of securing Deron Williams and made them a power in the Eastern Conference.
The Nets reportedly were dangling offers to the Magic that included Brook Lopez and two future first-round draft picks. But the Magic were intent on keeping Dwight Howard and continuing to try to please him and get him to sign an extension.
Ultimately, Dwight Howard decided to opt-in to the final year of his contract and the idea of a trade deadline deal for Howard was over. Instead, Nets general manager Billy King decided to acquire small forward Gerald Wallace from the Portland Trailblazers in exchange for Mehmet Okur, Shawne Williams, and most importantly, the Nets' 2012 first round draft pick with top-3 protection.
Putting the protection on the pick served two purposes. First, at the time, it looked like a very real scenario that the Nets would land in the top three of the draft and the idea of trading a 2013 first round pick (which is when it would have been conveyed had the Nets landed in the top three) to acquire Gerald Wallace was too good to pass up. Secondly, the protection assured the nets that they would not end up trading Anthony Davis for Gerald Wallace which would have been seen as a colossal mistake.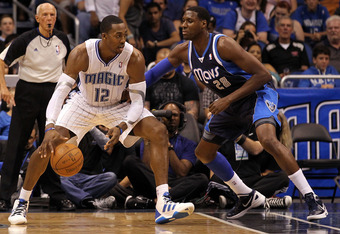 Sam Greenwood/Getty Images
Unfortunately for the Nets, they ended up landing the sixth pick in the 2012 NBA Draft and the pick then had to be turned over to the Portland Trailblazers.
The Nets are now in a curious situation. Dwight Howard has come out and said that he regrets opting into his contract and wants to be traded. Orlando has opened up that they will listen to offers, and Brooklyn appears to be a perfect destination for Howard.
Sources told Yahoo! that it's "Dwight Howard or bust" when talking about Deron Williams staying in Brooklyn. Williams later denied these allegations on Twitter. But one has to wonder how much of it is true.
However, a deal is not up to Deron Williams or Dwight Howard. A trade is ultimately up to Orlando management. With Howard opting into his deal, he surrendered all his power and can not force a trade to a specific team. The best that he can do is tell whichever team that trades for him that he will not sign an extension and that he will test the free agency market in 2013.  Simply put, all of the leverage belongs to the Magic and they are in the perfect position to set up a bidding war. Unfortunately for the Nets, they no longer hold the assets to swing a deal for Dwight Howard.
Ranking the Nets' positive assets would look something like this in my opinion: Brook Lopez, Marshon Brooks, Anthony Morrow's $4 million expiring contract, and Johan Petro's $3.5 million expiring contract. In that order.
Gerald Wallace has a player option that he will decline and test the free agent market. Deron Williams will do the same. Kris Humphries is an unrestricted free agent. The Nets do not own their 2012 first round pick.
If Gerald Wallace and Deron Williams decline their player options and test free agency, I do not see a scenario where either player will be included in a deal for Dwight Howard. Theoretically they could be a part of a sign-and-trade; however, the player has to agree to the contract and the deal. There is no reason for either of those players to accept a contract to play for a rebuilding franchise like Orlando.
The only way that the New Jersey Nets can acquire Dwight Howard is through a trade, and the best offer they can put together would be a sign-and-trade deal around Brook Lopez, Marshon Brooks, and taking back some bad contracts like Hedo Turkoglu.
Tom Haberstroh, an ESPN.com Insider, wrote an article today breaking down four possible trade scenarios for Dwight Howard. The Nets were not among the teams listed. As Haberstroh mentions in the article, "we might be headed for the most competitive bidding war in recent history." So a deal around the Nets' current assets is not a realistic scenario.
It is a very real possibility this offseason that Dwight Howard is traded to a team not named the Brooklyn Nets. It's also a very real possibility that Deron Williams and Gerald Wallace both test the free agent market and walk out of town. Compounded by the fact that the Nets no longer have  their 2009 first round pick (Terrence Williams), 2010 first round pick (Derrick Favors), 2011 first round pick (Enes Kanter) or their 2012 first round pick.
The Nets will be left with making the decision to match an offer sheet for Brook Lopez and continue to build for the future, which they should do.
Fortunately for the Nets, they do not have any bad contracts extending past the 2013 season. Perhaps their best course of action at this point is to let Deron and Wallace walk out of town and save their cap space for the 2013 free agent market. The only players currently under contract for the 2013-2014 season are Damion James, Marshon Brooks, and Jordan Williams with James making the most at $2.35 million and the Nets hold a team option for that year. If the Nets re-sign Lopez to an expected extension in the $10-13 million per year range, they would be left with nearly $40 million in cap space for the 2013 off-season as long as they commit to only one year contracts for next season.
There are far worse situations in the league than a team who can have Brook Lopez, Marshon Brooks and $40 million in cap space 12 months from now. But considering this franchise has sold the hopes of adding a super star for the past two years, fans certainly should be concerned.
When will the rebuilding end and the legacy of Prokhorov begin? Or perhaps the current state of the franchise will be the legacy of Mikhail Prokhorov.