Johan Santana's No-Hitter: One Fan's Reactions to History
June 2, 2012

Mike Stobe/Getty Images
It's 7 p.m. on Friday, June 1. I crawl into my usual spot on my bed and turn to SNY to watch my beloved Mets take on the St. Louis Cardinals. All day I have had to be reminded of my most crushing memory as a fan: Game 7 of 2006. Adam Wainwright, the pitcher in that infamous at bat, is the starter for St. Louis today, and Carlos Beltran, the man who has the most famous strike-out looking in Mets history, is patrolling center for the team that broke his heart six years ago.
Yadier Molina. I still can't believe he hit that home run to take the lead. But the Mets still have a shot. Up steps Carlos Beltran, who has had one of the greatest statistical seasons in Mets history, with two outs, bases loaded, and a rookie pitcher, Adam Wainwright, on the mound. This is our 1986 moment. Beltran goes down 0-2 early, but I'm not worried. Wainwright grooves a curveball over the middle of the plate.....taken for strike three. Season over. Dreams crushed. 
I like our chances today. Yes, Adam Wainwright is an incredible pitcher, but we have Johan Santana on the mound today. Santana is coming off the best start since his shoulder surgery and has had an extra day of rest, so even though the Cardinals boast arguably the best lineup in the National League, I feel Johan can keep them in check.
In all honesty, this isn't Johan's night though. It's Beltran's, who's returning to New York for the first time since he was traded last season. He steps up for his first at bat in the 1st inning and receives a nice ovation from the fans. True, we never forgave him for 2006, but he did put up some great numbers in his time in New York. Johan fans him on a 2-2 changeup. If only he struck out looking...
The 2nd inning starts and Johan just doesn't have his best stuff today. He's thrown eight straight balls and is in a spot of trouble with two on and one out. But this is Johan Santana, not some untested rookie. He strikes out the next two men up, one swinging and one looking, and escapes the jam unscathed.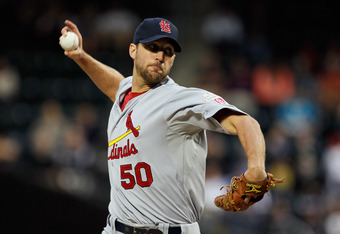 Mike Stobe/Getty Images
Bottom of the 4th inning. Santana's been great but Wainwright's been flawless. Finally though, the Mets find a chink in the armor. An infield single from Nieuwenhuis. A double from Wright. A sacrifice fly from Duda. A triple from Murphy. Now we're staked to a 2-0 lead, but I question whether two runs will be enough to beat the defending champs.
Johan's entering the 6th inning, and has allowed four walks, but no hits. How many times have I sat here, watching a Mets pitcher go into the 6th, my watermark for when the possibility of a no hitter becomes real, and despite all of my hopes, watched them fall just short? Johan has 79 pitches after five innings too. Collins said his count was 115 tonight. But if Johan has a no-hitter going, does he stay out?
Steve Trachsel got to the 6th inning twice in 2003 with no hits allowed, and both times he couldn't escape it. Once it was David Eckstein of the Anaheim Angels who broke it up. The other it was Rockies pitcher Chin-hui Tsao. It wouldn't be the only time in Mets history a no-hitter was lost to the opposing pitcher, as R.A. Dickey's 2010 bid against the Phillies ended in the 6th as well to an opposite field bloop from Cole Hamels.
Beltran leads off the inning by lining a shot down the third base line and it's just barely foul. Or is it? Replays show that the ball barely caught the edge of the chalk, but that doesn't matter. The umpire called it foul. For once, the Mets caught a break. One pitch later Beltran ropes it again, but this time right at David Wright who throws him out. An argument with the Cardinals coaches and the third base umpire ensues, but it's pointless. All that matters is that there is still a zero in the hit column.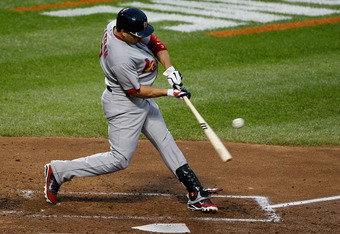 Mike Stobe/Getty Images
Shawn Estes went to the 7th inning with a no hitter on April 26, 2002 against the Milwaukee Brewers. Despite only needing nine more outs, Eric Young killed the dream with a leadoff single to left field. It would be the only hit Estes allowed, joining the list of 35 one hitters tossed by Mets pitchers.
One out in the 7th inning and up steps the heartbreaker Yadier Molina. Somewhere in my heart I know that if anyone could ruin this potential no-hitter, it's Molina. Sure enough, Yadier drives it out to left field, and I watch as Mike Baxter is chasing it, but it sure looks like he doesn't have a chance. At full speed, Baxter reaches, snags the ball, trips, and bashes arm first into the wall...but the ball is still in his glove. I jump off my bed and give a fist pump, unaware that Baxter is in a heap, injured from his heroics. He nearly ran through a wall to do it, but the no-hitter is alive.
Another unforgettable catch in Mets history was made in the same spot of left field, against the same team, only it was in the friendly confines of Shea Stadium. That infamous Game 7 again. With the score tied at 1-1 in the 6th, Scott Rolen drilled the Oliver Perez offering to deep left, and it looked like the Cardinals would be taking the lead. Endy Chavez drifted back to the AIG "Strength to Be There" ad, timed it, leaped as high as he could, and somehow, miraculously came down with the ball. Shea Stadium became unglued and Endy Chavez was cemented into Mets lore.
As they help Baxter off, I want to think, "This is fate, this is the night," but I know I can't. I thought that in 2006 as well, and we saw how that turned out. No, there is still a long way to go. Johan ends the 7th inning with the no hitter still intact, but with 107 pitches, will Terry Collins let Santana try to finish it? Santana is due up 2nd in the bottom of the 7th, and sure enough, Collins send him out there to bunt. The crown goes wild and now I'm getting excited. They're going to give Santana his shot at history. The Mets pad their lead to 8-0, but the score is immaterial right now. I just want to see Johan back on the mound.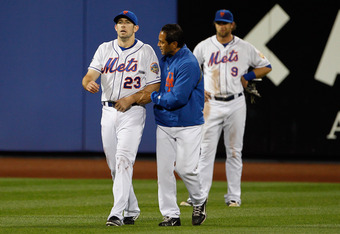 Mike Stobe/Getty Images
The 8th inning is a tough one for Mets pitchers. On May 23, 2004, Tom Glavine entered the 8th inning with a no hitter against the Colorado Rockies, but Kit Pellow made sure it didn't happen. Even closer was Gary Gentry on May 13, 1970 who was four outs away from a no hitter against the Chicago Cubs before Hall of Famer Ernie Banks ended his bid with a single to left field.
The 8th starts and Johan gets Tyler Greene to pop up the first pitch into shallow left. My heart goes into my throat as Kirk Nieuwenhuis rushes forward and Omar Quintanilla drifts back. They're going to collide, I know it. But somehow, they avoid each other and the ball rests safely in Kirk's glove. Five outs to go. Johan strikes out the next man looking, but walks Rafael Furcal. With Bobby Parnell warming up in the bullpen, Terry Collins runs out of the dugout. "This is it," I think. He's thrown 118 pitches, Beltran is coming up, Parnell is warm. Maybe we can get a combined no hitter, even if it doesn't feel the same.
John Maine was the last Met to hit the 8th inning with a no hitter. The Mets needed a great pitching performance on Sept. 30, 2007 and John Maine almost delivered that and more, coming within four outs of the first no hitter in franchise history. Paul Hoover played spoiler this time, dribbling an infield single to third base, delaying history yet another day. I remember feeling that the Mets would never get a no hitter after that day.
Collins meets Johan at the mound. The entire infield has gathered around to hear how he will get Johan out of the game. But he's not taking Santana out. Instead, he tells Santana that this is his game, and adds, "You're my hero," before running back to the dugout. Santana responds by getting Beltran to bloop a dying line drive that's gobbled up by Daniel Murphy. He's thrown 122 pitches but there is no longer doubt that Collins is letting Santana chase the no hitter. Johan is three outs from history.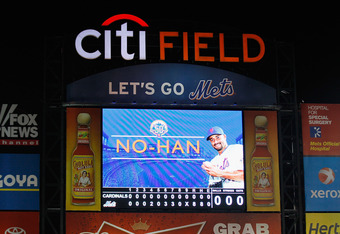 Mike Stobe/Getty Images
"The Franchise" Tom Seaver went to the 9th inning with a no hitter intact a couple times with the Mets. On July 4, 1972, Seaver had one out in the 9th inning before Leron Lee singled up the middle to break up the no hitter. His most famous close call, however, was on July 9, 1969, better knows as "The Imperfect Game." Seaver had not just a no hitter, but a perfect game going with one out in the 9th before Jimmy Qualls entered the Mets Hall of Infamy by singling to center field.
Johan heads out for the 9th. SNY doesn't even cut to commercial so we can watch him warm up. I'm as nervous as I was that October night in 2006. Matt Holliday is the first man up, and he breaks his bat on the first pitch he sees. It's a dying bloop to center and I yell out, sure that this will be the cheap hit to rob Santana of history. But it isn't. Torres makes the catch. Two to go. Allen Craig is next. He reaches out and pops up a 2-2 changeup to left field. Can of corn. SNY shows the faces of all the guys in the field and cuts to R.A. Dickey, so nervous he has wrapped all but his eyes in a towel. The Mets are one out away from history. 
Once before the Amazin's have been in this situation, and again it was Tom Terrific on the mound. The date was Sept. 24, 1975 and Seaver had allowed no hits in 8 2/3 innings against the Chicago Cubs. Joe Wallis stepped up and ended the no hitter, but even then, the situation wasn't the same. It was a scoreless game in 1975, and even if Seaver got Wallis out, it wouldn't have been a no hitter.
Here comes David Freese. He had a habit of snatching away history during last year's World Series, so I'm nervous. Santana falls behind 3-0. I don't care if he walks him, it's not a hit anyway, but with Molina on deck and Santana's pitch count at an astronomical 131 pitches, I don't want to chance another batter. Santana grooves a fastball, and then gets Freese to foul off a weak ground ball. If only that was fair, Wright could have ended it. You can hear a pin drop in my room. My dad has joined me and he's just as nervous as I am. The delivery. The pitch. Freese waves at the low changeup. He has struck out. It's over. The Mets, after 8,020 games, have a no hitter.
Pandemonium ensues in my room. I never hear Gary Cohen's call on SNY because we're too busy shouting. "He did it! We did it! Finally!" I pat my dad on the back as we celebrate. Both of us never thought we'd see this day, but are both thrilled that we not only saw it, but saw it live. I turn to my computer and blare "Smooth" by Carlos Santana; the same song that plays when Johan takes the mound. The celebration is on.
In the end, yes, it's only one win, but it is a win, a moment, a memory that I know I and ever other Mets fan will never forget. They may say that one is the loneliest number, but for Mets fans, one is all we ever asked for. It took 8,020 games and 51 seasons of baseball, but the Mets finally got their no hitter.
Now the real question: Who's going to throw the first Mets perfect game?