San Antonio Spurs: Ranking the 20-Game Win Streak's Spot in NBA History
June 2, 2012
Ronald Martinez/Getty Images
The San Antonio Spurs saw their impressive 20-game win streak come to an end at the hand of the Oklahoma City Thunder Thursday night.
But while the Spurs now have to start a new winning streak to capture their fifth NBA championship, it doesn't take away what they accomplished throughout the past 20 games.
But where does it rank them historically?
There have been some pretty impressive win streaks throughout time, but the San Antonio one ranks right up there among the best runs in NBA history.
Let's take a look at the five most impressive runs ever.
5. 1970-71 Milwaukee Bucks
With a roster that included the league's leading scorer in Kareem Abdul-Jabbar (then Lew Alcindor, 31.7 PPG), and a 32-year-old Oscar Robertson, the Bucks finished tied for the third longest regular season win streak in history with 20 consecutive wins.
They finished the regular season with a 66-16 mark and swept the Baltimore Bullets to win the NBA championship.
4. 2007-08 Houston Rockets
The Rockets won 55 games on the season and went on a 22-game win streak, the second longest in NBA history.
They did so on the back of Tracy McGrady, who was in the middle of an outstanding run, but the streak was even more impressive considering that Yao Ming was lost to injury in the middle of it.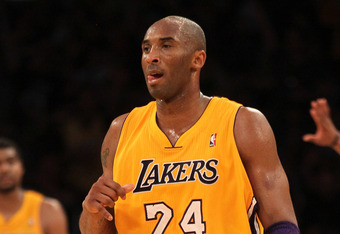 Stephen Dunn/Getty Images
3. 2000-01 Los Angeles Lakers
This Lakers team won 56 games in the regular season and had a 19-game win streak that included 11 consecutive postseason wins.
I put a little more stock in playoff victories, so this team ranks slightly ahead of what Houston did in the regular season. 
Even though they would eventually go on to lose a game in the postseason, Shaquille O'Neal and Kobe Bryant rode the momentum of this winning streak and captured the NBA championship.
2. 2011-12 San Antonio Spurs
The Spurs recent win streak doesn't get them the top spot overall, but it's right up there. San Antonio won their final 10 regular season games to go along with their first 10 postseason games.
Even more impressive has been the way the Spurs have been winning, as 15 of the 20 wins came by double-digits.
1. 1971-72 Los Angeles Lakers
It's hard not to give the No. 1 spot to a team that won 33 consecutive games, but that is exactly what this Lakers team accomplished.
Shortly after the great Elgin Baylor retired, the Lakers went on the longest winning streak in NBA history. 
In addition, they finished the season with 69 regular season wins, a record that stood for 24 years, and won their first championship since re-locating to Los Angeles.
This Lakers team was historically one of the greatest teams in professional sports history.