When Will the Pittsburgh Steelers Target Ben Roethlisberger's Successor?
June 1, 2012

Justin Edmonds/Getty Images
It's not as though time is particularly of the essence when it comes to the Pittsburgh Steelers finding the man who will someday take over the starting quarterback job currently held by Ben Roethlisberger.
But nothing in the NFL lasts forever. Roethlisberger turned 30 in March, and considering the way he plays and the numerous injuries he's suffered over his career, it's ridiculous to think he'll be suiting up into his 40s like Brett Favre.
At the moment, the Steelers feel comfortable with 32-year-old Byron Leftwich and 37-year-old Charlie Batch as Roethlisberger's primary backups. Clearly, however, neither man will be the Steelers' starter someday. Yes, they also have 2007 Heisman Trophy winner Troy Smith on the roster as well, but he's no long-term solution either.
So when might the Steelers consider bringing on the player who will someday succeed Roethlisberger?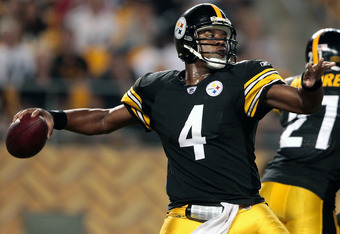 Jared Wickerham/Getty Images
Ideally, the best-case would be to draft someone in the next season or two and allow him to be mentored by Roethlisberger. But this presents challenges. First, the Steelers would need to use a first- or second-round draft pick on a talented enough quarterback to warrant being the starter someday.
But using a first-round pick on a quarterback is problematic, because a player with that kind of talent may not be interested in spending his first few years in the league on the bench. Of course, there are exceptions to this assumption (Aaron Rodgers comes to mind), and the Steelers would likely do more than their fair share of due diligence to ensure they wouldn't have a malcontent on their hands.
It also means that the Steelers would have to take a player who wouldn't start immediately instead of one who could fill a pressing hole right away, making that quite the expensive pick depending on their other needs.
Another option is taking a quarterback in the later rounds and hoping that with extended development behind Roethlisberger, he could ultimately develop into a starting-caliber player once Roethlisberger chooses to retire or move on. 
This is also risky. It relies so much on hope and could backfire if the player doesn't turn into the starter the Steelers hoped he'd become. It's less expensive than using a first- or second-round pick, yes, but the long-term costs could prove even more damaging.
Pittsburgh could also choose to make a trade for another team's backup quarterback or pick up a younger veteran off of the free-agent market. This would again require a great deal of faith that they aren't just picking off of the trash pile rather than finding a hidden gem who would benefit from being with the Steelers.
Either way, it's a tough situation but one the Steelers need to address soon. Roethlisberger isn't getting any younger, and the importance of a franchise quarterback for teams is getting ever higher. While Batch and Leftwich are workable options behind Ben for now, they aren't long-term solutions.
At some point, the Steelers will need to think about a Roethlisberger-less future, and they can better protect that future by dealing with it in the next two years. It's nowhere near the last minute yet, but the Steelers will be well-served to confront this issue before it gets to that point.