Miami Heat vs. Boston Celtics: Why Heat Will Dominate in Boston
June 1, 2012

Two proven teams. One heated NBA playoff game. One 53-minute battle.
Game 2 of the Eastern Conference Finals was perhaps the most entertaining and competitive game of the playoffs thus far.
There was certainly no shortage of storylines coming out of Wednesday night's game.
While things didn't look good for the Boston Celtics after Game 1, as the Celtics gave Miami all it could handle in Game 2. Rajon Rondo never came off the court and compiled a stat line that would be tough to duplicate in a video game: 44 points, 10 assists and 8 rebounds in 53 minutes of action.
After a quiet first half, Dwyane Wade continued his impressive playoff run by dropping 21 points in the second half and overtime, while his partner-in-crime, LeBron James, was his usual dominant self.
Despite the typical flood of criticism surrounding his missed jumper at the end of regulation, James torched the Celtics' defense for 34 points, 10 rebounds and 7 assists.
Armed with a 2-0 lead in the series, it's clear that Miami's athleticism can not be matched by the aging Celtics.
Simply by looking at the box score, without even watching the actual game, LeBron James tends to stand out.
However, statistics only tell part of the story in regards to what the three-time MVP brings to the table.
While many "star players" point to their offensive numbers to justify their position among the league's elite, LeBron is likely the most versatile player in the league on both sides of the ball.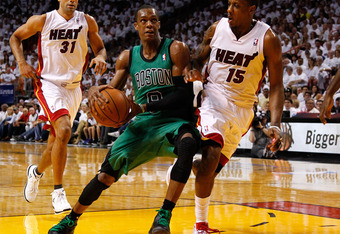 If a guard is shooting the lights out, James is the solution. If a post player is controlling the paint, Miami calls upon James.
After Rondo exploited the Heat backcourt for 22 points in the first half, Miami head coach Erik Spoelstra reached for his 6'8" 260-pound weapon to defend Boston's ultra-quick 6'1" point guard to start the third quarter.
James was a thorn in the side of the Celtics' floor general and Boston's offense suffered as a result, with Miami outscored Boston 35-22 in the third quarter.
While LeBron has been tremendous throughout the playoffs, Dwyane Wade has been equally sensational since Game 4 of Miami's series against the Indiana Pacers.
The last time the Heat lost was just over two weeks ago in Game 3 of the Eastern Conference quarterfinals against Indiana, during which Dwyane Wade scored just five points in what was likely the worst playoff performance of his NBA career.
Miami would have struggled to beat anyone that day, and they were certainly no match for a 42-24 Indiana Pacers team.
Since that nightmare performance Miami has looked like a completely different, more cohesive team, led by their dynamic duo.
However, in addition to the performances of James and Wade the difference for Miami recently has been the emergence of the Heat's role players in the absence of Chris Bosh.
Since Game 2 of Miami's series against Indiana, in which no other Miami player not named James or Wade scored more than five points, the Heat have had at least one player step up and score double-digits in every game.
In Game 1 of the Eastern Conference Finals Shane Battier stepped up for Miami with 10 points and 10 rebounds. In Game 2 Mario Chalmers poured in 22 points, while Udonis Haslem added 13.
Boston is a very disciplined defensive team, but if Miami's supporting cast continues to step up and take advantage of their opportunities the Heat will continue to spread the floor and the Celtics will have to worry about more than just Wade and James.
It could be Battier. It may be Chalmers. Perhaps it's Haslem, or a combination of all three. If the Heat can get some scoring out one of their role players Boston faces the possibility of falling into a fatal 0-3 hole in the series.