How to Fix the Dallas Cowboys' Pass Defense
June 1, 2012

Layne Murdoch/Getty Images
The Dallas Cowboys have already done a lot to address their biggest weakness from last season. In an attempt to shore up the secondary, they signed one of the top free-agent cornerbacks on the market and traded up to select the highest-rated defensive player in the draft. 
Great, but that doesn't mean they're out of the woods. Mike Jenkins had a good 2011 season as the No. 1 corner, yet Dallas still ranked in the bottom 10 across the board against the pass. DeMarcus Ware was bringing it hard up front, yet they still let Rex Grossman complete 66 percent of his passes for nearly 300 yards in Week 11.
When you make Rex Grossman look respectable, you've got a problem.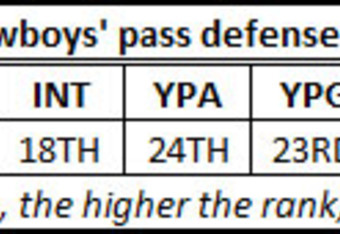 The statistics and the offseason transactions indicate that a major transformation isn't necessary. But here are a few things the Cowboys can do to ensure that the secondary doesn't bog them down again in 2012.
Abstain from trading Mike Jenkins
It's becoming difficult to keep track of the number of reasons why Jenkins has to stay in Dallas this season. But let me sum it up as best I can: Jenkins was the strongest member of the Dallas secondary last season, he comes cheap, cornerback depth is hard to come by, Morris Claiborne is a rookie with a lot still to prove, Claiborne is currently hurt and the NFC East is stocked with great passers and great receivers.
I know it's cliché, but you truly can't have too many good corners, which is why the Cowboys have to resist the temptation to trade a player as valuable as Jenkins. 
Give Rob Ryan time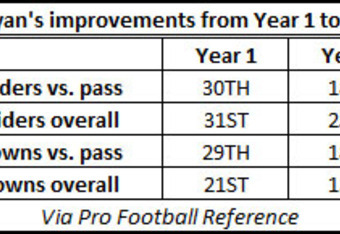 Essentially what I'm saying here is this: Keep in mind that Ryan had to force a complex defense on his players in a very small time frame last offseason. The same problem cost the Philadelphia Eagles last season, but while Juan Castillo isn't a sure thing regardless, we know that Ryan has what it takes to put a top-tier defense onto the field.
I'm not saying Jerry Jones or Jason Garrett will panic and fire Ryan if things go badly, but the Cowboys' pass defense might still have some growing pains with Eli Manning, Jay Cutler and a tough cross-country road game in Seattle lining the early part of the schedule. 
Don't panic. Trust Ryan, who boosted the Cleveland defense from 21st to 13th and the pass defense from 29th to 18th in his second season with the Browns.
Ease up on the exotic blitzes
Whoa...I went there. I did. I'm sorry, because while I think Ryan can do some big things when given time to implement it all, I also believe he's vulnerable to overthinking things. Ryan's defense already has the best pure pass-rusher in the league in Ware and another stellar, underrated edge rusher in Anthony Spencer. 
In all likelihood, the Cowboys will get between 40 and 50 sacks regardless of how many kitchen sinks are thrown. So if it again begins to feel as though coverages are being blown because defenders are confused by their assignments, they might want to consider simplifying things and letting a talented secondary take care of itself.