Pacquiao vs. Bradley: Breaking Down the Fight in 10 Essential Categories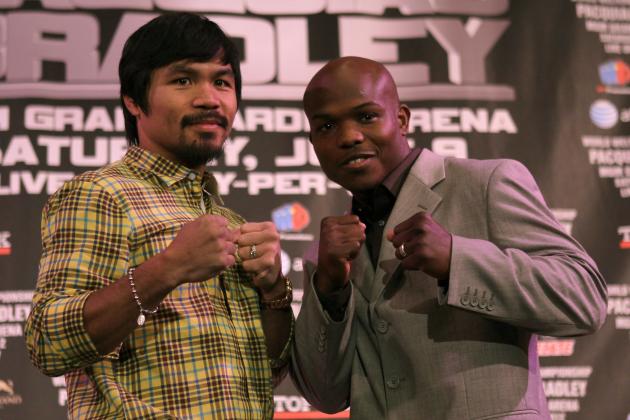 Stephen Dunn/Getty Images

Opinions vary on how the upcoming fight between Manny Pacquiao and Timothy Bradley will unfold. While it is reasonable to suspect that 33-year-old Pacquiao (54-3-2, 38 KOs) could obliterate the less experienced, 28-year-old Bradley (28-0, 12 KOs), it is nearly as compelling to predict a close fight—or even an upset.
Factors contributing to this broad spectrum of opinions include negotiating Pacquiao's legacy with his last, underwhelming performance against Juan Manuel Marquez, as well as validating Bradley's undefeated record and skills in light of his less impressive resume.
Are we simply trying to psyche ourselves up for what we desperately hope will live up to a "mega fight" billing? I don't think so.
Timothy Bradley must be taken as a dangerous, legitimate challenger, and his combination of technical skills and intangibles make him one of Pacquiao's most difficult (recent) opponents.
A breakdown of classic attributes like speed, power, heart, versatility etc. reveals that there isn't as wide a gap between Pacquiao and Bradley as one might assume.
So, who holds the advantage in 10 key categories? Let's find out.
Begin Slideshow

»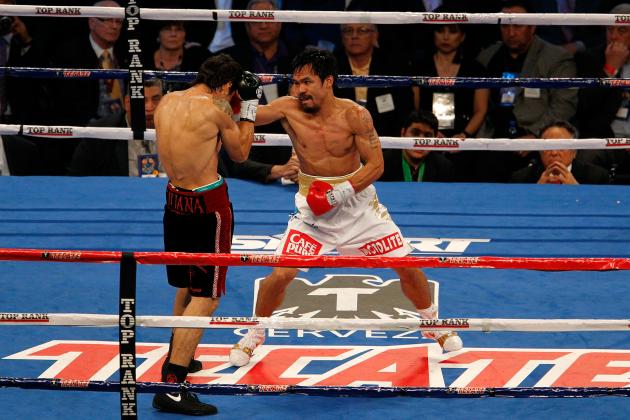 Tom Pennington/Getty Images

As a young, athletic boxer, Timothy Bradley possesses quality hand speed. Bradley throws diverse combinations and is adept at mixing up his attack to both the head and body.
While he can be wild and occasionally loop his shots in wide arcs, Bradley is capable of throwing straight punches, which obviously enhances his speed.
An underrated aspect of a boxer's speed is their ability to throw straight punches, and Manny Pacquiao is perhaps the most precise and surgical fighter today.
This fluidity, combined with Pacquiao's naturally endowed speed and athleticism, make him blindingly fast, and there is perhaps no fighter in the world more adept at stringing together crisp combinations. Pacquiao has been known to throw and land combinations of six or more punches from varying angles, and it is this blend of speed and control that gives him the edge.
Advantage: Pacquiao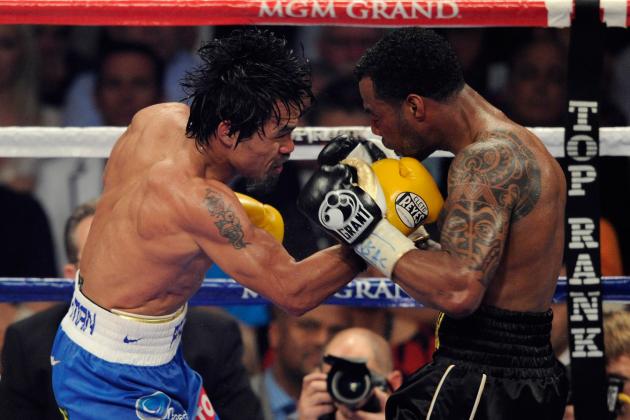 Ethan Miller/Getty Images

Timothy Bradley's strongest and most effective punch is his right hand. The blow is often clubbing and can land from a looping or straight trajectory.
Bradley is also a quality and committed body puncher, and he has shown the ability to stun and hurt opponents.
That said, Bradley's record of 12 knockouts in 28 wins doesn't suggest he's a knockout puncher, and "Desert Storm" has failed to score a stoppage against an elite opponent.
Power might be one of Manny Pacquiao's most significant advantages going into this fight.
With 38 knockouts in 54 wins, Pacquiao has proven himself as a capable puncher, and his two-round obliteration of Ricky Hatton, for instance, was devastating.
Pacquiao has been routinely fighting larger foes, and his 12th-round stoppage of Miguel Cotto suggests he has carried his power to the higher weight classes. In Bradley, Pacquiao will be fighting someone of a similar stature; expect the combination of Pacquiao's speed and power to inflict some damage.
Advantage: Pacquiao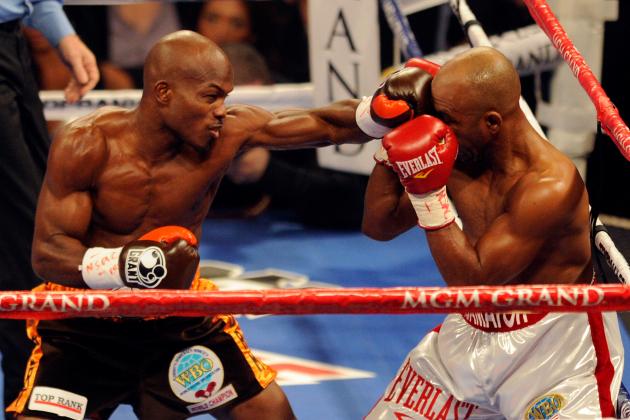 Ethan Miller/Getty Images

Both fighters are fluid athletes and adept at moving around the ring. In Pacquiao's last fight—a highly controversial majority decision over Juan Manuel Marquez—"Pac-Man" was often reduced to aimlessly stalking Marquez around the ring, which led to Pacquiao eating a plethora of right-hand counters.
Furthermore, Pacquiao was largely unable to circle to his right to avoid Marquez's counters in what amounted to a frustrating performance for the Filipino icon.
While all of Timothy Bradley's title fights have gone the 12-round distance, the bouts have usually been contested on his terms. Bradley demonstrates an encouraging knack for dictating a fight's tempo, and he does this through measured bursts of punching, well-timed forward assaults and an understanding of when to retreat and counter-punch.
Bradley rarely gets trapped, and instances where his fights have become reckless brawls have usually been at his discretion and to his advantage.
Advantage: Bradley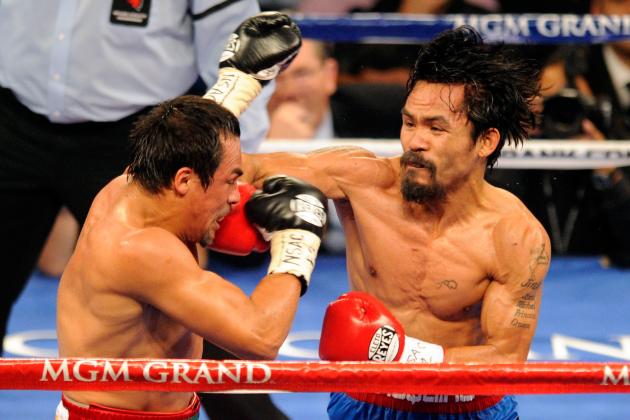 Ethan Miller/Getty Images

Bradley is an effective counter-puncher and throws well to the head and body.
His right hand can be precise, yet he has a tendency, at times, to loop his punches in heated exchanges. This recklessness often occurs when Bradley lunges forward with his head extended.
While he can be effective when swarming opponents, breakdowns in Bradley's technique will lead to precise Pacquiao counters.
Pacquiao has a wide variety of punches and combinations in his toolbox.
The speed and precision of his combinations are further heightened by his well-schooled technique, and Pacquiao is rarely off balance or seen winging wild punches.
Another crucial aspect of Pacquiao's technical mastery is his ability to maintain his fundamentals while shifting and sliding to punch from awkward and surprising angles. This technical advantage will serve Pacquiao well during the fight's most meaningful exchanges.
Advantage: Pacquiao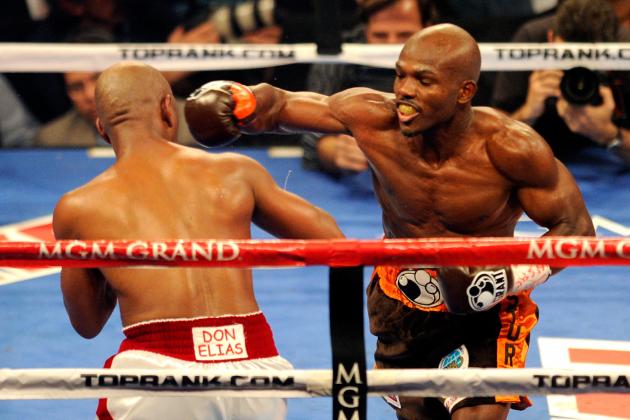 Ethan Miller/Getty Images

Both fighters have proven their ability to adapt to a multitude of styles, and the evidence of this is in their extended title reigns and consistent performances at the pinnacle of the sport.
Granted, Pacquiao has fought a better quality of opposition throughout his career. By fighting brawlers, boxers, boxer-punchers and counter-punches, Pacquiao has been exposed to every conceivable style and veteran trick.
Throughout these grueling tests, Pacquiao has shown the ability to flurry, overwhelm his opposition with relentless combinations and power, fight off his back foot and even rally when hurt. The man has done it all.
That said, Bradley is no slouch. Since defeating Junior Witter for the WBC light welterweight championship in 2008, Bradley has defeated bangers and brawlers like Edner Cherry, Kendall Holt, and Luis Carlos Abregu, as well as slick boxers such as Lamont Peterson and Devon Alexander.
In these triumphs, Bradley has exhibited the necessary class to initiate offense with precise combinations or swarming tactics, while also flashing counter-punching proficiency and classy boxing behind a stiff jab.
He's undefeated for a reason.
Advantage: Even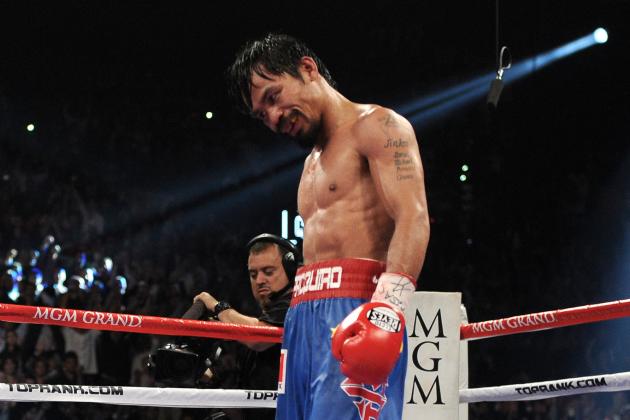 Harry How/Getty Images

There's not much to be said here because both fighters are elite athletes who come into every bout in optimal shape.
Pacquiao's stamina is best reflected in his ability to maintain a torrential punch output for 12 grueling rounds.
What is most remarkable about Pacquiao's pace is that his offensive arsenal becomes the linchpin of his defense, as his recent opponents have been calculated as averaging 29 percent fewer punches thrown per round against Pacquiao than their previous five foes.
This is a credit to Pacquiao's stamina, and his ability to go 12 rounds in championship fights is beyond questioning.
Similarly, Timothy Bradley always comes into bouts in supreme condition and is used to going the distance in championship fights.
Considering Bradley isn't a knockout puncher, his psychological makeup has as much to do with his world-class stamina as his conditioning (which by itself is fantastic).
Bradley expects to go the distance, and all of his title defenses have come via clear decision—other than his TKO of Joel Casamayor's corpse—which shows that he is always fresh entering the final stanza.
Advantage: Even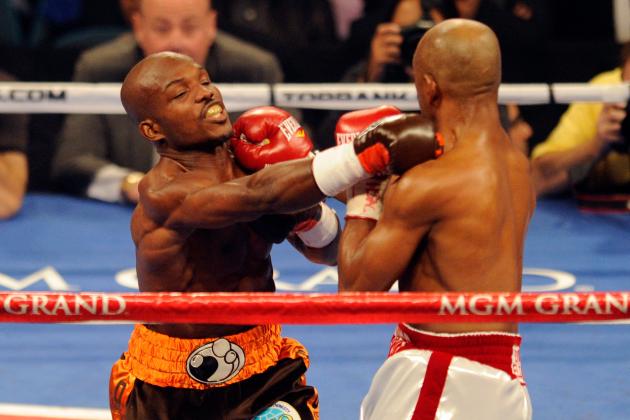 Ethan Miller/Getty Images

Pacquiao turned pro when he was only 16, and his two stoppage losses—a knockout defeat against Rustico Torrecampo and a third-round TKO setback in a WBC flyweight title defense against Medgoen Singsurat—are barely worth mentioning.
Pacquiao was still growing into his body, and since he has matured and settled anywhere in weight between super featherweight and light middleweight, he has clearly demonstrated the ability to absorb punches against world-class foes and larger men.
In his 2009 unification fight against Kendall Holt, Bradley was rocked and knocked down by a picture-perfect left hook. Remarkably, Bradley was able to rise immediately, have the presence of mind to go back to one knee to further recuperate, survive the round and ultimately go on to win a competitive decision.
That Bradley was able to take the hard-punching Holt's money shot—a left hook—and avert disaster speaks volumes to his durability—not to mention that he hasn't been rocked nearly as bad since.
Advantage: Even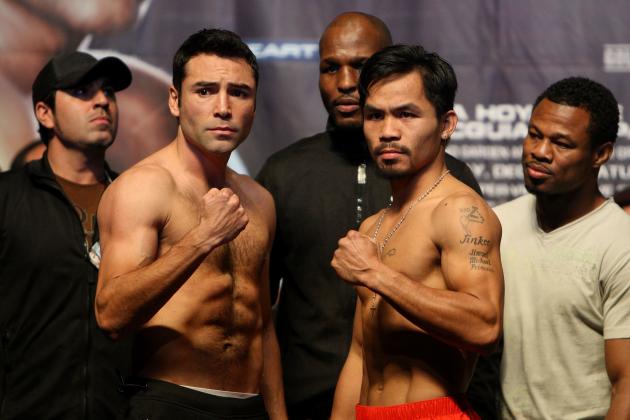 Jed Jacobsohn/Getty Images

Bradley has a perfect record in seven title fights (one of them being a no-contest against Nate Campbell).
Furthermore, he has already been involved in two high-profile unification fights, including his tilt against Devon Alexander in what was seen, at the time, as the best fight at 140 pounds not involving Amir Khan.
Bradley has also been willing to travel for big fights, having fought outside of his native California in Montreal, England and Vegas.
As a premier pound-for-pound fighter and Pay Per View draw, Manny Pacquiao is used to mega-fights. Pacquiao routinely packs the MGM or Mandalay Bay in Vegas, and he also has big-stadium experience through his two bouts at Cowboys Stadium in Arlington, Texas.
More importantly, Pacquiao has nearly unparalleled credentials fighting at a world-class level. From Erik Morales to Oscar De La Hoya to Juan Manuel Marquez, Pacquiao has fought the absolute best of his era (except for you-know-who).
Advantage: Pacquiao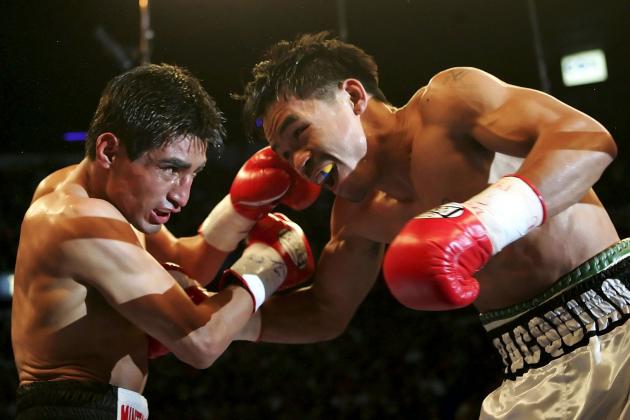 Jed Jacobsohn/Getty Images

As mentioned, Bradley survived a thunderous first-round knockdown against Kendall Holt and rallied for a decision win. You could also argue that Bradley's fighting spirit was magnified and enhanced when Devon Alexander put up no protest when their fight was stopped after an accidental clash of heads and went to the scorecards.
In that fight, Bradley imposed his will upon a steadily wilting Alexander, and "Desert Storm" has passed every arduous test he's faced with enthusiastic resolve.
Pacquiao has been in some absolute wars. His trilogies against Erik Morales and Juan Manuel Marquez were technical slugfests—if such an oxymoron can exit.
Pacquiao has the tremendous ability to return fire when tagged or hurt, and it is this fighting spirit and unwillingness to let his opponent land the last punch that make him such a thrilling fighter.
Despite a string of dominant performances before the most recent Marquez fight, Pacquiao has engaged in multiple battles of attrition, and his unwavering resolve has carried him through nearly every time.
Advantage: Even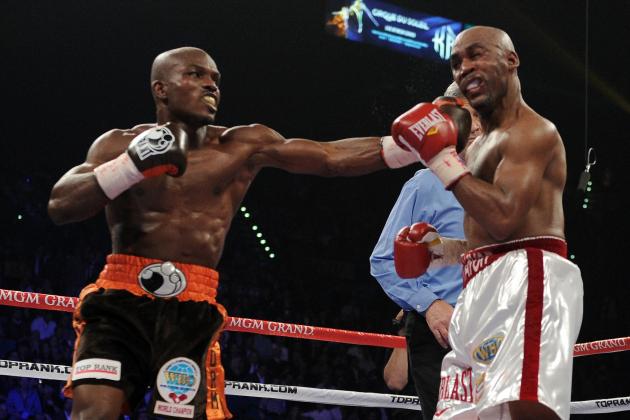 Harry How/Getty Images

In his most recent fight, Pacquiao won a highly controversial majority decision over Juan Manuel Marquez.
Perhaps Marquez simply has Pacquiao's number, or maybe Manny had an off night. Regardless, Pacquiao seemed especially vulnerable to counter right hands, and he was unable to effectively command the ring or use his movement to dance away from Marquez's punches and lure the Mexican into traps.
Distractions aside, Pacquiao looked beatable.
Bradley's last fight was against the paltry remnants of the once-great Joel Casamayor, and Bradley did exactly what he was supposed to by stopping the former champion from Cuba.
In his previous fight, Bradley bullied and bloodied Devon Alexander en route to a technical decision victory in a sloppy fight.
Regardless of how he won, Bradley has remained undefeated and has had no legitimate controversy cloud his victories (seriously, the head clashes are accidental).
Advantage: Bradley