NL Worst of the Night: Astros' Bud Norris Gives Up 9 Runs in 2 Innings
June 1, 2012

Doug Pensinger/Getty Images
Houston Astros pitcher Bud Norris was having a great month of May. In his five previous starts, Norris had allowed one run or fewer in four of those appearances. One run or fewer. 
As the Houston Chronicle's Steve Campbell explains, Norris had a 1.17 ERA in May, the best in the majors. He looked like an easy choice for NL Pitcher of the Month. 
Then Norris took the mound at Coors Field Thursday night. And his May suddenly didn't look so good.
Facing the Colorado Rockies, Norris allowed four runs—three of them on a home run by Carlos Gonzalez—before he could even record an out in the first inning. That's as many runs as he'd given up in his previous five starts. By the time he finally finished the inning, the Astros were down 5-0.
(If you're keeping track, the Astros were outscored in the first inning over the past two nights by a combined score of 9-0).
The Rockies weren't done with Norris when he came out for the second inning. Three of the first four batters reached base, helped by an intentional walk to Gonzalez. (The Astros had clearly had enough of him, after hitting home runs in four consecutive at-bats).
Michael Cuddyer's two-run double gave Colorado a 7-0 lead. Two batters later, an RBI single from Wilton Rosario pushed the lead to 8-0. That was it for Norris. Though one more run was tagged onto his final box score when Rosario eventually came around to score.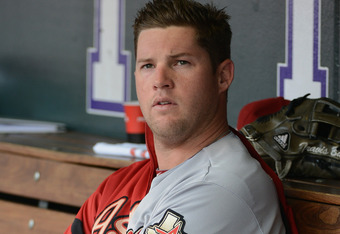 Doug Pensinger/Getty Images
In 1 2/3 innings, Norris' season ERA went from 3.34 to 4.52. His ERA for May went from the aforementioned 1.17 to 3.62. 
"Really, it's not just about one start," Norris said after the game. "It's about 30 you make, and how many innings you eat up and how you can keep this team in the ballgame and winning games. I'm going to look at it, get some info out of it, but I'm going to try to flush it.
Norris is right; this is just one game. But I don't know how much info he'll get out of it, other than, "Wow, I'd better not throw those pitches again." (In his recap, the Chronicle's Campbell noted that Norris didn't have much on his fastball, throwing 90 mph or below).
Astros pitching coach Doug Brocail may want to delete the video of that performance. Don't even let Norris watch it. No one needs to see it ever again. Wipe those hard drives clean. 
Follow @iancass on Twitter