AL Matchup to Watch Is No Longer Boston Red Sox vs. New York Yankees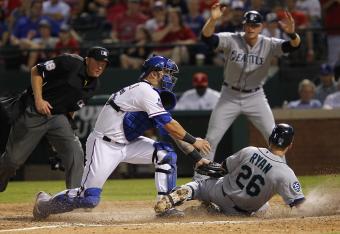 Rick Yeatts/Getty Images
Who needs the Red Sox and Yankees when you can have Felix Hernandez matched up against Yu Darvish and Ichiro Suzuki shagging Josh Hamilton's deep flies?
In the wake of the Seattle Mariners' whopping 21-8 victory over the Texas Rangers Wednesday, it is apparent that these two teams promise an entertaining ballgame whenever they clash.
The M's have performed unusually well against their divisional rivals thus far in 2012, which contradicts what most people would have thought at the beginning of the season.
The Rangers undeniably own baseball's best offense, and their pitching is pretty top-notch, too. The Mariners own one of the most sluggish offenses in the MLB, and it's only their improving pitching that keeps them afloat.
The series score in 2012 is 5-5, which is pretty good for the Mariners and not so good for the Rangers considering their overall regular season records.
In those 10 games, the Mariners are playing much better offensively (and still pretty well defensively considering the formidable offense they're up against) than they are against any other team. They're averaging 5.7 runs per game against Texas compared to 3.7 against other teams.
Sure, their 21-run game skews that number a bit, but it doesn't disrupt the trend.
Another exciting part of the matchup is watching countrymen Yu Darvish and Ichiro face off. Darvish is 1-1 against the Mariners so far, but Ichiro has had his number in both games, hitting 5-for-9 with two runs.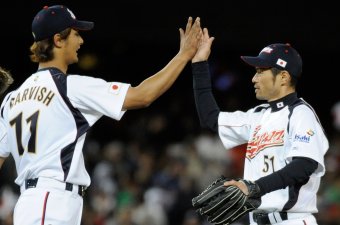 Kevork Djansezian/Getty Images
It's a small sample, but it makes you wonder if Ichiro has an advantage, having seen Japanese pitching for nine years before coming to America to tear it up. Of course, Ichiro is also 13 years Darvish's senior and has a full, successful career behind him in the top baseball league in the world. Whether or not there's an advantage, this will continue to be an exciting matchup to watch.
It's still fun to watch the Yankees play the Red Sox in either of the high-energy venues that house the two AL East powerhouses, but a lot of that comes from the history of the rivalry. The Mariners/Rangers rivalry isn't a particularly old or vicious one, but it hosts some of the top players of the current era, and it's only going to get more intense...
The Rangers are perennially poised to take a stab at the championship and will continue to be since a lot of their stars are moving into their prime.
The Mariners have some of the nastiest minor-league pitchers chomping at the bit in Andrew Carraway, James Paxton, Danny Hultzen, Stephen Pryor and Taijuan Walker who occupy Double-A Jackson and Triple-A Tacoma. There is little doubt they will have one of the lowest team ERAs in the league in a few years, but they do need to match their pitching with some offense.
There's help on the way there as well. Nick Franklin, the projected future shortstop of the team, is tearing it up in Double-A. Outfielders Casper Wells, Mike Carp, Trayvon Robinson, Chih-Hsien Chiang and Carlos Peguero could all be candidates to replace Ichiro and fill Safeco's outfield. Francisco Martinez and Vinnie Catricala also have big-league potential.
Aside from all of the talent beneath the surface in Seattle, there are still the players who are starting this season like Dustin Ackley, Kyle Seager, Jesus Montero and Justin Smoak who will continue to improve as a unit and individually.
The Sox/Yanks rivalry will probably continue to draw the biggest audience, but the Rangers/Mariners matchup is one to watch for the remainder of 2012 and over the next few years.
ALCS 2015?
This article is
What is the duplicate article?
Why is this article offensive?
Where is this article plagiarized from?
Why is this article poorly edited?

Seattle Mariners: Like this team?