New Orleans Hornets Must Keep Eric Gordon from Leaving the Big Easy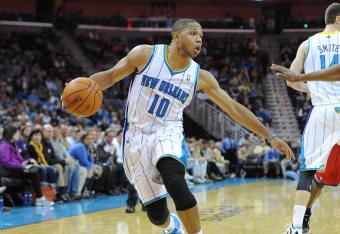 In the early 1990s, the then-Charlotte Hornets used high draft picks to build what they believed was going to be a strong core that would make the team a contender for years to come.
It started in 1990 when they used the No. 5 overall pick on forward Kendell Gill. The following year, they used the No. 1 overall pick on UNLV forward Larry Johnson. The year after, they tabbed Georgetown center Alonzo Mourning with the No. 2 overall pick in the 1992 NBA draft.
'Zo. Gill. Grandmama. That was going to be one hell of a trio.
Or so the Hornets thought.
Despite some valiant efforts in the postseason during the first half of the '90s, the Hornets took an axe to their vaunted Big Three after the 1993-94 season. Alonzo Mourning was shipped to the Miami Heat in exchange for a package headlined by sharpshooter Glen Rice. Rice fit in beautifully, and he, along with Johnson and All-Star point guard Kenny Anderson, formed a new triumvirate in Charlotte.
That threesome came to a screeching halt just two years later. Anderson opted not to re-sign with the Hornets, and Johnson was traded to the Knicks in exchange for Anthony Mason. Oh, but that wouldn't even end up being the most costly trade the Hornets would make in 1996.
With the No. 13 pick in the 1996 NBA draft, the Hornets drafted a lanky shooting guard out of Lower Merion High School. That shooting guard's name was Kobe Bean Bryant. Kobe would last all of two hours as a Hornet, as the team shipped him to Los Angeles for center Vlade Divac.
I wonder how that worked out for the Lakers, eh? The next season Charlotte sent away long-time point guard Muggsy Bogues to Golden State for former Chicago Bull B.J. Armstrong.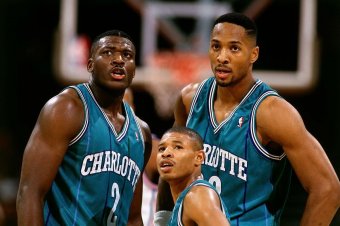 The revolving door of stars wasn't quite finished. In 1998, the Hornets traded Rice to Los Angeles for guard Eddie Jones and center Elden Campbell. Divac would inevitably move on to Sacramento, teaming with Chris Webber on a Kings team that came close to the finals for a couple seasons.
In 1999, the Hornets drafted point guard Baron Davis out of UCLA, but he too would be traded in his prime to Golden State for the expiring contracts of Speedy Claxton and Dale Davis. Jones would also find himself on the next train out once the team relocated to New Orleans, as he was traded along with Mason to Miami for Jamal Mashburn and P.J. Brown.
The Hornets would find Davis's replacement in the draft in 2005. As luck would have it, Wake Forest point guard Chris Paul would slide to No. 4 where the Hornets happily snatched him up. However, this past December, Paul was sent to the Clippers for a package headlined by guard Eric Gordon.
That brings us to why we're here. Gordon is expected to be a restricted free agent this summer and, according to Marc Spears of Yahoo! Sports, he has every intention of seeing what is out there on the open market.
"Wherever I end up will be a good situation, or I will make it a good situation." said the former Indiana Hoosier standout.
Now, that's not exactly "I'm taking my talents to South Beach," but it's not exactly Gordon wrapping his arms around the city of New Orleans, either. We all knew Gordon was reluctant to stick around with the Hornets once he turned down a four-year extension with the team in January.
However, when the team won the rights to the top pick in the 2012 NBA draft lottery, it seemed the inevitable arrival of Kentucky big man Anthony Davis would sway Gordon into staying.
Otherwise, why did David Stern go through all the trouble of rigging the lottery?
I'm kidding. Don't fine me, Mr. Commissioner.
Now, the ball is still in New Orleans' court. Gordon's a restricted free agent, which means New Orleans can match any offer another team sends Gordon's way.
As they should.
Gordon was brought in as the centerpiece of the Chris Paul trade. His future in New Orleans is the only thing that keeps that trade from being a complete bust for the Hornets (unless that No. 10 overall pick turns into something special and/or they can get a sweet deal for Gordon). Lucky for New Orleans, teams are going to be reluctant to pay a max contract for a guy with a history of being injured and coming off major knee surgery.
That being said, Gordon is 22 years old and one of the best young 2-guards in the game. If teams are willing to pay the Amir Johnsons of the world $34 million, someone will pony up big money for a talent like Gordon. Even if they do, the Hornets have to match it or somehow find another player of equal value to get back in exchange. Momentum in New Orleans may be running high this week, but part of the excitement stems from the idea that Anthony Davis and Eric Gordon could be partners.
The history of the Charlotte/Oklahoma City/New Orleans Hornets is riddled with stars who were sent packing in their primes by penny-pinching former owner George Shinn. Those stars went on to bigger and better things elsewhere.
Kobe won five rings without ever putting on a Hornets uniform, one of those was with Glen Rice. Mourning won a title with the Heat, along with Eddie Jones. Davis, Paul, Johnson and Mason all had productive careers post-Charlotte/New Orleans.
The Hornets are under a new regime, and the lottery victory last night was supposed to be the start of something big. That something only happens with Gordon on board for the long haul. The Hornets must keep Gordon at all costs.
If not, they will soon find Anthony Davis as the latest member of former Hornets who built a career elsewhere.
This article is
What is the duplicate article?
Why is this article offensive?
Where is this article plagiarized from?
Why is this article poorly edited?

New Orleans Pelicans: Like this team?