Tampa Bay Buccaneers: 3 Players Who Could Change Positions in 2012
June 1, 2012

Larry French/Getty Images
New regime, new faces, new game plan.
Greg Schiano rolled into Tampa Bay determined to change things up, and he has certainly prevailed. 
Order has prevailed over chaos. Raheem Morris's insane asylum has been demolished and replaced with a police academy/military parade/airport hybrid that takes the form of an NFL team.
Problem players like Kellen Winslow and Albert Haynesworth are out and two of the three best free agents of 2012 class are in (Carl Nicks, Vincent Jackson).
Though the Bucs didn't land one of the best quarterbacks of all time (Peyton Manning, duh!), current starter Josh Freeman is doing his best to return to 2010's glory.
And even players who managed to stay on the roster will still have to deal with changes, in areas such as schematic philosophy and organization of practices. 
Some will have to change their positions entirely. 
Ronde Barber: CB -> FS
Yes, the 37-year old entering his sixteenth season in the NFL may end up at a completely different position. 
This is a guy who made the All-Decade Team at corner just two years ago.
But past results do not guarantee future gains.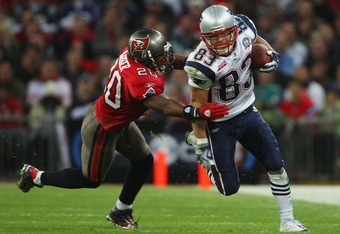 Tom Shaw/Getty Images
Officially, Barber changed positions from cornerback to free safety on May 15th. This change will allow the Bucs to have two starting caliber safeties in Barber and rookie Mark Barron, and have new signee Eric Wright start at corner. Aqib Talib will start at CB as well, assuming he is eligible to play in 2012.
The move will benefit a secondary that struggled all throughout last season. 
Jeremy Zuttah: G -> C
Once Carl Nicks was signed, it became clear that center Jeff Faine's days were numbered (at least in Tampa Bay). 
Jeff Faine did not play well as a Buccaneer, so as soon as the team acquired Nicks, it had the liberty to cut him and move G Jeremy Zuttah to the center spot. 
Schiano coached Zuttah at Rutgers, and should therefore know exactly what his potential is at the new position, so Bucs fans need not lose sleep over the move. 
With Nicks, Zuttah and Pro-Bowler Davin Joseph, the Bucs may have the best interior offensive line in football.
Mason Foster: ILB -> OLB
While it is not yet concrete, many analysts have predicted that Mason Foster will move from the inside to the outside in 2012. This is based on his skill set, and his difficulties reading offenses before the snap. 
However, the 2011 3rd-round pick has a good shot at keeping his current spot, mainly because of the lack of competition. 
As expert Rick Stroud wrote
Lavonte is most effective as an outside linebacker, where he can run and hit. That might also be the best spot for Foster, but it's more likely he will either remain at middle linebacker or move to strong side linebacker. The Bucs consider Lavonte  the best linebacker in coverage in the draft, so he'll also remain on the field in nickel passing situations. That means either Foster or Quincy Black will leave the field on third down.
There is still the possibility that Foster may move to where he'd be most comfortable, however unlikely it may seem.