TUF Live Finale: Should Johny Hendricks Fight Winner of Ellenberger-Kampmann?
May 31, 2012

Michael Nagle/Getty Images
Johny Hendricks' win over Josh Koscheck at UFC on FOX 3 established him in the top ranks of the welterweight division. Still Hendricks will have to wait for the winner of Ellenberger vs. Kampmann before he gets his title shot and a chance to settle some old business.
Before his victory over Koscheck, Hendricks has been steadily gaining momentum in the welterweight division. His 13-1 record, four fight win streak and victories in some of the best fights in recent memory combine to make a likely contender for the welterweight title.
Jake Ellenberger and Martin Kampmann, set to meet tomorrow night at UFC on FOX 3, are in different situations with the same contention on the line.
Ellenberger enters tomorrow's fight with an impressive six-win streak. He hasn't lost a fight since his 2009 loss against current interim-champion Carlos Condit that ended in a thin split decision. With that loss being his only so far, a win against Kampmann tomorrow certainly places him in line for a title shot.
Kampmann's more recent record tells a different story of an experienced fighter at 25-5 who lost two of his last four fights. Nevertheless, he is coming off of a two-fight streak, and his last victory against Thiago Alves was an impressive one. Unlike Ellenberger, Kampmann will show up tomorrow night looking to confirm his place as a top-ranked welterweight despite his latest mixed performance.
And so we have three fighters all fighting for a position behind the top welterweights: injured champion Georges St-Pierre (GSP) and interim champion Carlos Condit. Just to make it more confusing, GSP continually promises that his recovery from knee surgery is ahead of schedule and that he'll be fighting by the end of the year.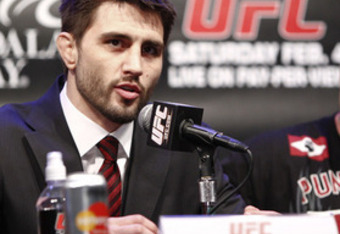 In all of this uncertainty, however, the result of tomorrow night's fight between Ellenberger and Kampmann is the first step in stabilizing the division and its future matchups.
Regardless of GSP's return by the end of this year to fight Condit, the next to contend should be the winner of Ellenberger-Kampmann.
Assuming victory, each fighter has his case for a title shot. But Hendricks' momentum alone isn't enough to place him in contention just yet. I dare say he's ready to contend, just not in this division and not right now.
The reason has less to do with performance than the beloved history that usually takes precedence in UFC matchmaking. In 2009, Condit both thinly won the aforementioned bout against Ellenberger and lost to Kampmann in an almost equally thin split decision. Now that Ellenberger and Kampmann are set to fight, Condit silently waits, holding the interim title and watching his history come upon him.
All of this—the losses, the wins, the interim titles, the contention and the history shared by Kampmann, Ellenberger and Condit—won't be laid to rest unless the winner of this fight goes straight to the number three spot. Even then, there's room for rematches for a good while; that will be the time for Hendricks to join in the mix.
Until then, tomorrow's fight between Ellenberger and Kampmann should be for title contention in order to settle the history of the top welterweights.