UFC on FOX 3 Results: Johny Hendricks Proves He's Ready for a Title Run
May 6, 2012

Johny Hendricks' split-decision victory over Josh Koscheck was a thin one, but his performance ensures his potential for Hendricks' future in the welterweight division.
Hendricks showed us what we all wanted to know: how he'd fare against a top-rated fighter in a bout that lasts more than 12 seconds. Admittedly, the thin margin leaves more questions than answers about Hendricks' future in the division.
What we did learn, however, is promising.
Koscheck appeared to control Round 1, in large part due to Hendricks' slowed pace after being hit in the eye. I won't measure total success due to mishap, but Koscheck's open-handed jabbing and its effect were both very evident and came with precedent. Whatever the case, Hendricks was thrown into defense for the first half of the round.
Round 2 saw a more ready Hendricks, who seemed happy to match Koscheck's pace through smart defense and patience. Koscheck did land some heavy, accurate blows, but Hendricks' composure never failed.
In the end, Hendricks landed more strikes. This ultimately lead to Hendricks' victory and illustrated that if a fight goes beyond a quick knockout, Hendricks is willing to stay for all of it. Yes, it was an excellent fight. Yes, it was close. But that alone is more telling about Hendricks' potential than his win by knockout over Jon Fitch.
Koscheck had more than enough time and opportunity to take the match. His strikes were powerful and accurate. His takedown attempts and reversals were solid. At the end of three rounds, though, Hendricks had displayed a fantastically efficient offense supported by good defense when it was necessary.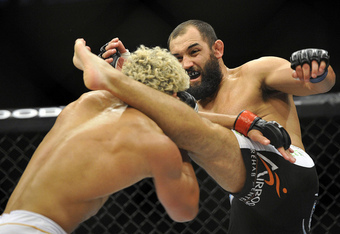 And so a more complete picture of the fighter emerges—a two-time national champion collegiate wrestler (four-time All-American) who can deliver knockout blows and take them for three rounds, all the while jabbing and hooking his way to a victory.
This image of Hendricks makes future bouts in the welterweight division all the more appealing, especially against opponents like Jake Ellenberger. It also immediately places Hendricks' name in the running for title contention.
The bad news is that this is an unorganized group for the time being, given the possibilities of GSP returning in the fall to fight against interim-champion Carlos Condit and Dana White's hints that the winner of Ellenberger vs. Martin Kampmann will be next in line for a title shot.
Still, Hendricks has worked his way into that mix with last night's victory over Koscheck in a performance that both established his strength as a fighter and realized potential as a welterweight title contender.