Is Blaine Gabbert or Jake Locker More Likely to Establish NFL Career in 2012?
May 31, 2012

Andy Lyons/Getty Images
2011 was the year of the quarterback, seeing four (!) quarterbacks taken in the first 12 picks of the NFL Draft and all of which impressed in their debut seasons. Some got to see more of the field than others, but all showed flashes of quality play that initially made them a top pick.
Two of the quarterbacks selected were Jake Locker (No.8 overall) and Blaine Gabbert (No.10 overall), who went to the Titans and Jaguars respectively. Both players had some rough edges to their game coming out and still do, which begs the question: who has the furthest to go in their development and who is more ready to play well in 2012?
Based off of their 2011 play, it's safe to say that the former is Blaine Gabbert while the latter is Jake Locker (if he starts).
Assessing Blaine Gabbert's 2011 Play
The former slick-haired Gabbert had a rough first season in Jacksonville, truly looking like a NFL newcomer en route to posting a 65.4 rating and a mere 5.36 yards per attempt. Many of Gabbert's issues whilst operating in the pocket were not surprising because they were on show at Mizzou.
Gabbert had a plethora of issues that, at times while watching him, made some question if he was fixable at all.
When in the pocket, he went through his reads far too quickly. An example of this was when he was in the process of taking a 5-step drop and had identified his outlet before his back foot was firmly planted in the ground. 
In addition to the overly speedy processing, critics pointed out his improper footwork.
Quarterbacks are taught to bend their knees, particularly that of the lead foot and step through their throw. This is similar to being a point guard in basketball and shooting a jump shot. The shooter must bend his knees in order to get quality arc on the shot and drop it into the basket.
This proved to be a major issue on vertical throws for Gabbert, which sometimes entailed the ball going high as if the wind was carrying it, while other times dipping downward like a bird making a beeline after fishes in the water.
Perhaps his biggest issue was his pocket movement or lack thereof.
A crucial and inherent trait of quarterbacking, pocket movement is illustrated when the athlete is forced to climb the confines and deliver a strike down field or flush out of it in order to buy himself more time as he keeps his eyes down the field—an issue of his.
An instance of this came on 2nd down and 10 yards to go for the Jaguars, who came out in a One Back Trips set with Gabbert in shotgun set.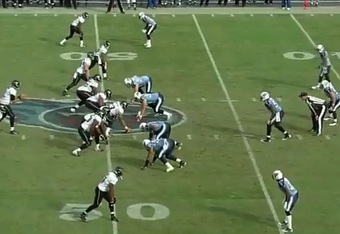 Instead of standing tall in the pocket, Gabbert fails to square his shoulders on this play and appears to just want to rid himself of the ball in order to avoid contact.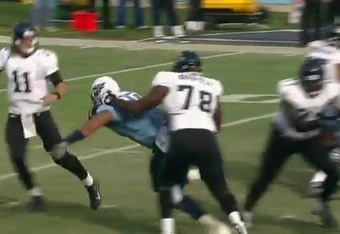 Unfortunately, the play was unsuccessful as he delivered a one-hopper short of the outlet receiver.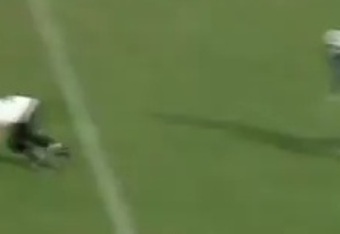 It's not all doom and gloom for the second year starter to be.
On the next play, Gabbert did indeed keep his eyes down the field while escaping the pressure of a defender that came from his left. After taking a 5-step drop, he saw pressure and climbed the pocket, which was the right move.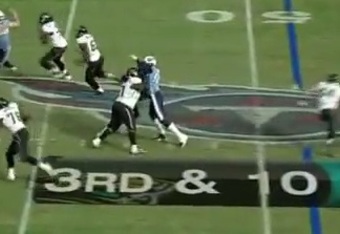 However, once he climbed the pocket, he immediately flushed out to his left despite having two short options to his left and right.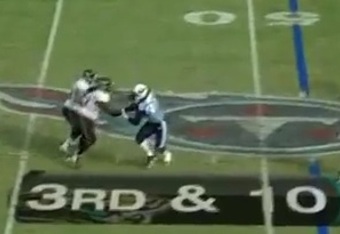 Although the preference is that Gabbert stays in the pocket on the play and throws it short, it is not all bad that he left the pocket because he still showed flashes of what many would like to see consistently out of him: keeping his eyes downfield on the move.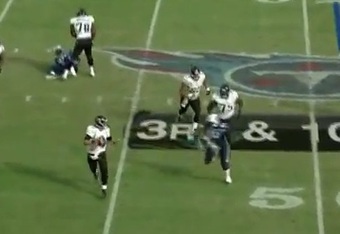 Gabbert kept his on the move through the entirety of the play and delivered a well-placed pass that moved the chains. 
Time will tell if it's a matter of consistency with Gabbert or if he really is "soft" in the pocket.
Moreover, one of the aspects of the California born Gabbert's game that is overshadowed is his work off of play action.
Play action seems like a rather simple concept in football; roll out and throw it to the short outlet receiver. While that seems right, at the same time it's wrong because play action can be difficult and here's why: not everybody can re-engage with the field.
"Re-engaging with the field" may seem like some sort of bizarre business terminology being applied to football, but it's a significant one that's not discoursed enough in evaluation.
When a quarterback takes the snap to administer a fake, he often has to turn his back to the defense, apply the proper ball handling technique to sell the play action, and then re-engage with the field by locating his receivers all the while deciphering the defense.
Difficult, no?
It's also something that Gabbert does very well at as was seen against the Titans in the same game.
The Jaguars came out in 22 personnel with Gabbert under center on this play and gave the idea that they were running left.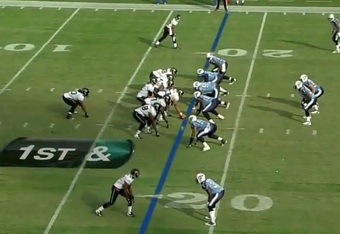 The offensive line and the two tailbacks sold it well, but so did Gabbert by not only dipping his shoulders as if he really handed it off but also tucking his backside (left) arm so the left end is unable to read the play effectively. 
After executing the fake, Gabbert snapped his head back around and re-engaged with the field.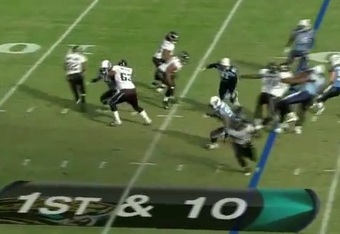 Once he identified his target, who ran a comeback route to the near sideline, he let go of the ball, delivered it effectively by squaring his shoulders and driving it.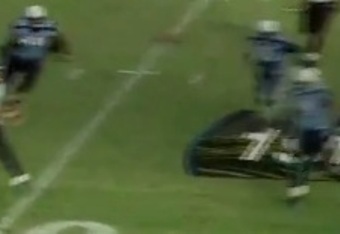 The concept of play action is likely to be a significant aspect of the Jaguars 2012 offense because it's one of Gabbert's strengths due to his ability to locate his receivers and foot quickness. It was one of the most important parts of the run-first offense that Mularkey ran in Atlanta, featuring a lot of traditional, straight-drop play actions and bootlegs. 
Assessing Jake Locker's 2011 Play
While Gabbert had issues in his surprisingly busy debut season, Jake Locker flashed more impressive ability in far less time. Unlike Gabbert, Locker had the luxury of sitting the majority of his rookie season behind veteran Matt Hasselbeck, who he appeared to have learned a lot from in comparison to his collegiate performance.
For starters, Locker showed very good poise and control while operating the Titans offense. The Titans run a rather complex offense that is much more vertically based than that of the Jaguars and it requires more of Locker at the line of scrimmage.
The former Washington Huskies quarterback showed a complete understanding of his responsibilities at the line of scrimmage by making adjustments based off of his pre-snap keys. This was the case in an extended performance against the New Orleans Saints in Week 14. 
Locker only completed 44 percent of his passes in the loss, but fought with the team all the way to the end of the game and put together a quality performance.
In contrast to Gabbert, he displayed the ability to stand tall in the pocket like an "I" and deliver passes despite being pressured. This is particularly noticeable on his "hot" throws, which are short throws made to a receiver who broke off his route because of a blitz by the defense.
Furthermore, he also showed some improvisational skills that were often on show during his time at Washington. Improvisational skills at the quarterback position are important and often overlooked, but they can be the difference between a big play and a busted play.
While displaying his improvisational skills, he also showed that he had very good arm talent, flashing a strong arm at all three levels of the field: short, intermediate and deep.
The short level of the field was an interesting evaluation of Locker's accuracy and ball placement because it's something that he had issues with in college at times. He had a problem with proper ball placement (i.e. outside ball on outside breaking route) and it doesn't appear that it's entirely an inherent issue; that may sound contradicting, but allow me to explain.
Locker has very good velocity and it was on display when he was making throws in tight windows, such as against the Indianapolis Colts in the red zone, which is fine on intermediate and deep throws, but it can be an issue on short throws.
When it comes to short throws, quarterbacks are generally taught to deliver a soft and accurately placed pass that is easily caught in stride by the intended target. However, what happens with the Titans quarterback is that he has a tendency to throw a very strong pass, consequently leading to an inaccurate throw as is seen below.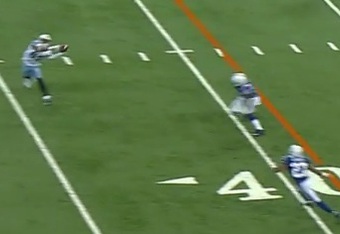 The inaccurate throw may stem from Locker having a tight grip on the ball when he has it in his grasp, which means that he does not have an open area between the middle of his hand and the ball like a shooter in basketball would.
While he does have an issue with the short throws at times, it is not the case for his intermediate and deep throws. Locker's arm velocity enables him to throw from various platforms and make all the throws as seen against the Saints.
The Locker-led Titans came out with a 21 personnel grouping against the Saints defense on this particular play, which means that they had two running backs in the backfield while a single tight end was featured.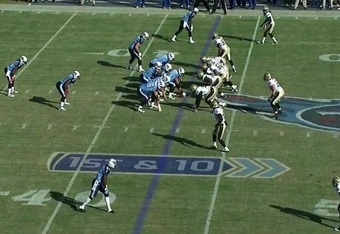 When the ball was snapped, the tight end became the big target for Locker down the middle of the field by running a deep shallow cross that saw him go from outside the right hash to past the left hash.
Once the tight end crossed the right hash, Locker spotted him open before delivering a very well placed pass that not only landed in between two defenders, but hit the pass catcher in stride.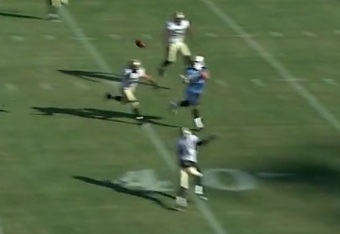 What's also important to note on this throw, although it cannot be seen in the image, is that Locker delivered this throw from the left hash (top) across the field, far wide of the right hash—a throw that showed his strong arm.
This ability may seem like something insignificant due to many (correctly to a degree) stating that arm strength is overrated, but it is important. It's important because it opens up the offensive playbook by making the vertical routes more valuable and believable than simply serving as clear-outs for the underneath horizontal routes. 
As noted previously, the Titans offense is vertically based because they have a lot of old quick-hitting concepts from the Run and Shoot scheme that offensive coordinator Chris Palmer brought over from his early 1990s stint with the then-Oilers. Palmer has a history of being very aggressive down the field and with Locker quarterbacking (assuming he starts), he is able to do this better than he would with Matt Hasslbeck. 
Overall
Although high draft choices Blaine Gabbert and Jake Locker took different paths to start their career, there's much to say about their performances in their debut season. 
Gabbert showed of his natural skills at times, such as re-engaging with the field after faking the ball on play action, while at other times, showing how truly raw he is through his poor footwork and overall bad pocket movement. Because of these issues, Gabbert has the furthest to go in his development in comparison to Locker, who came out of a pro-style scheme at Washington and is more polished overall.
Locker has a very strong arm that enables him to attack the field at all levels and has improving accuracy. Accuracy is generally not thought to be improved upon because it's a natural skill, but in certain instances, it can be as could be the case with Locker. If Locker wins the starting job, as I expect him to, he's more likely to establish a career in 2012 because of his polish, arm talent and the talent around him.