Breaking Down What Makes DeMarcus Ware the Best Player in the NFC East
May 31, 2012
Jed Jacobsohn/Getty Images
I'm about to tell you that DeMarcus Ware is the best player in the NFC East. Actually, I suppose I just did that. But I'm ready to tell you why that's the case. Beforehand, though, a qualifier:
This, like most sports discussions, is subjective and personal. We all have different standards and rules and sets of criteria that we use to determine a player's value. What's more, I should clarify that I don't believe non-quarterbacks are capable of influencing football results in the same way that quarterbacks are. So while Eli Manning, Tony Romo and Michael Vick are surely more important to their respective teams than Ware is, I'm arguing that Ware is a more dominant overall player.
The thing about Ware is that he's so consistently productive and effective that we almost take him for granted. It's astonishing that he's never won a Defensive Player of the Year award, despite owning two of the top-10 sack seasons in NFL history and leading the league in sacks two of the last four years.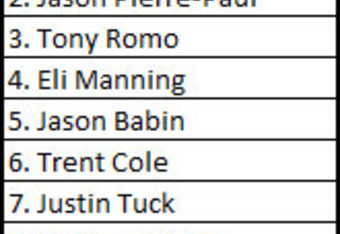 He's been an All-Pro four of the last five seasons (no other player in the division has received that honor more than twice in the same time frame), and he has never missed a game in his seven-year career. He's also only half a sack shy of becoming the 29th member of the 100-sack club. Not bad for a man who hasn't hit 30 yet. 
Last year, despite being nagged by back spasms and stingers for much of the season, he finished second in football with 19.5 sacks and third in the NFL with a combined 71 sacks, hits and hurries, per Pro Football Focus.
He single-handedly had 46 percent of his team's 42 sacks. The Cowboys gave up an average of 26 points in the four games in which he failed to register a sack, but only 20 points per game when he did get to the quarterback. Can you imagine how much worse it could have been for one of the league's worst secondaries had it not been for his presence as a pass-rusher?
Although Jared Allen had a few more sacks than him in 2011, it's tough to argue that there's an edge rusher in the game who's better than Ware. Despite playing 450 snaps and laboring for a large percentage of them, Ware finished 2011 with a Pro Football Focus pass-rushing productivity mark of 12.5, which ranked eighth in football. Allen didn't make the top 20.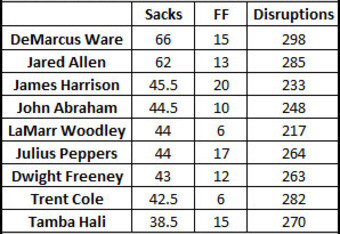 When you combine disruptions (sacks, hits and hurries) with sacks and forced fumbles and go back to cover the last four years, Ware is clearly the league's most dominant rusher.
Now, obviously, that chart doesn't include stellar young and/or emerging edge rushers like Jason Pierre-Paul, Brian Orakpo, Jason Babin, Aldon Smith and Von Miller. But only Smith and Babin had higher PRP numbers than Ware last season, and none of them were as consistent at actually sacking the quarterback.
When you consider their overall productivity, though, Babin and Trent Cole were right there with Ware, while JPP was much better against the run and had a higher career trajectory. 
I guess it shouldn't be surprising that nearly everyone I'm mentioning hails from the NFC East, which had 182 sacks in 2011. By comparison, the seven other divisions averaged 144 sacks each.
But while Babin has Cole, Cole has Babin and JPP has Justin Tuck and Osi Umenyiora, Ware is carrying an otherwise humdrum defense on his shoulders year after year. It's a Ware-sized miracle that the Cowboys gave up fewer points than the Giants did last season.
I'll admit that Ware's likely to lose his grip on the "division's best player" crown very soon. Maybe this is the year he finally misses some time. Maybe Pierre-Paul or Orakpo keep climbing. Maybe Manning leads the Giants to another Super Bowl or Romo or Vick finally break through with a championship. 
For now, though, it's Ware, and then it's a pack of superb players who can't differentiate themselves from fellow superb players. Can you really give Manning the title with his inconsistent and unreliable regular season statistics in mind? Same goes for Vick, who hasn't done anything in the playoffs either. And then there's Romo, who I'd probably call the division's best quarterback, but who also hasn't fared well when it's mattered most.
Of course, that itself might be unfair. Why does Romo lose points for not bringing the team playoff success, while Ware gets off clean? He, too, has just one playoff victory on his résumé—although he does have four sacks in three playoff games. That's why this debate is so difficult.
And finally, it's possible that the next best player in the division isn't a quarterback or a man who sacks quarterbacks for a living. Maybe it's a superstar tackle like Tyron Smith or Trent Williams, or a shutdown corner like Nnamdi Asomugha or Morris Claiborne. 
For now, though, no NFC East player ranks ahead of DeMarcus Ware.