3 Signs Washington Redskins Are Finally on the Right Track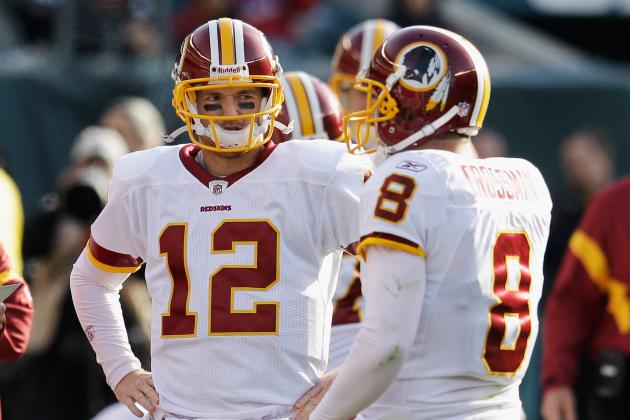 Rob Carr/Getty Images

If you are reading this, you are most likely a Washington Redskins fan. And hats off to you for sticking by the struggling team in the NFC East. It's been a long and arduous journey, for both the fans and the players. The Redskins have cycled through quarterbacks...and more quarterbacks.
The franchise has lacked stability, consistency and leadership. And when faces in the locker room are changing each season, it's hard to blame them. With the recent successes of their fellow sports teams in the nation's capital, it's time for the Redskins to find their own way and become a more competitive presence in the upcoming NFL season.
So far, it seems like the 'Skins are finally on the right track.
Begin Slideshow

»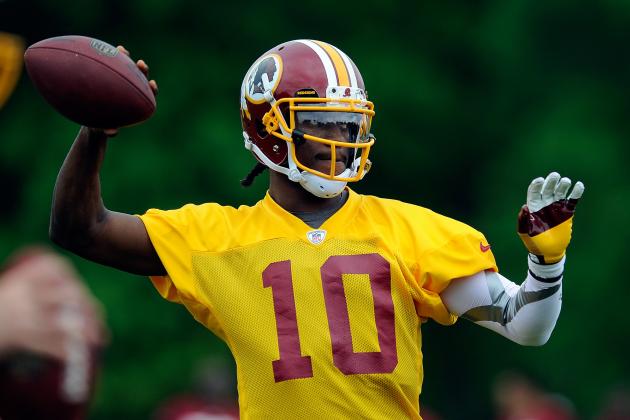 Patrick McDermott/Getty Images

Do I really need to say it? This one is a "gimme": RG3.
The Redskins picked up second overall pick R Griffin III in the 2012 NFL draft with plans to build the franchise around the rookie quarterback from Baylor University. Actually, that's not a half bad idea. The Redskins have been scraping and grappling for something big—something exciting—to focus their franchise on. A high-profile draft pick could be just what the Redskins locker room needs to boost the team's energy and give the fans something to cheer about.
RG3 brings excitement, media attention and anticipation. The Redskins have been needing a fresh start for a quite some time now. If anything, 'Skins fans can see for themselves how RG3 is reacting, learning and melding with the team. And my thought is that they'll be a little more forgiving and patient when it comes time for him to play his first few pro games.
With past quarterbacks Donovan McNabb, Rex Grossman and John Beck (yeah, I almost forgot that last one too), one mistake and the players were deemed hopeless or washed up. RG3 is, to put it plain and simple, a kid. He's still a kid. However, that may be the best thing the Redskins offense has going for it. The guy is smart, fast and accurate.
And let's face it, it's not like he has incredibly big shoes to fill. He'll learn the plays, run them, and produce results. That's what the 'Skins need: back to the basics and fundamentals, nothing too heroic.
Washington fans already know how to be patient, and they've been doing it for several seasons. If they give RG3 a chance, and if they're patient with him, they may be singing "Hail to the Redskins" sooner than they think.
Rob Carr/Getty Images

Roy Helu, Jr. and Ryan Kerrigan were the talk around FedEx Field last year—well, they were the positive talk. There was much talk surrounding Rex Grossman and the Redskins' crumbling offense, but we won't get into that. Kerrigan was the unexpected, silver lining on the gray, disappointing cloud that was the 2011 season.
With 63 tackles in his first NFL season, Kerrigan is just getting started. His excited attitude and school-boy charm give Kerrigan enormous media appeal. And that's just off the field. On the field, the rookie linebacker is showing immense athleticism and confidence with around seven sacks during the 2011 season and one touchdown. Kerrigan is an effective supporting linebacker on defense. Now with a season under his burgundy belt, Kerrigan is back and has even more to prove. No longer considered a "rookie," he needs to show he can play pro ball and compete with the best. And I have a feeling he'll do just fine.
Offensive rookie Roy Helu, Jr., stirred up some attention for himself as well during his first NFL season with the Redskins. The running back logged 640 rushing yards and three touchdowns. Combining Helu with newcomer Griffin could establish a mean offensive attack.
I think Redskins fans will agree with me on this one: I cannot wait to see what these two will bring on the field. Back for their second NFL season, I think Kerrigan and Helu are just getting started.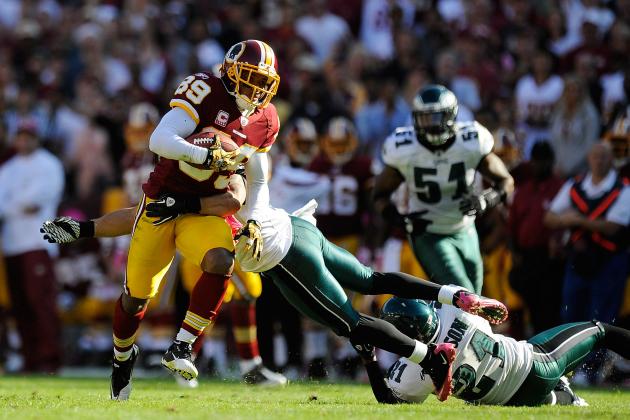 Patrick McDermott/Getty Images

If Robert Griffin III is every bit as good as everyone is making him out to be, then the only thing the wide receivers have to do is simply get there—get to the right spot, make the right catch, and score.
Griffin had the most accurate deep passing percentage in college football last year. Yes, college ball is very different from the pros, but that's still not a bad statistic to have credited to you.
Veteran wide receiver Santana Moss and returning rookie Anthony Armstrong, will have opportunities, but whether they can make something happen will be up to them. Moss will be returning for his eighth season with the Washington Redskins. He had a total of 584 receiving yards and four touchdowns last season. With Griffin on the other end, Moss could likely see an increase in these statistics for this season. And quite frankly, he's probably tired of Washington's often laughable reputation in the NFL. (Aren't we all?)
I think Moss has been ready for the Redskins to finally be a playoff contender. And it's likely fellow teammate and Redskins franchise player Fred Davis feels the exact same way. Davis led the team last year with the second-most receiving yards, totaling at 796. Both Moss and Davis have shown they are capable of making plays.
After a long offseason of OTAs and the preseason starting on Aug. 9, the two players will have had plenty of time to run plays with QB Griffin and prepare for the much-anticipated season opener on Sept. 9 against the New Orleans Saints.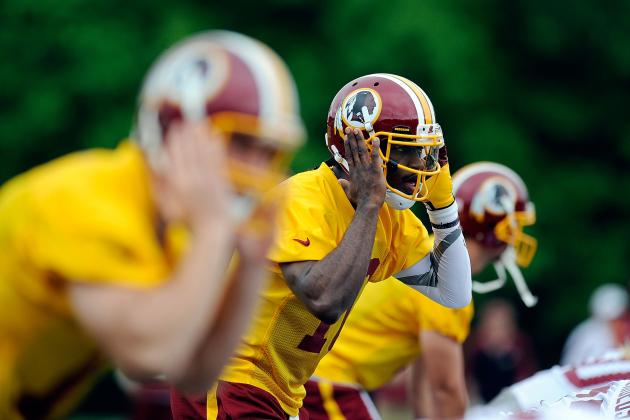 Patrick McDermott/Getty Images

This year is the 80th anniversary for the Washington Redskins. Could this also be the year of significant improvement?
All the pieces are there. They're out on the field and ready. The Redskins could finally be on the right track. The 'Skins have not held a conference or division title since the '90s. So yes, you could say it's been a while. Now the team has a sense of impatience and urgency.
So I sit here waiting, wearing my Super Bowl 26 championship T-shirt, my brand new RG3 socks and my fingers crossed. This season couldn't get here any sooner.
This one's for the Burgundy and Gold.