2012 NBA Lottery Results: New Orleans Hornets in Store for Epic Turnaround
May 31, 2012

Ronald Martinez/Getty Images
The official lottery results are in, and the New Orleans Hornets will be taking home the first pick in June 28's draft.
Just when Wednesday's NBA draft lottery looked to be completely surprise-free, the New Orleans Hornets got lucky for a change. Despite having only the fourth-best chances of landing the big prize, New Orleans leapfrogged the Cleveland Cavaliers, Washington Wizards and Charlotte Bobcats for the top spot.
That's always welcome news in and of itself, but it comes at an especially good time for the Hornets.
New Orleans also owns the 10th pick in the first round as well, ensuring the team will leave with at least one potential superstar and potentially a second. Anthony Davis is all but certain to be selected with the first pick, and there are a number of elite prospects who could still be on the board at the 10-spot.
The Hornets could opt for a point guard like Weber State's Damian Lillard, or they could potentially find some help on the wing in the form of Kentucky's Terrence Jones or UConn's Jeremy Lamb.
Regardless of who the club settles on, it will also receive a huge boost by re-signing restricted free agent Eric Gordon. The 23-year-old guard only played nine games in his first year with the team but is one of the league's best scoring guards when healthy.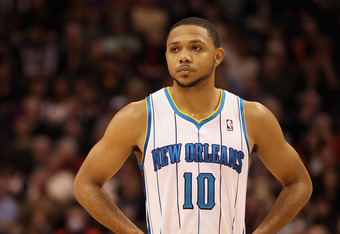 Christian Petersen/Getty Images
The Hornets will also have the opportunity to either re-sign frontcourt players like Carl Landry and Chris Kaman, or otherwise make a splash in the free-agent market this summer or next.
Last summer, it might have been hard to recruit any free agents of interest. The one good thing this franchise had going wanted out of town.
Of course, once Chris Paul was on his way, a rebuilding effort was also quickly underway.
With Wednesday's lottery luck, those efforts may go more quickly than any of us anticipated.
Head coach Monty Williams is as good as just about any young coach in the league. He is a defense-first traditionalist looking to infuse his team with character and a work ethic.
He's the perfect shepherd for a young team that will be absolutely loaded with talent, regardless of who that talent ultimately winds up being.
Barring any unforeseen moves, the Hornets will also be returning veterans Jarrett Jack and Emeka Okafor, along with 21-year-old Al-Farouq Aminu, the Clippers' eighth-overall selection in 2010.
The Hornets may not be contenders next season, but they could be well on their way.