New York Yankees: 2-Month Hitter's Report Card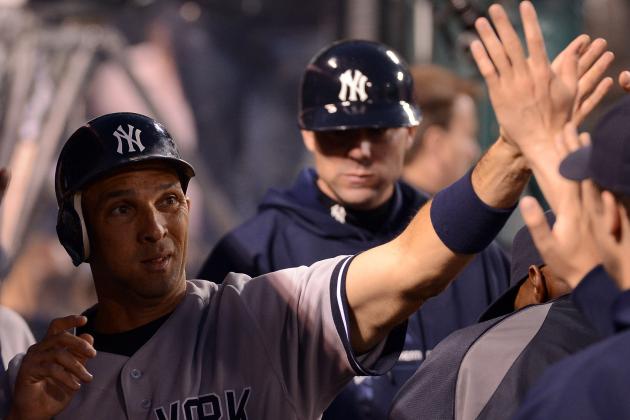 Harry How/Getty Images

Two months of baseball and the New York Yankees have not exactly exceeded expectations. Sitting at 26 wins and 23 losses, the Yankees find themselves in third place in the American League East behind the Tampa Rays and, one of the biggest surprises of the year, the Baltimore Orioles.
A few injuries and some under-performers have highlighted the year so far. Here is a breakdown of every player on the Yankee roster right now with a report card grade.
Begin Slideshow

»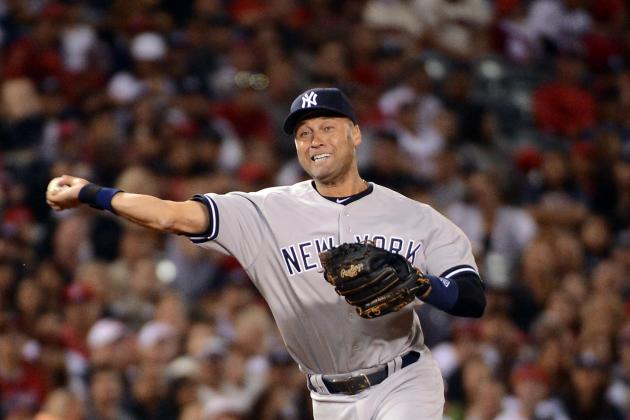 Harry How/Getty Images

First up is the captain, Derek Jeter.
Jeter got off to a red hot start, batting right around .400 all of April. He has cooled down a bit since then, but he still is maintaining a team-high average of .338.
With five homers and 10 doubles out of his 70 hits this season, Jeter is proving that he still has some pop in his bat.
His on-base percentage could be a bit higher (only about .050 points higher than his average), but that is the only thing that you can really knock Jeter for. He has been one of the few consistent hitters for the Yankees this season and is proving once again why he is Captain Clutch.
Grade: A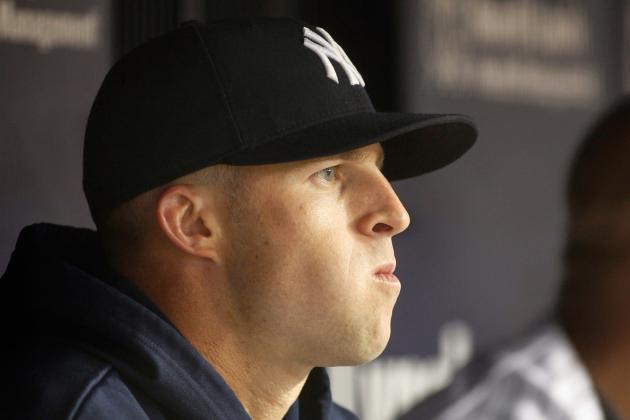 Mike Stobe/Getty Images

It's difficult to analyze Brett Gardner's season so far because he has been plagued with an elbow injury.
Gardner has only played nine games, but did manage to get three runs batted in, two stolen bases and post a .321 average and a .424 on base percentage. But again, not much to go by.
The Yankees certainly miss Gardner's speed at the bottom of their lineup. Hopefully Gardner will be able to rehab soon and return to the Yankees without another setback. If not, he might not be back until after the All Star Break.
Grade: C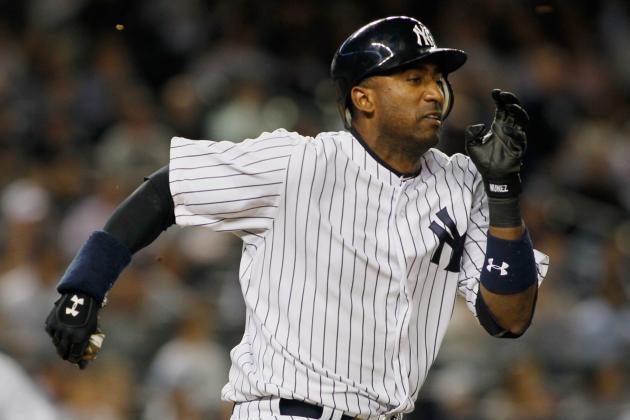 Mike Stobe/Getty Images

The E in Eduardo Nunez's name must stand for error. Error, error, error, error.
That is what comes to mind when thinking of Nunez with the Yankees this season. The Yankees like Nunez because he can play nearly every position and he can hit the ball.
He can play every position, he just can't field them. Nearly every game Nunez was in this year he seemed to put the Yankees at a disadvantage in a way that could have saved the pitchers a few pitches, and sometimes a few runs.
It didn't matter where Nunez was, he would always make an error. Left field, third base, shortstop; you name it, he's botched it at each position.
His .294 average is probably the only bright spot on his stat sheet this season, but if Nunez ever wants to come back to the big leagues he needs to learn how to field.
Grade: F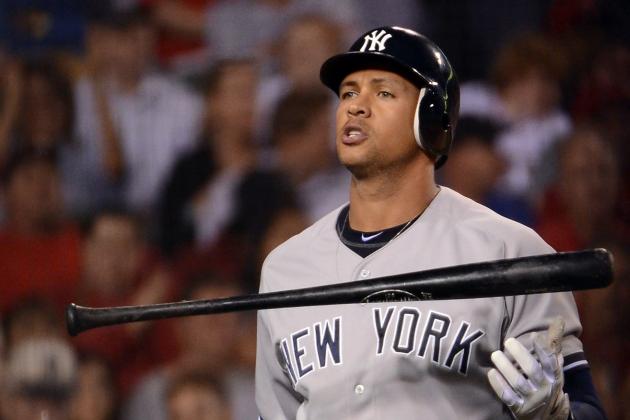 Harry How/Getty Images

Alex Rodriguez has been hitting better as of late, which is a relief, because there wasn't much to be happy about before.
Rodriguez has not shown the same power that he has in the past. He does have seven home runs, but only 19 runs batted in with only five doubles.
His 38 strike outs are probably a little more than he would like, and his six walks are a little less than he would like. Basically, Rodriguez is not seeing the ball very well.
It appears that when the whole team is in a slump so is Rodriguez. Now that the Yankees are beginning to find their hitting again, maybe he will see a climb in his numbers too.
Grade: B-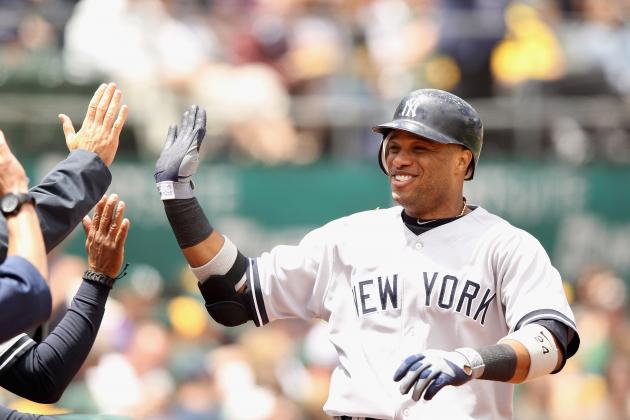 Ezra Shaw/Getty Images

Robinson Cano was said to be an MVP candidate heading into this season. However, he certainly is not playing like it.
A .300 hitter last year, Cano is sitting at .287. He appears to be falling back into his old habits of hitting when he first came up as a Yankee.
Cano's sheet looks a lot like Rodriguez's. He does have seven home runs, but only 20 runs batted in.
The Yankees expected Cano to produce much more this season. Going 1-for-10 with the bases loaded is not exactly what they had in mind.
For the Yankees to run away with the American League East, they need Cano to play just as good, if not better, than he did last year. As of now, he is not.
Grade: B-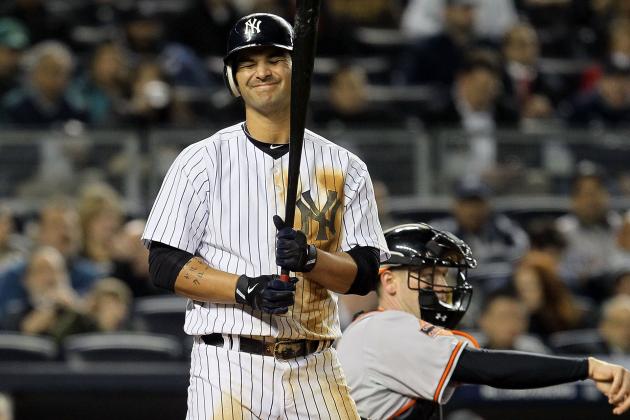 Jim McIsaac/Getty Images

The Yankees resigned Eric Chavez with the hopes that he would bring some offensive spark to the bottom of the order like he did last year. So far, not so bad; but it could be better.
Chavez is batting .268 with only three home runs and six runs batted in. His on base percentage of .343 could be a little higher if he did not walk only five times in 71 at bats this season, and if he got a few more hits.
As a bench player, Chavez is not doing too badly, but I'm sure the Yankees would like to see more production out of him as the season progresses.
Grade: C+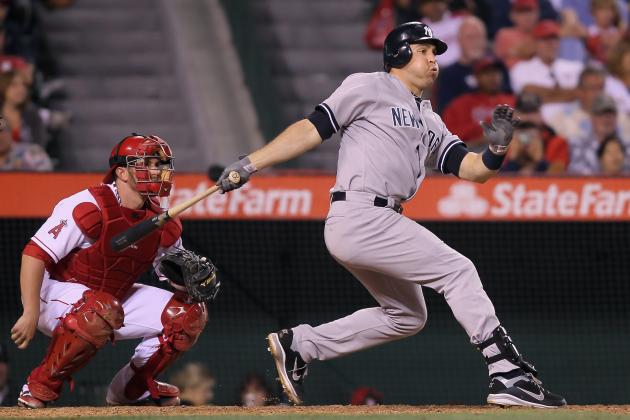 Jeff Gross/Getty Images

A typical bad April for Mark Teixeira carried over a little into May. Actually, it carried over about half the month of May.
Only now is Teixeira hitting the way he usually does. Even with a bad start, Teixeira has nine home runs, 12 doubles and 30 runs batted in.
What really tells the tale of Teixeira's bad start is his low averages of .263 for batting and .323 for on-base percentage. Like the Yankees, Teixeira is turning his hitting around, but it is going to take more than just a good week for him to get his average back up to where he would like it to be.
Grade: B-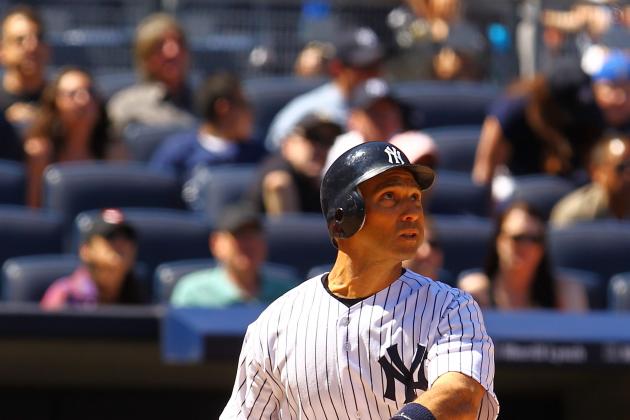 Al Bello/Getty Images

Many times this season, Raul Ibanez has been the only breath of offensive air in the Yankees order.
Ibanez has had to play a lot more games due to the injury of Gardner, and he has not disappointed. The Yankees signed him in the offseason to bring some power to the order, and he has done just that.
Ibanez has nine home runs and 28 runs batted in in 40 games this season. His average is a little low at .261, but that can be overlooked when he was one of the only Yankees that was able to hit when the team desperately needed runs.
Ibanez will most likely become the usual designated hitter when Gardner comes back, and the Yankees cannot be too upset about that.
Grade: B+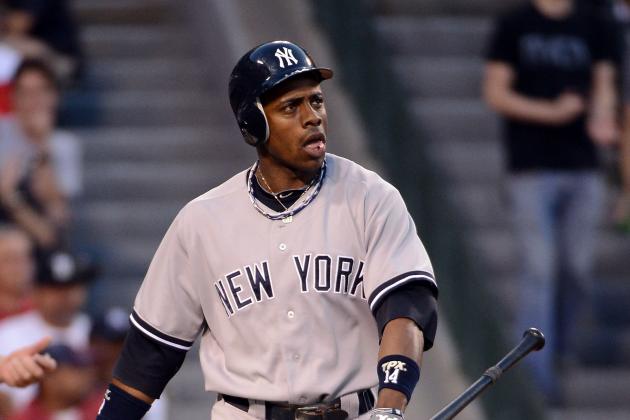 Harry How/Getty Images

Unfortunately, this picture sums up Granderson's season very well: a lot of strikeouts and not a lot of hits.
Granderson has a team high 56 strike outs in only 49 games this season, one of the reasons his average is suffering at .254.
His power is still there with a triple, five doubles and a team high 15 home runs, but those are some of his only hits of the season.
Cano and Granderson have under-performed this year, and it has hurt the Yankees. Just like Cano, Granderson needs to start hitting like he did last year if the Yankees have any hope of making the postseason.
Grade: C-
Jed Jacobsohn/Getty Images

Nick Swisher was out for a bit this year due to an injury, but when he has been in he has been the best run-getter for the Yankees. He leads the team with 31 runs batted in, some of them coming off of his eight home runs.
If there is anything to knock Swisher for, it is his average. His .242 is one of the worst on the team, and his .301 on base percentage is not much better either.
When Swisher needs to get hits for the Yankees he most of the time gets them and gives them runs. It is all of the other times he is up that is the problem.
Grade: B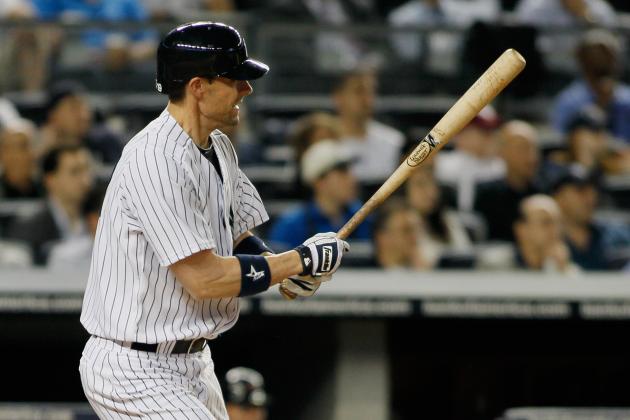 Mike Stobe/Getty Images

Chris Stewart is in the backup catcher role, and he is hitting better than Russel Martin. A solid defensive catcher, Stewart has done a good job as Martin's backup this season.
Five runs batted in in only 40 plate appearances is pretty good. His .225 average could be up a little higher, but its higher than Martin's so I guess it could also be worse too.
Grade: B-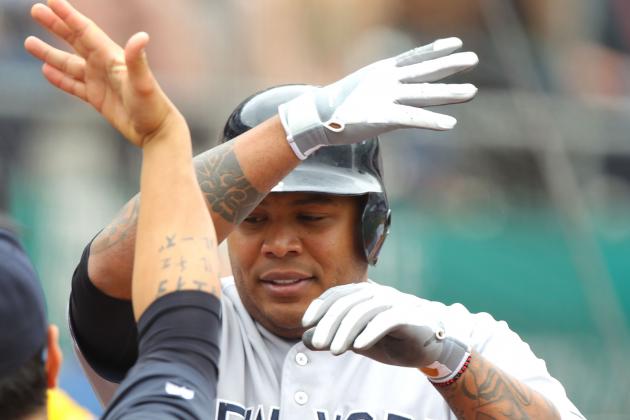 Jed Jacobsohn/Getty Images

Andruw Jones was brought back this season for the same reason Chavez was: to produce in like last season. As of now, he could do better.
Jones does have five home runs and ten runs batted in, however he could be hitting a lot better. He's only played in 27 games, but he is certainly better than a .224 hitter.
His hitting has improved as of late. Hopefully that continues.
Grade: C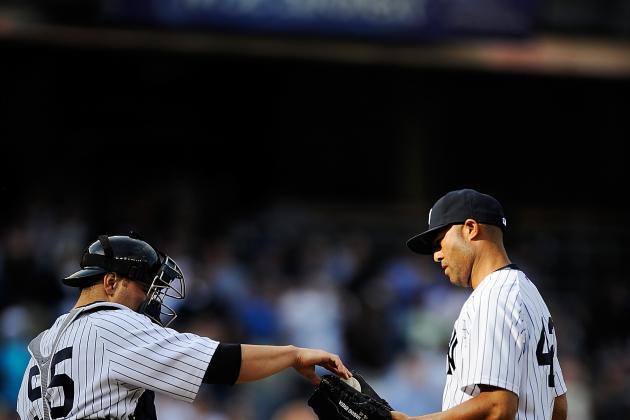 Patrick McDermott/Getty Images

Probably the biggest disappointment this year for the Yankees has been catcher Russel Martin. He is still doing a fine job behind the plate, it is when he gets up to the plate that is the issue.
Batting .190 at the end of May is not very good for the starting catcher of a team, at all. His four home runs and 12 runs batted in is not much to drive home about either.
Martin has to start hitting better. Period.
Grade: D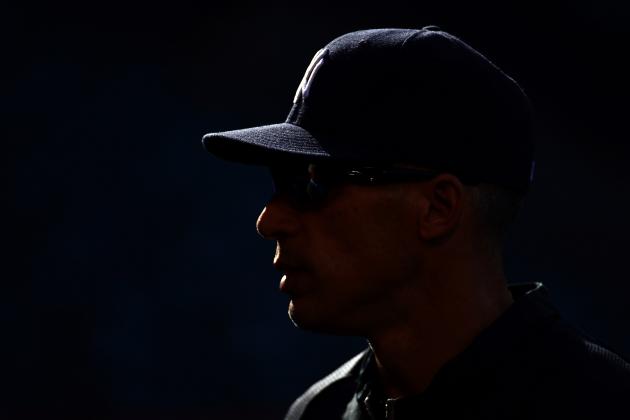 Harry How/Getty Images

Here we see manager Joe Girardi in the dark. For great stretches this season, this is where Yankee hitting has been.
Excellent pitching performances have been ruined due to the Yankees' lack of hitting. The Yankees have looked awful with runners in scoring position and with the bases loaded.
The inability to drive in runs in key situations during the season is the reason that they are in third place and not atop the division right now.
Streaky hitting is an issue and its one that the Yankees need to fix in order to make noise in the American League come October.
Final Grade: C+/C