Euro 2012: Latest News for Sweden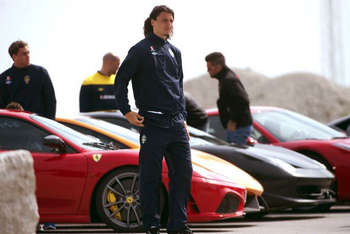 Nine days to go until Euro 2012.
Sweden is taking on Iceland, and former national team manager Lars Lagerbäck in Gothenburg. It's the first of two warm-up matches for the blägult before their opening game against the Ukraine on June 11th in Kiev's Olympic Stadium.
Here are the latest storylines, updates and other news coming out of Team Sweden.
Preparations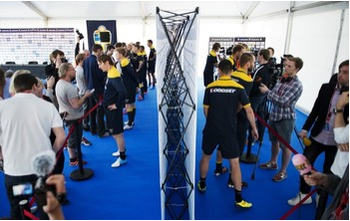 Sweden with the media flock.
The Swedes spent four days in training camp on Gotland, an island in the middle of the Baltic Sea. As a "team-building" exercise some of the players took some very fast cars around a track. Earlier this week, the squad moved to Sweden's second-largest city, Gothenburg, which is also the home town of manager Erik Hamrén.
The Swedes face Iceland, in Gothenburg, May 30th then move up to the capital to play Serbia in their final tune up match on June 5th.
In the Ukraine, Sweden will be based 15 miles outside of Kiev and training at the facilities of local side, Dynamo Kiev.
Injuries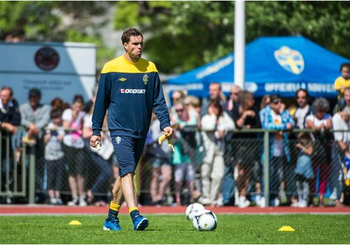 Elmander in the fold.
The major concern in the run-up to the tournament was the status of Johan Elmander's right foot, he fractured a metatarsal bone in his club side's last game of the season a few weeks ago.
All signs point to a full recovery before Sweden opens Group D play. "The healing is going as it should," team doctor Leif Sward told reporters after Elmander had X-rays taken in Gothenburg.
Goalie Andres Isaksson who's been bothered by a shoulder injury is recovering and will start against Iceland and barring any setbacks be Sweden's net minder for the Euro campaign.
Three other players, Anders Svensson, Mikael Lustig and Martin Olsson will simply be resting and sit out the friendly versus Iceland.
Lineups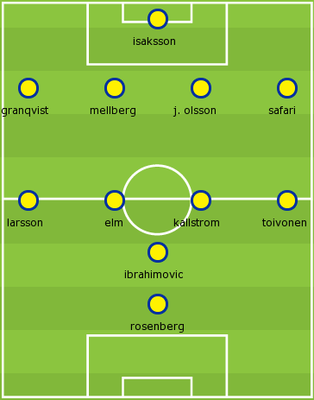 4-4-1-1 v. Iceland.
Erik Hamrén's starting XI for the Iceland friendly may be a clue as to where the Sweden manager will be playing Zlatan Ibrahimović during the games that count.
Discussions always swirl around where Ibrahimović will be used in the Swedish attack. Often he plays much higher than he's accustomed to with AC Milan, a partial explanation behind some of his struggles in his country's jersey. Even the opposing manager was asked to chime in on the subject: "I think Sweden might do best with him in a free role," was Lagerbäck's advice.
And so Ibra will indeed play behind Markus Rosenberg, the lone striker, against Iceland. Rosenberg playing for country for the first time since November 2009 is filling in where Johan Elmander will start on June 11th.
Ola Toivonen, a versatile forward, can play out on a wing or move into the middle of the pitch with Ibra. Positional battles are occurring on the back line. Both Granqvist and Safari will be looking to impress the coaches and make a case for their inclusion in the final starting XI.
Keep Reading