Predicting Which 4 Teams Make Next Year's Conference Finals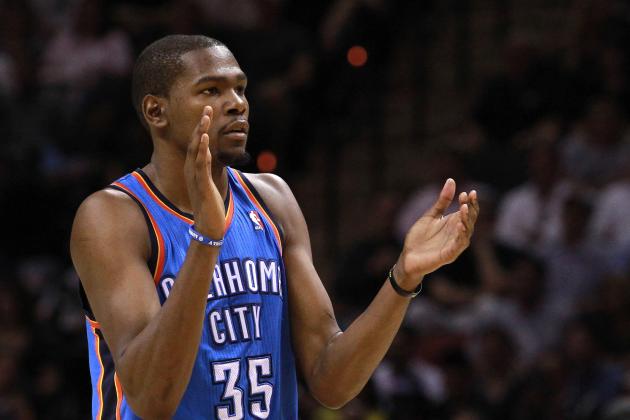 Ronald Martinez/Getty Images
Kevin Durant's age and talent make him a likely conference finals participant for years to come.
What exactly is a "dynasty?"
Is it only about winning a ring, or is a sustained period of success enough to justify the label?
In baseball the Atlanta Braves were a postseason team every year from 1991 through 2005. They only won one World Series but they were a consistent playoff team playing in a league in which making the playoffs is no easy task.
In basketball, merely making the playoffs wouldn't be enough to justify a "dynasty" tag. What about the Finals or conference finals?
Michael Jordan famously won six NBA titles. He also played in six NBA Finals. Not bad.
Magic Johnson won five NBA titles. In the 13 seasons he played for the Los Angels Lakers, Magic played in an amazing 10 NBA Finals. That means that 77 percent of the time Magic laced them up he played in the Finals.
Is that more impressive than Jordan? Less Impressive? It's a good debate.
However, one thing is not up for debate: Unless your team is playing in the conference finals, your team is not making the NBA Finals.
Oh, and in case you were wondering, Magic only missed the conference finals twice.
This season's NBA conference finals participants are not a cast of underdogs. Three of the four teams are either one or two seeds. In other words, they're supposed to be there. The one exception, the Boston Celtics ,are comprised of three future Hall of Fame players and one of the best point guards in the league.
The Celtics also were the beneficiaries of a devastating knee injury to the best player on the Eastern Conference's No. 1-seeded Chicago Bulls. It's not that the Bulls would have automatically beaten the Celtics in the semifinals had the two teams squared off with a healthy Rose. It definitely would have been a very competitive series, though.
Will all four teams be back playing for a birth in the finals next season? Tough to say.
Is it too early to make a prediction? No, it's not.
Begin Slideshow

»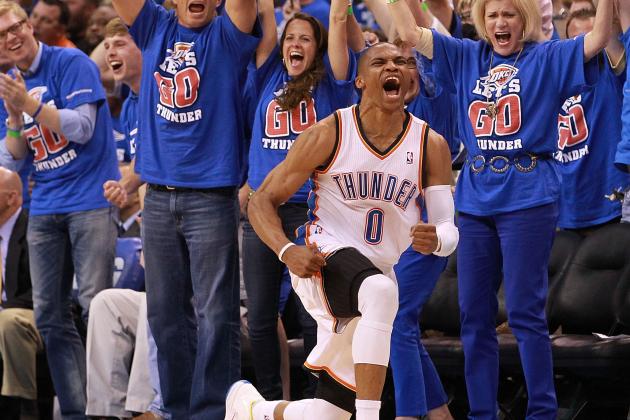 Ronald Martinez/Getty Images
Bad news for the Western Conference, Russell Westbrook won't be old anytime soon.
Maybe the Thunder are on their way to another Western Conference finals defeat right now? Even if they are, that's no reason to not expect them to return to that point again next season.
The Thunder are the only return participant from last season, and given the age of the team's core there's no rational reason to expect them to fall off next season.
As impressive as San Antonio is right now, the Spurs have never repeated as Finals champs before. Not when Tim Duncan was young, in his prime or old.
The trio of Kevin Durant, Russell Westbrook and James Harden might not be enough to win a ring, but they've already proved they're plenty talented enough to get to the conference finals. Not one of them will be 25 next season. They'll be older, but they're not even close to being "old."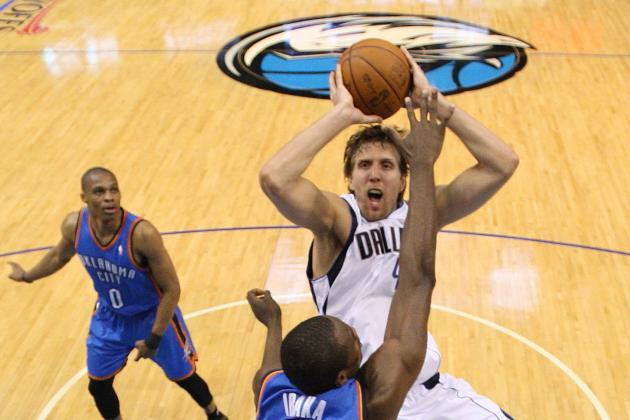 Ronald Martinez/Getty Images
Dirk and the Mavs will reload this offseason and then return to prominence next season.
The Mavericks were more than just Western Conference champs in 2011—they won the whole thing, rings and all.
This past season was one of transition. The team made tough choices designed to clear salary cap space for the upcoming free-agent signing period.
The Mavs accomplished the first part and will have some money to spend this offseason, and owner Mark Cuban has never been afraid to spend on talent before.
Dallas has the skilled veteran shooter with gobs of big-game experience in Dirk Nowitzki. It's also got cap space to acquire new talent, a head coach with Finals experience in Rick Carlisle and an owner in Mark Cuban, who has never been shy about his passion for putting a winning product on the court.
Next year's Western Conference promises to be wide open. The Lakers appear headed for a season of transition. The Spurs, in spite of all the accomplishments of the Tim Duncan/Gregg Popovich era, only once have advanced to the conference finals in back-to-back seasons.
Dallas seems like as safe a choice of anyone to oppose OKC in the 2013 conference finals.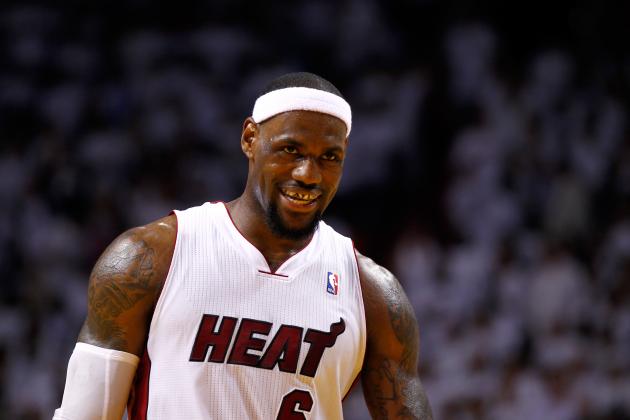 Mike Ehrmann/Getty Images
Not one, not two but three straight conference finals appearances.
It's no secret the Miami Heat have a legion of basketball fans who will root against them. That doesn't mean they're a bad team. Regardless of whether or not the Heat are able to win a title in June 2012, a return to the Eastern Conference finals in May 2013 seems like a safe bet.
Add in the fact that this season's Heat team has advanced back to the conference finals for the second year in a row without the presence of power forward Chris Bosh, and it's clear that this is one of the NBA's elite basketball teams.
Next year the Heat will have a healthy Bosh, and he'll probably be surrounded by healthy guys named LeBron James and Dwyane Wade as well.
Are they a team that is destined for multiple titles? That remains to be seen. However, what is not up for debate is their place among the Eastern Conference elite.
They'll be back next year—count on it.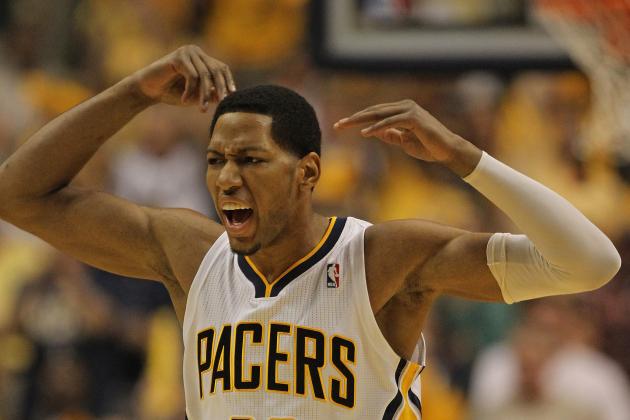 Jonathan Daniel/Getty Images
Danny Granger won't be as frustrated in next year's playoffs.
If you were expecting the Charlotte Bobcats ,then I'm sorry to disappoint you.
The Indiana Pacers, the same team that missed a golden opportunity to beat the Miami Heat in this season's Eastern Conference semifinals will be back, and they will be better next year.
The Pacers spent this past regular season chasing the Chicago Bulls for the Central Division crown. Next season they may end up surpassing the Bulls, who will play much of the season without MVP point guard Derrick Rose.
Once in the playoffs they were unable to capitalize on their initial 2-1 series lead over Miami in large part because the team lacked a go-to scorer.
The Pacers enter the offseason with more than $20 million in available salary cap space and not a ton of holes to fill.
Look for Indiana to bring back center Roy Hibbert and acquire a scorer this offseason. Will that make Indiana good enough to beat Miami? Tough to say, but it will make the team good enough to avoid having to face the Heat until the conference finals.