Will the Oklahoma City Thunder Win One Game Against the San Antonio Spurs?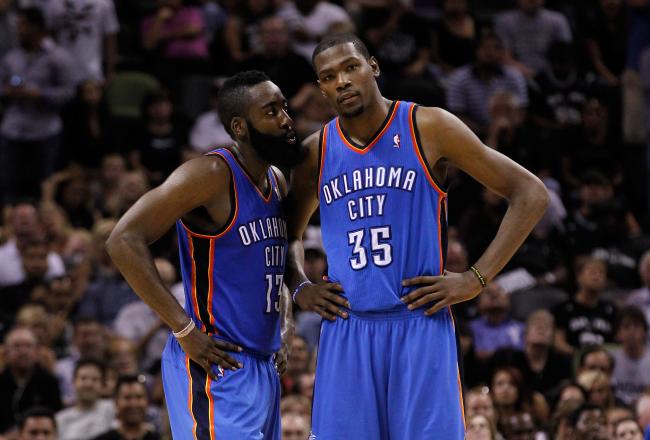 Tom Pennington/Getty Images
Two games, two wins in the Western Conference finals and two steps closer to the NBA Finals for the San Antonio Spurs.
Or, rather, two losses and two steps back for the Oklahoma City Thunder.
First, a 101-98 shortfall in which the Thunder saw a nine-point lead at the start of the fourth quarter converted into a 10-point deficit minutes later. Then, a 120-111 loss wherein the Spurs stormed out to a 22-point lead in the third, forcing Scott Brooks to call a nauseating series of Hack-a-Splitters.
Neither game was as close as the final scores indicate.
So, is there any hope for the Thunder? Will they break the Spurs' winning streak, which now stands at 20 games, or will San Antonio roll over their Sooner State simulacra on the way to the fifth title of the Tim Duncan-Gregg Popovich era?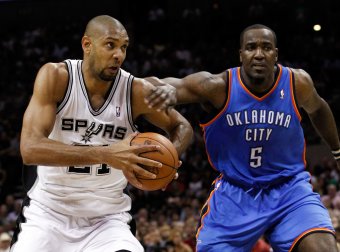 Tom Pennington/Getty Images
Here's a hint: Don't panic, Okies.
The Spurs did what they were supposed to do—they held serve at home. They won 28 of 33 home games during the regular season and have claimed each of their last 11 dates at the AT&T Center, including all six in these playoffs.
Of course, the Thunder are no slouches on the road, what with their 21-12 record away from home, and they certainly didn't play like it.
For OKC, it's been all about matchups and, more specifically, figuring out which ones work best in which situations. The Thunder suffered in the fourth quarter of Game 1 when they went small, with their Big Three joined by Kendrick Perkins or Nick Collison up front and Derek Fisher in the backcourt.
That didn't work out too well, as San Antonio streaked out to 39 points while OKC sputtered and Serge Ibaka sat and watched.
This time around, Scottie put Ibaka in, and the Thunder rewarded him with a run to threaten the home team in the fourth.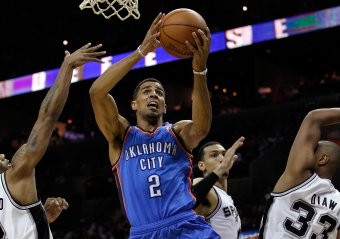 Tom Pennington/Getty Images
But Derek Fisher reverted to his 37-year-old self and OKC still couldn't stop anyone. And...Thabo Sefolosha only played 10 minutes?
Is Thabo worth nine or 10 points? Probably not, but Scottie doesn't know if Scottie doesn't play him in the fourth quarter. The fact that there are still adjustments to be made should give OKC some hope that they can still pull out a win in this series.
As should the play of Kevin Durant, Russell Westbrook and James Harden, who combined for 88 points, 19 rebounds and 17 assists. Any time you have three players who can produce like those three youngsters can, you're going to have a great chance to win, no matter how dominant the competition may be.
How many times will the Thunder beat the Spurs?
Those three won't have to do it all, either, when the series turns back to Chesapeake Energy Arena on Thursday. OKC's role players will play better and contribute more than the 23 points on 7-of-34 shooting they put out in San Antonio in Game 2, if only because they'll be more confident in their own digs, playing in front of their own fans, dictating their own terms.
And, frankly, Game 3 is a must-win for the Thunder. Their backs are already plastered to the wall, down 0-2 to the near-unbeatable San Antonio Spurs. They have no choice but to fight back with their finest performance of the postseason, lest they watch their dreams of hoisting the Larry O'Brien Trophy slip away entirely.
Without having yet played their best basketball, at least against the best team in basketball.
And if the Thunder come out in Game 3—tweaks made, big guns blazing, role players...errr...role playing, home crowd roaring—and the Spurs still find a way to win, then so be it. Then San Antonio deserved it. Then OKC will be spent, with nothing left but an uncomfortable amalgamation of desperation and resignation left in the tank for Game 4.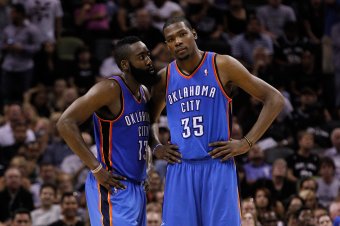 Tom Pennington/Getty Images
That's entirely possible, given that the Spurs were a best-in-the-West 22-11 in other people's buildings during the regular-season campaign.
But, at this point, there's no reason for anyone to panic on the Great Plains. The Thunder have plenty of room for improvement and have still managed to stay relatively close with a team that's steamrolled the rest of the league since mid-April.
As for the rest of the series, let's take it one game at a time, folks. Right now, that's all OKC can do, anyway.
This article is
What is the duplicate article?
Why is this article offensive?
Where is this article plagiarized from?
Why is this article poorly edited?