Brett Gardner: Healthy Outfielder Can Spark New York Yankees to AL East Crown
May 30, 2012

Al Bello/Getty Images
The 2012 New York Yankees are an enigma. Some games this team looks like it could outslug the Texas Rangers. Yet other times it looks like a group of men swinging flyswatters at inbound meteors.
Understand New York has won five of seven games and is in the top 10 in nearly every offensive category in baseball.
Also understand the Yankees pitching staff has been marred by injury and inconsistency, which has put pressure on the team's offense.
However, when have Yankees fans ever accepted excuses for mediocrity?
In the past 10 games, Yankees hitters—minus a red-hot Mark Teixeira—have muddled along somewhat. For example, batting averages for Yanks hitters during this time are as follows: Derek Jeter (.261), Curtis Granderson (.216), Alex Rodriguez (.293), Robinson Cano (.200), Mark Teixeira (.382), Raul Ibanez (.256), Nick Swisher (.211), Eric Chavez (.207) and Russell Martin (.226).
Not exactly the reign of terror Yankees fans are used to seeing.
Looking at stolen bases, the Yankees are seventh worst in the league in this category (24). Rodriguez and Eduardo Nunez are tied for first on the team in steals.
Peering at these numbers, the Yanks could use a fresh infusion of blue-collar hitting, blazing speed and outstanding defense.
This is where outfielder Brett Gardner steps into the batter's box.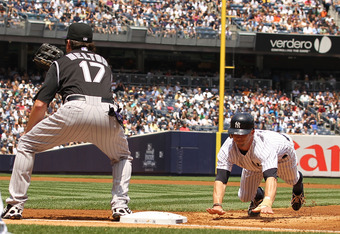 Al Bello/Getty Images
On Monday Marc Carig of The Star-Ledger reported Gardner has begun another attempt at coming off the disabled list from an elbow injury he suffered in mid-April. According to Carig, Gardner swung the bat without pain and may be ready to return to the Yankees lineup in the next 10 days.
For the Yankees, Gardner's return could provide the much-needed spark the team needs.
"I think [Gardner] changes our lineup, the speed that he provides and his ability to create runs," Joe Girardi said. "He does give you a little bit different element than the rest of our team."
Undoubtedly true, Gardner has the ability to give opposing pitchers ulcers.  While Gardner's bat does not spark fear like Josh Hamilton or Matt Kemp, Gardner is the patient, grind-it-out kind of hitter that gives the Yankees a whole new dimension in the lineup. His scrappy approach at the plate makes opposing hurlers throw more pitches than they desire to. Over a long period of time, Gardner also helps the Yankees wear down opposing pitching staffs.
However, this intangible is not seen in the box score.
However, what is in the box score is Gardner's ability to wreak havoc on the base paths.
Between 2011-2012, Gardner drove pitchers crazy by stealing 83 stolen pillows for the Yankees.
Gardner's ability to get on base creates a butterfly dilemma. In other words, Gardner gets on base and opposing managers get butterflies.
Gardner leading off first base makes pitchers focus more on Gardner than the hitter at the plate. And suddenly, those previously well-commanded pitches begin finding the middle of the plate. This plays right into the Yankees' hands.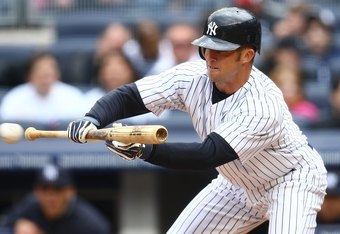 Chris McGrath/Getty Images
Famine to feast, besides Gardner being Dennis the Menace on the base paths he is also an outstanding defender. A career .991 fielder, Gardner was all but robbed of a Gold Glove in 2011. The Yankees have used a platoon of outfielders to replace Gardner since his injury, but output has been mediocre at best.
With that said, the Yankees will continue to closely monitor Gardner's progress the next 10 days. Should Gardner return to full form, and should the Yankees square away pitching issues, this team will make a major run that will thrust it to the top of the AL East.
More proof that one person can make a huge difference—even if that person's blue-collar efforts do not necessarily appear in the box score.
Related Article:
"Derek Jeter Shuns Time, Sets Scopes on Cal Ripken, Jr."
Join us on the Basebook Baseball Social Network!