Andre Iguodala's Top 10 Dunks of His Philadelphia 76ers Career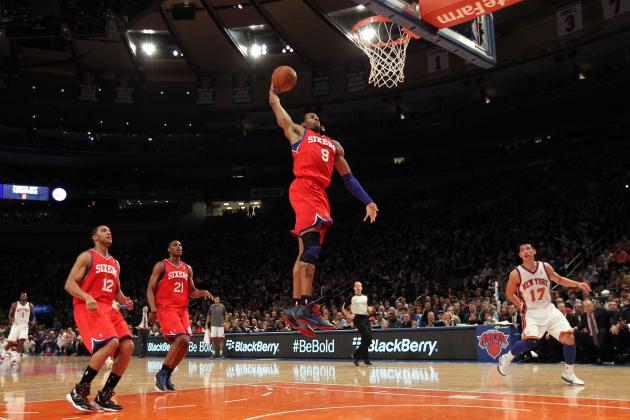 Nick Laham/Getty Images

Andre Iguodala is one of the most athletic players in the NBA today, and he often displays his athleticism through his thunderous dunks.
During the 2012 playoffs, Iguodala showcased his dunking prowess against both the Chicago Bulls and Boston Celtics, and his dunks have become frequent acts on Sportscenter's top 10.
In 2006, Iguodala participated in his only dunk contest and controversially finished second to Nate Robinson. Here are Iguodala's 10 best dunks of his career.
Begin Slideshow

»
Iguodala posterized Paul Pierce with this dunk during the 2012 Eastern Conference semifinals. Iguodala bothered Pierce all series long with his suffocating defense, and this dunk only added to the insult.
The Bulls looked lost during their first round series against the 76ers after losing Derrick Rose to a torn ACL. Deng, an All-Star, was clearly lost when he tried to contest Iguodala on the fast break.
Iguodala was a first-time All-Star in 2012, and he made the most of his opportunity. His ferocious windmill slam showed fans around the world what a fantastic finisher he is.
Iguodala goes behind his back then throws down with the reverse jam on the Lakers back in 2007. This dunk is not all about the dunk itself, but also the events leading up to the monster jam.
Iguodala made Terrence Williams' sixth game in the NBA a very memorable one. Williams looked defenseless in Iguodala's pursuit of the dunk.
Williams has yet to recover, as the former lottery pick only averaged seven points per game during the 2011-12 season.
This was Iguodala's second best dunk of the 2006 dunk contest, which he finished in second place. Many critics feel that the sole reason Iguodala was beaten by Nate Robinson is because Robinson is only 5'9''.
Iguodala posterizes Gerald Wallace on this dunk back in 2010. Wallace knows he has no chance to block him, so he decides his best option is to push Iguodala in the mid-section.
However, Wallace's attempt failed as Iguodala ended up with a three-point play.
Iguodala drove the lane against the Detroit Pistons, and in mid-air he realized he had nowhere to go. So he decided to throw it off the backboard to himself and throw it down.
This dunk is very similar to LeBron James' dunk over John Lucas earlier this year, as they both essentially jumped over the defender. Iguodala effectively ended Jurmaine Jones' career with this finish.
This dunk was the AI connection, as Allen Iverson set up Iguodala by throwing the ball off the back of the backboard. Iguodala proceeded to catch the ball, dip his head under the backboard and then finish with the slam.