Five Cleveland Browns Who Could Change Positions in 2012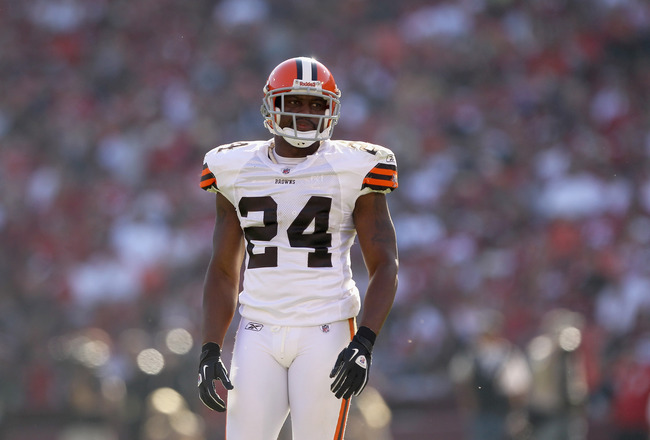 Ezra Shaw/Getty Images
"I believe diversity is a type of old, old wooden ship, used back in the Civil War."— Ron Burgundy, Anchorman

Winning the AFC North will require players with diverse skill sets. The Cleveland Browns will field a young offensive line with two grizzled pros and three young guns with great potential and a defensive backfield featuring three very solid starters.

We will immediately see how the injury to Phil Taylor shakes up things on the defensive line; don't be surprised to see Frostee Rucker playing inside Juqua Parker on third downs.

Additionally, though GM Tom Heckert, Jr. has struck gold after the first round over and over again, occasional draft-board favorites fail to pain out. This year's case in point could be Owen Marecic, the two-way fullback-linebacker out of Stanford for whom I myself held high hopes. Drafting Brad Smelley out of Alabama doesn't quite mean Marecic has been replaced, but it he hasn't exactly retained his job, either.

Which other Cleveland Browns could see action in a new spot in 2012?

You can follow me on Twitter @StepanekButton
1. Sheldon Brown at Free Safety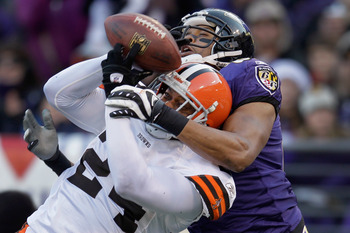 Rob Carr/Getty Images
The 33-year old Sheldon Brown has proven to be an excellent pickup for Cleveland. In a 2010 deal with Philadelphia, the Browns filled two starting spots at corner with Brown and linebacker with Chris Gocong. The cost? A fourth-rounder, a fifth rounder and linebacker Alex Hall.

Not bad—especially considering Brown possesses the kind of nose for the ball that would make him a wily free safety should the Browns find themselves unable to keep Buster Skrine off the field.

Skrine shined in preseason and again in the later months of the 2011 campaign. Usama Young struggled to stay healthy and Mike Adams departed for Denver, making free safety one of the more subtle question positions for the Browns heading into 2012.

Should Skrine fail to produce or Young play well to start off the year, this scenario will be a long-shot.

But in the event that Young struggles or suffers injury and Skrine continues to thrive, this could end up a very real possibility.
2. Brad Smelley at Fullback
When the Browns drafted Marecic out of Stanford in 2011, many fans wondered aloud why in the heck they'd replace Lawrence Vickers, one of the few bona fide pros on the team.

In an attempt to build a roster around a West Coast Offense-oriented philosophy, the Browns have begun quietly looking for the kind of pass-catching fullback who can serve as a safety-valve threat in the flats and downfield.

Should Smelley break out some big catches in preseason and if Marecic fails to match that dynamism, expect to see Marecic displaced by Smelley at fullback.
3. Frostee Rucker at Defensive Tackle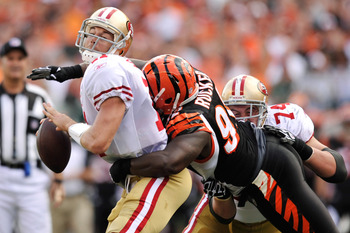 Jamie Sabau/Getty Images
No, Rucker won't switch to d-tackle full-time following Phil Taylor's devastating pectoral injury. But given that the Browns already planned to use Juqua Parker in pass-rushing situations, don't be surprised if they simply bump Frostee inside on those downs rather than pull him out.

Rookie John Hughes and reserve Brian Schaefering could both seize the role, but even in that event if Rucker's playing well, the Browns will want to keep him on the field.

Similar to the situation with Skrine and Brown, Rucker and Parker are two great round holes, but the Browns have a round hole and a square hole.

The key will be if Rucker's skill-set is diverse enough for him to take up blockers on the third-down pass rush from the inside.
4. Jason Pinkston at Right Tackle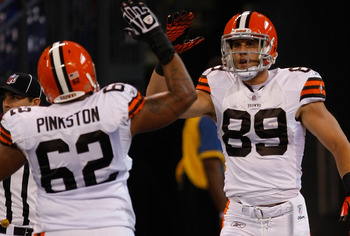 Scott Boehm/Getty Images
Pinkston served admirably at guard as a rookie out of Pitt in 2011. After the NFL lockout completely cut out any chance of the rookie learning a new position (he was a right tackle in college), Pinkston caught on quickly and became easy to root for as a rookie lineman.

The Browns hope 37th overall Mitchell Schwartz holds down the right tackle spot through 2020. But in the event Schwartz struggles to adapt to the NFL game, Pinkston could emerge as an answer in the short run—especially if fifth round pick Ryan Miller out of Colorado thrives at the same time.

Pinkston, Shawn Lauvao and Mitchell Schwartz are all auditioning for careers as linemen for the Cleveland Browns this season.

Schwartz could turn out to be an all-pro, but injuries happen and nothing is guaranteed. In the event that the Browns need a right tackle on the spot and back-up John Greco or Miller fit better at guard, the Browns know Pinkston can do the job.

Like their counterparts on the defensive line, a diverse skill set can make even young players indispensable.
5. Chris Ogbonnaya at Wide Receiver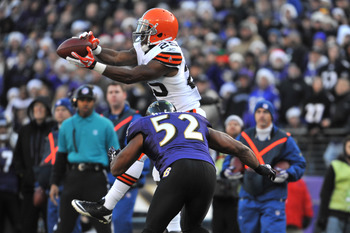 Larry French/Getty Images
One of the silver linings in the dark cloud that was the 2011 campaign was the play of running back Chris Ogbonnaya amid the injury and drama-induced chaos in the Browns backfield.

Ogbonnaya played his way into the running back role with the Browns after they signed him off the Texans' practice squad in mid-October.

Ogbonnaya demonstrated considerable ability catching passes out of the backfield, with 23 catches in 11 games.

The Browns need as many reliable playmakers on the field as they can get, and a five wide receiver set featuring Greg Little, Travis Benjamin, Josh Cribbs, Trent Richardson and Ogbonnaya could overwhelm defenses with their ability to run after the catch.

After his play in 2011, failing to capitalize on Ogbonnaya's ability would constitute an abject squandering on the part of a team that can't afford it.
Keep Reading

Cleveland Browns: Like this team?