2012 NFL Grades: Ranking the New England Patriots' Best Offseason Moves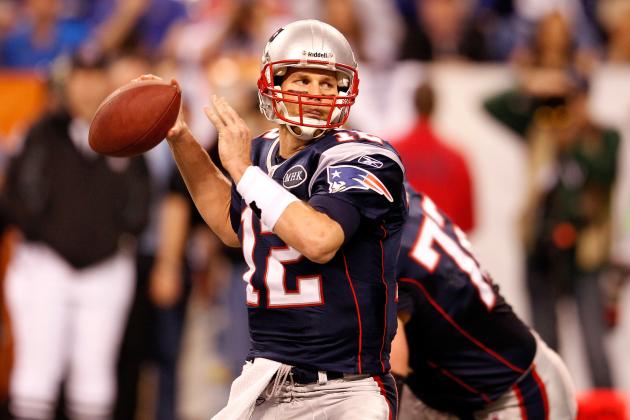 Rob Carr/Getty Images

The New England Patriots left the 2011 season behind on a sour note after being defeated by the New York Giants, 21-17, in Super Bowl XLVI.
Since then, the team has arrived right back at the drawing board on how to get back deep into the playoffs. With an NFL-worst defense that surrendered 6,577 total yards, players that needed to be signed and a need at wide receiver, the Patriots had all types of questions to answer.
Fortunately, New England fans can take a deep breath, as questions are finally starting to get solution. Here's what the Patriots have done so far…
Begin Slideshow

»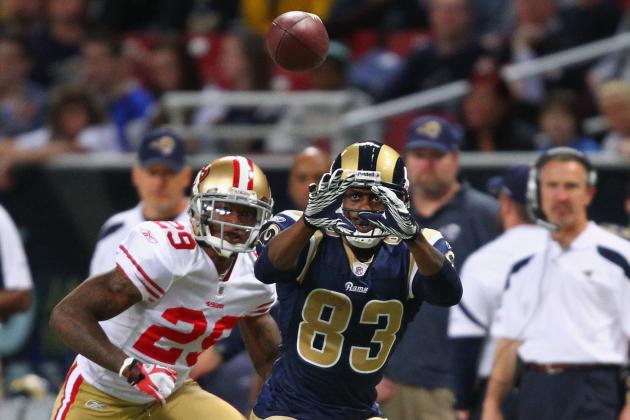 Dilip Vishwanat/Getty Images

Some fans believe wide receiver Brandon Lloyd is the answer to help stretch defenses beyond what Tom Brady needs. Others believe his team-friendly three-year, $12 million deal assumes that he's simply just been brought in to take some pressure off of Wes Welker, who led the NFL in catches last season with 122.
However, most fans remain in between, gawking at his NFL-leading 1,448 receiving yards during 2010, but also at the fact that he's been on five other teams before landing in New England.
Lloyd's arrival to Foxboro, Mass., is no coincidence, when you factor in that the Patriots rehired ex-offensive coordinator Josh McDaniels to the same position days before last season's Super Bowl finale.
McDaniels has coached Lloyd during two different stints, once as a head coach for the Denver Broncos during the 2009 season and again while serving as the St. Louis Rams offensive coordinator last season after Lloyd was traded on Oct. 17, 2011.
Lloyd caught 51 balls for 683 yards in 11 games for the Rams, but if you project his numbers out over a full 16-game slate, it looks something like this: 70-plus catches, just under 1,000 receiving yards, nearly 10 touchdowns.
Lloyd's arrival is not a necessity for Brady—who has remained an elite quarterback for much of 12-year career without having an asset elite receiver (minus Randy Moss) who has the ability to stretch a defense—but it's a nice connection that could end up being a key factor during this upcoming season.
The league as a whole has evolved into a pass-happy league with passing yards skyrocketing to new heights in the last five NFL seasons. You have quarterbacks putting up all kinds of offensive numbers and efficiency levels that even some are almost going unnoticed.
The Detroit Lions' Matthew Stafford threw for over 5,000 yards last season, yet he remains overlooked in most fans' eyes. Only time will tell if Lloyd's arrival is one that doesn't just flip the scrip on how next season plays out…it can rewrite it.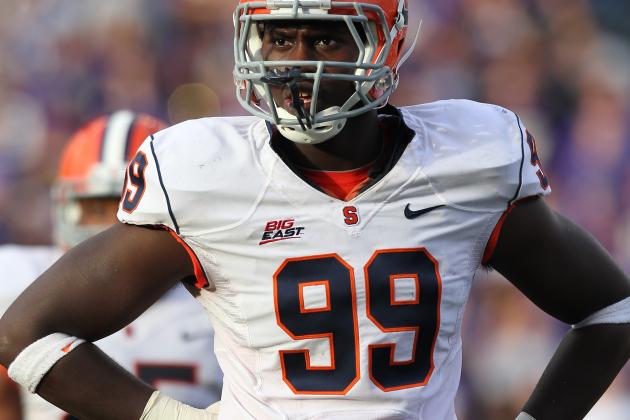 Otto Greule Jr/Getty Images

The Patriots have a notorious reputation for aggressively trading down every year on draft day.
This year, they cashed in on their chips, acquiring two mid first-round picks to land Syracuse defensive end Chandler Jones and Alabama hybrid linebacker-defensive end Dont'a Hightower.
The two additions will hopefully provide youth on the defensive side of the football. Jones stands as a lean 6'5", 266-pound specimen with comparison to former Patriot Richard Seymour.
Hightower comes from the defense-first SEC, and head coach Bill Belichick has rolled the dice on SEC defensive players in the past—most recently linebackers Jerod Mayo and Brandon Spikes.
The Patriots knew that they had to make moves on the defensive end of the ball, so they decided to go for it.
It gives them a guy who can rush the edge in Jones and potentially an athletic tackler who has a nose for the ball. The Patriots were looking for aggressive and athletic guys who can help make plays in the backfield, and that may be just what they've acquired.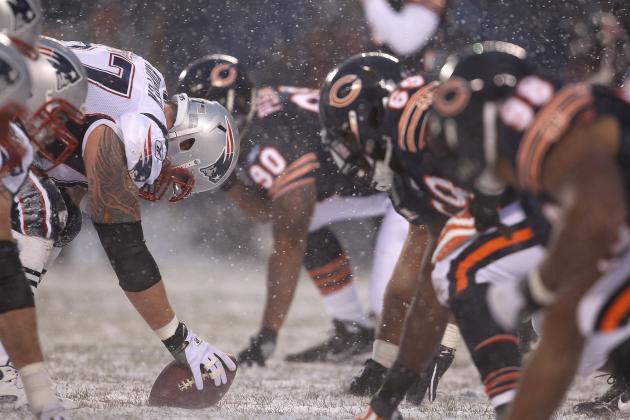 Jonathan Daniel/Getty Images

Offensive linemen never get the love they deserve. Fortunately for center Dan Koppen and guard Dan Connolly, the Patriots showed them every little bit of it.
It's never a sexy move to re-sign a lineman. However, those guys protect the most important player, so get over it.
Koppen, 32, was drafted by the Patriots in 2003, and he and the team went on to win Super Bowl XXXVII and XXXIX. He's been in New England ever since, holding down the play calling amongst the linemen.
Connolly also provide a valuable role, rotating in as the sixth guy or getting the occasional start. Both are vital for Brady's success, as they provide excellent protection.
Both are essential for New England's success, so the Patriots did what they had to do to re-up some valuable pieces to the puzzle.