Kansas City Chiefs an Underrated Playoff Contender Heading into 2012 NFL Season
May 29, 2012

Dilip Vishwanat/Getty Images
The Kansas City Chiefs are the best NFL team that no one is talking about this offseason.
Coming off a 7-9 record and having fired their head coach, it's easy to see why some might be underrating the Chiefs.
However, Romeo Crennel and his crew have a legitimate shot to win the AFC West and make a playoff run this season.
Newcomer Eric Winston believes the Chiefs are well on their way:
I think we have the right personnel, we have the right coaches and we have the right scheme to be successful. I think we just have to keep pushing and keep moving towards that goal and have to just work through that part as we go.
Winston, of course, is the source of many fans' excitement this season, as the top right tackle in the "Bleacher Report 1000" chose Kansas City over a host of other teams to solidify an already young and talented offensive line. With Winston in the fold, the Chiefs will be moving toward a zone-blocking scheme, which should help the rest of the line as well.
Winston isn't the only big addition to the Chiefs this offseason, as Scott Pioli kept himself busy in free agency.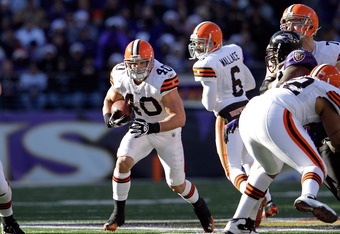 Rob Carr/Getty Images
Peyton Hillis moves from Madden coverboy and overall disappointment in Cleveland into the thunder role to Jamaal Charles' lightning in Kansas City. Hillis should be both an immediate and long-term improvement over Thomas Jones.
New offensive coordinator Brian Daboll will have his hands full figuring out how to get both on the field along with uber-weapon Dexter McCluster, but there are certainly worse problems to have. 
Speaking of second chances, Kevin Boss faltered in his one-year stint as an Oakland Raider, but the Chiefs signed him as insurance for Tony Moeaki, who spent last year on injured reserve.
Boss, only 28, clearly has skill as both a blocker and pass catcher. If he can return to the type of player he was in a New York Giants uniform, the Chiefs could reap some serious benefits.
Over on defense, Crennel's squad took a big hit, losing Brandon Carr, who signed a five-year, $50 million contract to take his talents to Dallas. However, the Chiefs moved quickly (and shrewdly), signing Stanford Routt from Oakland. He isn't going to play as well as Carr did, but If Routt can keep the penalties under control, Kansas City's defense shouldn't miss a beat.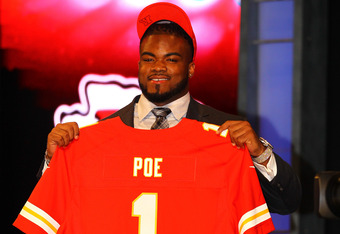 Al Bello/Getty Images
In the draft, the Chiefs surprised with their selection of Dontari Poe (NT Memphis) 11th overall. A phenomenal athlete, Poe is a classic boom-or-bust prospect. If he pans out, the Chiefs will find themselves with one of the more impressive 3-4 fronts in the NFL.
If Poe fails, the Chiefs would have to mix things up, but they have solid depth (if not as massive bodies) in guys like Allen Bailey and Ropati Pitoitua.
Second-round pick Jeff Allen (OT/OG Illinois) can back up a number of offensive line positions. Add in Winston and third-round pick Donald Stephenson (OT Oklahoma), and the Chiefs offensive line (once a serious weakness) has both talent and depth.
The rest of the Chiefs' draft was somewhat nondescript, but Devon Wylie (WR Fresno State), Cyrus Grey (RB Texas A&M) and Junior Hemmingway (WR Michigan) add talent and positional flexibility to a young and potentially explosive offense.
Of course, for the offense to be truly explosive, Matt Cassel has to start showing some of the talent that led Pioli to offer him more than $60 million in 2009. A Pro Bowl injury alternate in 2010, Cassel regressed in 2011, leading the Chiefs to a 4-5 record before landing on injured reserve.
Yes, he was without his starting running back (Charles) and tight end (Moeaki), but with the aforementioned added depth, he's officially run out of excuses. 
The defense gets their quarterback back in 2011 as well as Eric Berry, who spent 2010 on IR after a promising rookie season. Berry's elite ball skills, paired with an elite pass-rushing front seven in front of him, could equal a lot of extra possessions for the Chiefs this year.
Of course, even with Berry on the bench last year, the defense was not a problem. Perhaps the most impressive feat of 2010 (and the reason Romeo Crennel was such a no-brainer for the head coaching position) was the Chiefs defense giving up only 328 points—best in the AFC West. When you consider the injury to Berry and the impotence of the offense, it's easy to predict better things ahead.
Looking around the division, the Chiefs have a window for success. Kansas City was fourth at 7-9 last season but only a game back from every other team in the AFC West.
This year, Peyton Manning isn't a sure thing like he used to be, and the rest of that Denver team could take some time to get acclimated to the new offense. Oakland has their own coaching and front office turmoil to deal with. San Diego has the talent but has been backsliding recently, putting Norv Turner solidly on the hot seat in 2011.
Are the Kansas City Chiefs a sure thing this year? Of course not, but with a host of young talent and a great offseason to build off of, they are solid playoff contenders with a bright future ahead of them.
Michael Schottey is an NFL Associate Editor for Bleacher Report and an award-winning member of the Pro Football Writers of America. He has professionally covered both the Minnesota Vikings and the Detroit Lions, as well as NFL events like the scouting combine and the Senior Bowl.