Why We Still Haven't Seen the Best of Eli Manning, New York Giants
May 29, 2012

Al Bello/Getty Images
It's a sultry August afternoon in New York when the commotion begins.
ESPN 1050, WFAN 660 and a slew of other local AM sports stations explode with inflamed callers. It's the peak of baseball season and the beginning of the NBA lockout, but fans have thrown everything to the back seat for Eli Manning.
The veteran signal caller, known for being particularly reserved, if not downright lovably awkward off the field, appears to have compared himself to Tom Brady while talking with ESPN's Mike Greenberg and Mike Golic after practice.
Some call to defend Manning's confidence and ambition. Others call to scoff at such outlandish talk. And by sundown, the former No. 1 pick's season expectations are flying though the proverbial roof.
What Eli Manning did in 2011 was nothing short of remarkable. Mind you, this was a player coming off a 30-turnover year and a second straight year of falling on the wrong side of the playoff hunt. And, mind you, this is New York, where athletes are thrown under an impossibly ubiquitous media microscope. How he turned things around so quickly is truly impressive.
On paper, Manning wasn't the gridiron immortal he was made out to be. His 92.9 passer rating was certainly Pro Bowl worthy, but nothing other-worldly, nothing we hadn't seen before. What made Manning's season spectacular was his intangible flair for the dramatic, his record-setting 15 fourth-quarter touchdown passes, his five comeback victories, his 100+ postseason passer rating and the improbable Super Bowl run he tailored.
Like Derek Jeter, Manning's best work was done outside of the box score, and while both players' statistics are redeemable, it's the hardware that shines brightest when all is said and done. It's a New York thing.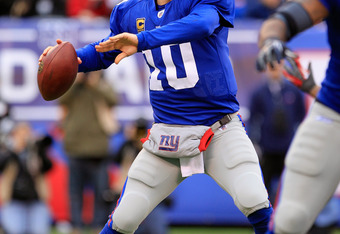 Chris Trotman/Getty Images
And in a New York minute, Eli Manning affirmed his elite status in Brady-esque fashion.
But it's far from over.
As celebrated as his 2011 was, things can get even better for Eli. Let's take a look at the evidence.
First, Giants fans are all too familiar with the struggles of Big Blue's paltry offensive line. In that whirlwind of an NFC Championship game alone, Manning was hit by the formidable Niners a whopping 12 times. A once dominant unit, the offensive line has faded to mediocrity at best.
But the line is improving. Kareem McKenzie, arguably the team's biggest problem spot in 2011, was trimmed off the roster. Promising youngster Mitch Petrus may see time at left guard, and David Baas will likely be at full strength after missing a handful of games last year.
And of course, there's nowhere to go but up for the Giants' running game, which was relegated to dead last in the league in total yardage. The problematic Brandon Jacobs is now gone, his 3.8 yards per carry replaced in favor of explosive first rounder David Wilson.
With a healthier, stabilized offensive line, Ahmad Bradshaw should return to form. Bradshaw sat out a quarter of the season with lingering injuries, and seemed to turn things around with a productive playoff effort. A stronger running game will open up play action and vertical passing schemes for Manning.
The temporary loss of Hakeem Nicks hurts. The permanent loss of Mario Manningham does, too. But the emergence of Victor Cruz coupled with the addition of second-round pick Rueben Randle certainly helps things.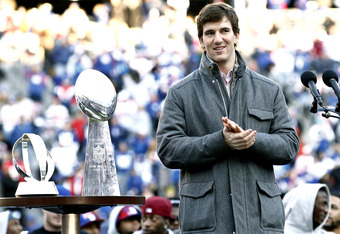 Jeff Zelevansky/Getty Images
The return of Terrell Thomas and the gradual improvement of New York's secondary will keep Manning and the Giants offense on the field for longer periods of time. Another year with New York's coaching staff should also yield improvements.
Ultimately, the supporting cast is not nearly as important as the personal developments Manning has made. Fundamentally, Eli's improvements are astounding. He's infinitely more patient in the pocket than he was a few years ago. He's become a better decision maker and a better downfield passer, and after averaging nearly five fumbles per season as a starter, he fumbled just twice in 2011. He's maturing with remarkable speed.
The best is yet to come from Manning. He has the potential to crack 35 touchdowns in a season. He has the potential to improve on his career-best 12 wins in a season. Likewise, a 65 percent completion percentage and 5,000 yards are in reach.
Eli Manning is elite now, that's hardly disputable. The heights he can reach in 2012 and beyond? Your new discussion for New York sports radio.