Eric Gordon and Indiana Pacers' Needs This Offseason to Reach East's Elite
May 29, 2012

Gregory Shamus/Getty Images
Few teams can feel as optimistic about their improvement in the NBA's shortened 2011-2012 season as the Indiana Pacers.
Indy's 15-win improvement (adjusted for the shortened season by win percentage) over last season's 37 signifies a massive step forward in this young team's development toward the top of the NBA food chain. Only Indy's implosion against the Miami Heat in the Eastern Semifinal of the 2012 NBA Playoffs stains the outlook of Frank Vogel's squad. 
That series against the Heat spoke volumes about where the Pacer shortcomings reside. After scratching out a 2-1 lead in the series with a chance to go up 3-1 at home, the Pacers were simultaneously picked apart and overwhelmed by the aggressiveness and intensity of LeBron James and Dwyane Wade.
The Heat won three straight, including two in Indy, to send the Pacers on a vacation they weren't ready to take.
So with an average age of 26.3 years, only two players over 29 with a payroll of just $34 million for next year and their top eight players under contract, what can the Executive of the Year Larry Bird do to elevate this year's up-and-coming group to the Miami Heat/Chicago Bulls level?
1. Make a run at hometown star Eric Gordon
First and foremost, the Pacers need to do everything they can to sign 23-year-old shooting guard Eric Gordon. The former Indiana star and Indianapolis native played only nine games this year due to a knee ailment, but already has two seasons averaging 20 points per game under his belt.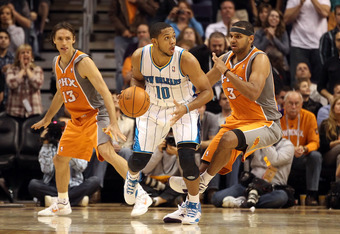 Christian Petersen/Getty Images
The restricted free agent established himself as a top-five shooting guard in just three years and one of the league's premier scorers and shooters. Rumor is rampant that Gordon has a strong desire to escape New Orleans and that he'd like to discuss playing for his hometown team. 
New Orleans has the first right of refusal on Gordon per his restricted status, but if Indy throws a near-max contract at him despite his balky knees, the Hornets' new owner Tom Benson will likely not match. 
Indiana should both have and want to overpay Gordon if it means they're sure to get him. His maturity in 2010-11 with the Clippers was evident, suggesting that he could be a go-to closer for a playoff team sooner rather than later. 
...which leads me to the Pacers' next need. 
2. Establish a go-to, crunch-time scorer
For starters, Gordon would be the perfect player to fulfill that title, which no Pacer on the deep and versatile roster has claimed. 
Danny Granger, the team's leading scorer and best player, asserted his claim on that role, but was just 38th in the NBA in clutch shooting percentage, though finishing sixth in points per 48 clutch minutes.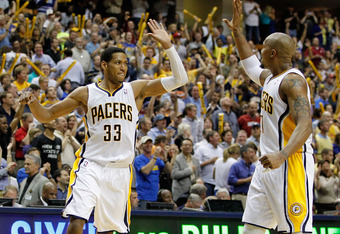 Gregory Shamus/Getty Images
Gordon, by comparison, was 13th in the league in clutch scoring in his last full season, shooting 55.6 from the field and 53.3 percent from the three-point line in clutch situations. 
The Pacers have a handful of players who can score in a variety of ways.
Roy Hibbert, at 7'2", can score with his back to the basket. David West can play face-up with the jumper from 20-feet in. George Hill can shoot, but really thrives on drives to the hoop. Paul George can't shoot, but he can dunk, while Granger gives you a little bit of everything offensively.
The problem is, none of those players has commanded the ball in crunch time with the team desperate for a basket. The fact that the Pacers are so incredibly balanced means that there's no hierarchy or protocol for end-game scenarios, where the course of action is sort of pre-programmed like it is with Kobe Bryant and the Lakers or Carmelo Anthony and the Knicks.
Those guys are getting the ball every time, most likely taking the big shots, and the team lives or dies that way.
The Pacers suffered against Miami when the chips were down because nobody seized the ball with authority and confidence when it mattered most. 
3. A superstar best player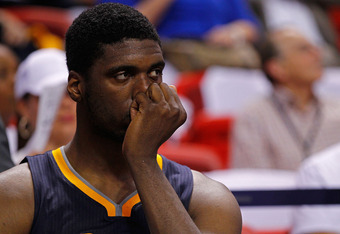 Mike Ehrmann/Getty Images
To date, Granger has done best-player things, like get drafted in the first round, be a leading scorer, make free throws, put in effort on defense and take shots at the end of games. 
But doing best player things doesn't make you a superstar. I don't think the most partisan Pacer fan would call Danny Granger a superstar because of a certain lack of intangibility, a deficiency of that unquantifiable something that makes an NBA star what he is. 
If Granger is a good, but not great, player, who on the roster has superstar potential? I'm not sure that player exists on the Pacers right now.
The most obvious choice is Roy Hibbert, but, though his game is steadily improving and presence becoming more impactful, his passive, cool demeanor doesn't fit the superstar profile. 
David West is the most experienced and successful player on the team, but he isn't among the team's building blocks. He might be a go-to crunch time candidate, but he isn't among the team's top players at 31 years-old off an ACL surgery. Darren Collison has not been the All-Star point guard Larry Bird hoped he'd be, while Paul George is still incredibly raw and immature. 
Every other championship contender has an unquestioned superstar (or two). If the Pacers want to be counted among that group, they need to exchange 50-cent pieces for a silver dollar, to quote Grantland's Bill Simmons.  
Let's survey the NBA landscape to see how the Pacers can consolidate their talent this offseason. 
1. Sign Eric Gordon to an exorbitant offer sheet. We've covered this already. 
Here's what they do in addition to that, or if they can't manage to sign Gordon.
2. Trade for Sacramento's disgruntled young star, Tyreke Evans. In this deal, Indy saves a bit of money over the next three years, lets go of David West's $10 million for next year, and acquires a rangy and athletic scoring guard. Say what you want about Evans' free-firing offensive game, he can score in more ways than the majority of the league and creates a major mismatch on the perimeter every night while being a nightmare to defend in transition. The Pacers, with Granger and George Hill, could become one of the league's fastest teams.
3. Complete a blockbuster with rebuilding Portland to acquire LaMarcus Aldridge and Wes Matthews. This trade gives Indiana a crunch-time scorer in Aldridge to pair with Hibbert, as well as a streaky scorer in Matthews. Paul George could move to his more natural small forward position with Granger gone, and George Hill would move to the starting lineup at the point full-time. Portland, who gets two first round picks in the deal, acquires Granger to rebuild around, as well as a young Collison and expiring West. They're not playing for 2012-13 anyway, so why not stockpile picks while gaining some proven NBA players and pretending to not tank for a high draft pick?
4. Snatch Kevin Martin and the disenchanted Kyle Lowry for Granger, Collison and a first round pick. The Pacers get two new starters to complement George, West and Hibbert to create the East's second-best starting five behind Chicago. They get the electric Martin, who is arguably the NBA's most explosive scorer when healthy. If it doesn't work out, his $13 million comes off the books no questions asked after next season.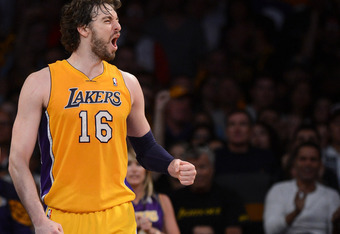 Harry How/Getty Images
5. Work out a convoluted three-way with Philly and the Lakers to get Pau Gasol. What's not seen in this "failed" trade is Lou Williams going to the Lakers after he exercises his $6.4 million option with the Sixers. With an overpaid Eric Gordon, George Hill, Pau Gasol, Roy Hibbert and Average NBA Small Forward X, the Pacers suddenly possess the best starting five in the East and still have some cap space to spare. 
This sample is just what I flippantly came up with in an hour's time for the Pacers. With the cap space they'll have this summer, and high-spending teams desperately trying to move below luxury tax thresholds, the Pacers might find themselves in an attractive buyer's market to land a star player.
The Pacers boast one of the league's best defensive and rebounding teams, which means so much more when accounting for still-developing players like Hibbert and Paul George. What they need to address this offseason is their bottom-third effective field goal percentage, third-worst assist rate and overall offensive firepower. 
Eric Gordon would fit in seamlessly with his hometown team, but alternatives abound if that scenario does not come to pass. 
The Pacers have grown tremendously over the last two seasons, but to make the leap to NBA championship contender, they need to use this offseason wisely. 
Fortunately for Indiana, Larry Bird, the newly-adorned Executive of the Year, is on their side.