Los Angeles Clippers: Predicting Offseason Moves That Get Chris Paul to Stay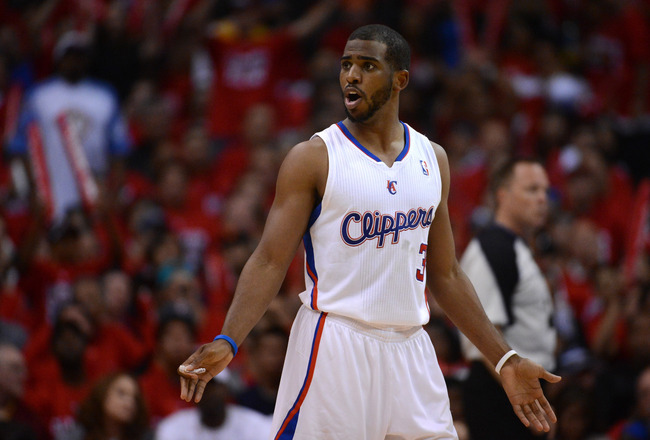 Harry How/Getty Images
The Los Angeles Clippers are going to do everything they can to keep Chris Paul beyond this year. The fact that it's even a realistic possibility is monumental.
The long-time woeful franchise securing one of the league's premier players through free agency is like Jay Baruchel ending up with Alice Eve, and while this is Los Angeles, it is not a Hollywood script. If they play their cards right, the Clips can keep him.
If they do, and they keep Blake Griffin as well, these words that even a year ago today would have sounded laughable could become reality: "The NBA champion Los Angeles Clippers."
You've seen those words before in that order, but with words "beat the" inserted "champion" and "Los."
Here are the steps the Clippers must take this offseason to ensure Paul will stay and give them an honest chance at a title run.
Find a Head Coach Chris Paul Respects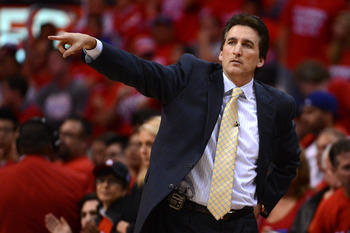 Harry How/Getty Images
First, the Clippers need to be realistic about Vinny Del Negro.
Allegedly, Paul has a short-list of preferred replacements for Del Negro's coaching job. While they might not have officially let go of him yet, the Clippers need to.
Paul would not have a short-list of preferred replacements if he didn't have a preference for a replacement to be needed. Get what I'm saying? The existence of the list itself says he wants Del Negro gone, and who can blame him?
While he and Blake Griffin might have said the right "supportive" things during the season, that's a bit political. It's one thing to offer your coach a bit of support midseason, and it's another to advocate for him to stay on in the offseason.
Del Negro is an oft-criticized coach for a reason—he's bad. The Clippers need to let him go if they want to have any chance of keeping Paul.
They don't necessarily need to sign someone on Paul's list, but the Clips do need to consider them, and they need to make sure that whomever they do hire is someone Paul has the utmost respect for.
Tweak the Supporting Cast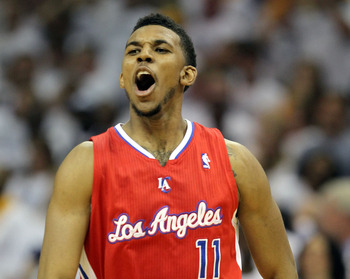 Andy Lyons/Getty Images
The next thing the Clippers need to do is either sign Nick Young, another player who can be relied on to shoot and space the floor or both.
The Clippers need spacing. It's a part of what Paul uses well.
Chauncey Billups, Randy Foye, Young, Kenyon Martin and Reggie Evans will all be free agents. The Clippers are going to have to let some of those players go to secure a future for the team.
Who they keep and pick up is going to require Paul's input. It's also going to require making a decision on their head coach. The team must fit the coach.
I'm not going to say that unless the Clippers sign Young they won't keep Paul. I'm not going to say that unless they cut Evans they won't keep Paul. Specifics aren't the essential thing, it's the whole picture.
Which players they keep and cut, plus who they sign in free agency is too amorphous of a situation right now. The problem is, right now, that the Clippers look like a bunch of players sort of slapped together—not pieced together.
They lack the feel of a cohesive whole. They need to tweak the team to make it a better "whole."
Part of that is coaching, part of it is personnel.
The contrast was so vivid against San Antonio. The Spurs are a cohesive whole that is a well-coached team with every player having a role and working in that role well with the other players. The Clippers need some of that San Antonio element for their team.
Reach an Agreement with Blake Griffin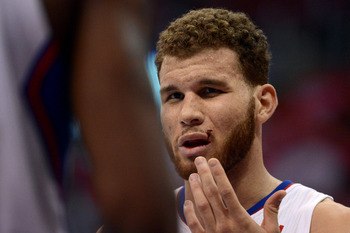 Harry How/Getty Images
Blake Griffin must be a part of the long-term picture for this plan to succeed, and the reality is that's not only possible, it's likely.
It's probable, even.
However, "probable," "likely" and "done" are three entirely different words.
It's "likely" with good reason. The Clippers can match any other offers, and no one else can match the Clippers' offer. Griffin, a two-time All-Star, is qualified for the "Derrick Rose Rule," which allows him to get the same max deal as a player who's been in the league for seven years (i.e. Chris Paul money).
The only team that can give Griffin that is the Clippers, so all the Clippers have to do is assure Griffin he'll get it.
An agreement in principle would go a long way toward reassuring Paul that he should stay.
Commit to Defense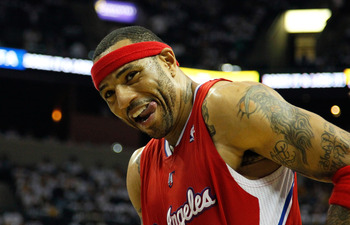 Kevin C. Cox/Getty Images
The Los Angeles Clippers have an earned reputation for flopping.
They also have a lack of discipline on defense, and once again, the series against the Spurs was a demonstration of that.
Against the Grizzlies the Clippers' defensive deficiencies were masked since Memphis doesn't have a lot of players who can stretch the court. So, if you can guard the paint and force them to shoot from outside, you can beat them.
The Grizzles were 28th in the league in three-point attempts per game. The Spurs are second in thee-pointers made.
San Antonio forced the Clippers defense to spread out, and that's where their deficiencies got exposed. The Clippers were 19th in the NBA in effective field goal percentage last year. They don't rotate well, and they don't provide help.
If you can stretch the court, you can beat the the Clippers because they just don't play good team defense. They don't finish their rotations, and they don't close out on shooters.
When you don't do that, you'll give up a lot of threes.
L.A. gave up the fifth-most three-pointers in the league last year. The Clips were 16-18 when they gave up at least seven of them. They were 24-6 when they gave up six or fewer.
That's a pretty drastic difference, and it's indicative of a lack of consistent effort on defense.
When you flop around instead of following through on rotations or closing out on the perimeter, it makes a team look cheap—as though they're trying to take shortcuts to winning basketball games.
There is no shortcut for hustle, though.
Other teams, like the Heat, may also flop, but they play hard defense too, so it doesn't feel as cheesy.
The actual players on the team, not the coach nor anyone else, need to commit to playing hard defense. At least half of a good defensive team is just resolving to be one and following through on that 48 minutes a game. The Clippers don't have that.
Paul has it. Kenyon Martin has it. But most of the team doesn't have it.
Find a New Identity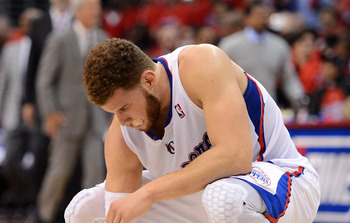 Harry How/Getty Images
Between the coaching change, tweaking the roster and securing Griffin (and by doing so, Paul) the Clippers can change their identity. Obviously, they can't sign Paul in order to sign Paul, but if they do the rest of it, Paul will sign.
If Paul sees all of that happen, he'll see what he wants to see—a team that is balanced and well-coached, a team that commits to winning defense and a team that believes in itself.
If he sees all that, he'll believe in that team and stay, and that will further invigorate that team to want it more, play harder and be better.
Keep Reading

Los Angeles Clippers: Like this team?