San Francisco 49ers: Pros and Cons of Every WR Currently on the Roster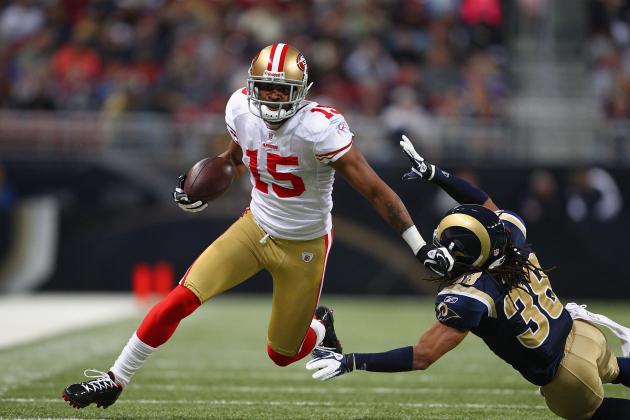 Dilip Vishwanat/Getty Images
Michael Crabtree was the 49ers' top WR in 2011
The San Francisco 49ers identified a major weakness on their 2011 roster. Their wide receivers had trouble getting open against tough man-to-man or press coverage. This issue became abundantly clear in the playoffs when the 49ers' wide receivers virtually disappeared.
When the 49ers rolled up points against the Saints in their first playoff contest, it was tight end Vernon Davis who made the big plays for San Francisco. The wide receivers combined for seven catches for only 48 yards, although Michael Crabtree did grab one touchdown.
Against the New York Giants in the NFC title game, the production was far worse. The Niners' wide receivers combined for one catch for a measly three yards. The Giants DBs were able to blanket the 49ers' wide receivers and take them completely out of the game.
GM Trent Baalke and head coach Jim Harbaugh were very proactive to correct the problem. They made aggressive moves to upgrade the position and provide some explosiveness to the offense. Now, it will be up to quarterback Alex Smith to find these receivers and get them the ball, so they can make plays.
Let's take a look at the wide receivers currently on the roster and I will provide an analysis on the relative merits of each player.
Begin Slideshow

»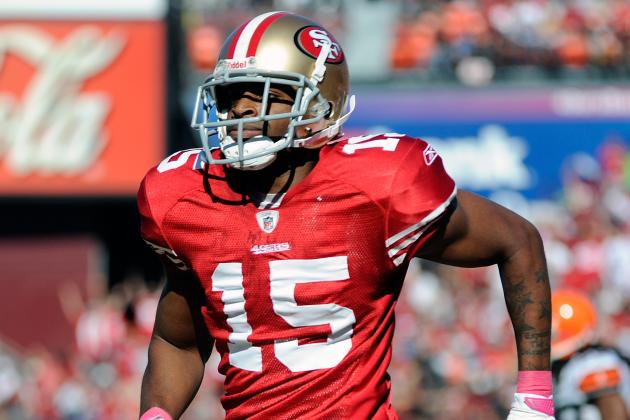 Thearon W. Henderson/Getty Images
Michael Crabtree enters his fourth season with the 49ers.
When the San Francisco 49ers drafted Michael Crabtree with the tenth overall pick of the 2009 NFL draft, they believed they had a No. 1-caliber wide receiver.
Crabtree, although productive, is not a No. 1-wide receiver, who can dominate a series of games over the course of a season. In 2011, Crabtree had 72 receptions for 874 yards, both career highs.
However, Crabtree never displayed the dominance the 49ers had expected when they drafted him. His 12.1 yards-per-catch and only four touchdowns underscore Crabtree's lack of true explosiveness.
Crabtree has good hands and is decent running after the catch. At this point in his career, Crabtree looks more like a solid possession receiver, not a true gamebreaker.
I must also give Crabtree and coach Jim Harbaugh a lot of credit because the selfish, me-first persona that Crabtree displayed early in his career did not manifest itself last year. I have to believe Crabtree realized that Harbaugh would not stand for any of the "look-at-me" antics that he displayed previously.
In addition to becoming more of a team player, Crabtree appeared to work a lot harder in practice. He was developing a reputation as someone who would be lackadaisical or skip practice completely.
Whether it was Crabtree gaining some maturity, Harbaugh laying down the law or a combination of both, it was good to see an increased level of professionalism out of Crabtree.
The flip side to all of this is that Crabtree had a lot of trouble getting open against tight man-to-man or press coverage. If he was a true No. 1-receiver, he would be able to exploit that.
Crabtree lacks the speed and the elusiveness to be a dominant receiver. Again, he can be a solid possession receiver and able to make a big play every now and then, but there are limitations to his overall game.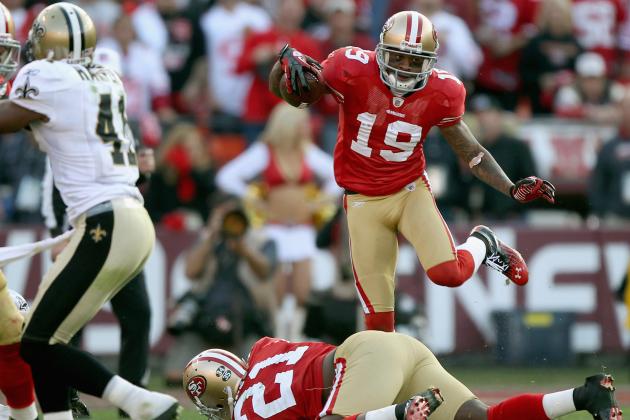 Jed Jacobsohn/Getty Images
Ted Ginn is a quality return man.
Ted Ginn Jr., is an excellent kickoff and punt return man. He returned one of each for a touchdown and had solid averages in both areas. He was also sure-handed, with only one fumble all season.
Unfortunately, Ginn is not a good wide receiver. He does not have great hands, and we have seen frequent instances of balls bouncing off his hands or him juggling the ball before he secures it. Ginn also does not do a great job getting open or catching the ball over the middle.
In two seasons with the 49ers, Ginn has 31 total catches for 383 yards and one touchdown. When they acquired Ginn, the 49ers hoped he would provide an explosive deep threat to their offense.
This did not materialize for three reasons. Alex Smith did not throw the ball accurately to Ginn on those occasions where he was open. Secondly, the offensive line sometimes broke down, making it impossible for Smith to have the time to get the ball deep. Finally, Ginn, who has excellent straight-away speed, but not incredible shiftiness, was not able to get open all that often.
Ginn's status with the 49ers is tenuous. His greatest asset is as a returner, and if rookies A.J. Jenkins or LaMichael James can handle those duties, Ginn may find himself out of a job.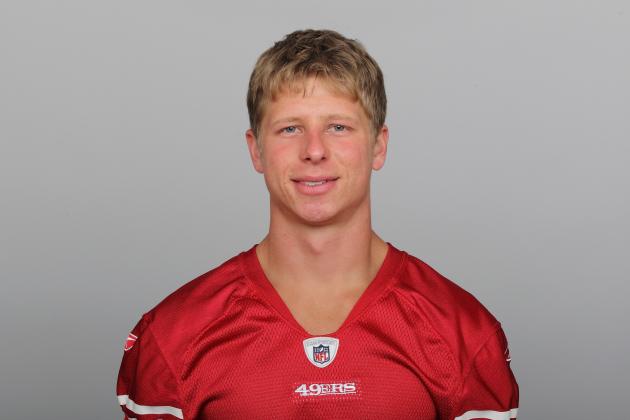 Handout/Getty Images
Joe Hastings is a long-shot to make the team.
Joe Hastings joined the 49ers in 2011, after playing his college ball at Washburn University—a small Division II school in Kansas. In 2010, his final year at Washburn, Hastings grabbed 87 passes for an impressive 1,546 yards and 15 touchdowns.
Listed at 6' and 185 lbs, Hastings is small but fast and deceptively quick. He's an incredibly hard worker and the type of player Jim Harbaugh loves, because of his grit and determination.
Hastings was active for only one game in 2011 and did not have any receptions. He will be hard-pressed to make the team in 2012. Realistically, the best Hastings can hope for is a spot on the 49ers' practice squad.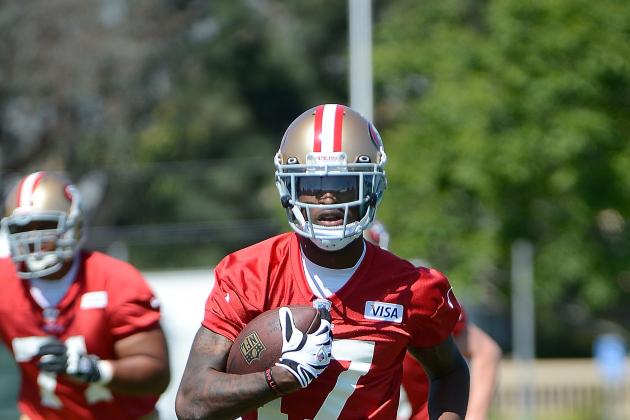 Thearon W. Henderson/Getty Images
A.J. Jenkins was a surprise pick by the 49ers in Round 1.
The San Francisco 49ers selected A.J. Jenkins with their first pick in the recent NFL draft. Jenkins was taken 30th overall, in what can best be described as a surprise to most pro football insiders.
GM Trent Baalke and head coach Jim Harbaugh were extremely high on Jenkins and believe he can develop into the No. 1-type of wide receiver they covet.
Based on the recent success of the Baalke-Harbaugh brain trust, I am quite willing to wait and see how Jenkins pans out, before making any judgements on this selection.
While at the University of Illinois, in a run-oriented offense, Jenkins excelled as a receiver. In 2011, Jenkins had 90 receptions for 1,276 yards and eight touchdowns.
I saw Jenkins play in person, when Illinois battled UCLA in the Kraft Fight Hunger Bowl. He was clearly the best offensive player on the field.
The 49ers will also give Jenkins a look as a return man. If he excels, that could also mean the end of the line for Ted Ginn, in San Francisco.
Jenkins has good hands and excellent speed. In addition, he has displayed a willingness to work hard, learn and be coached, which will hasten his development. Jenkins has the talent to be an impact player, which is why the 49ers made him their top draft choice.
Jenkins has had some issues with dropped passes and conditioning in the 49ers' first series of OTA's. However, I am confident that as he continues to work and also becomes more comfortable in the 49ers' complex offensive system, those areas should improve.
With Michael Crabtree, Randy Moss and Mario Manningham already in the fold, the 49ers have the luxury of bringing Jenkins along slowly. He will not be thrust into a primary role until he proves he's ready.
The 49ers may have found a gem, in Jenkins, but we may need to wait until the second half of this year or even 2013 to see his talent come to the forefront.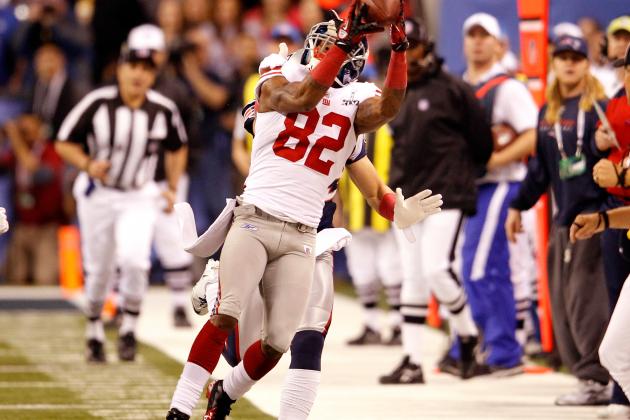 Rob Carr/Getty Images
Manningham's great catch helped the Giants win the Super Bowl.
The San Francisco 49ers signed former NY Giants' wide receiver Mario Manningham as a free agent. He played four seasons with the Giants, having caught 160 passes for 2,315 yards and 18 touchdowns.
Manningham saw his production decline in 2011, as he caught only 39 passes for 523 yards. In his prior two seasons, Manningham averaged 58.5 receptions for 883 yards. The Giants who have Victor Cruz and Hakeem Nicks as their two starting wide receivers, deemed Manningham expendable.
Manningham's acquisition gives the 49ers a good veteran receiver, with some big-play potential. He has a career average of 14.5 yards per catch.
Manningham will bring an air of professionalism to the 49ers and should fit into their team concept very nicely. He will also be a good role model and mentor to the 49ers' young receivers.
The 49ers will give Manningham a chance to win a starting job, but even if he doesn't, he will still figure prominantly in the 49ers' three receiver sets.
Manningham does not have blazing speed, but he has a knack for getting deep. He also has good hands, runs good routes and can catch the ball in traffic. Manningham has averaged six touchdows per year, over the past three seasons.
Although not a true game-breaker, Manningham is a major upgrade over what the 49ers had in 2011.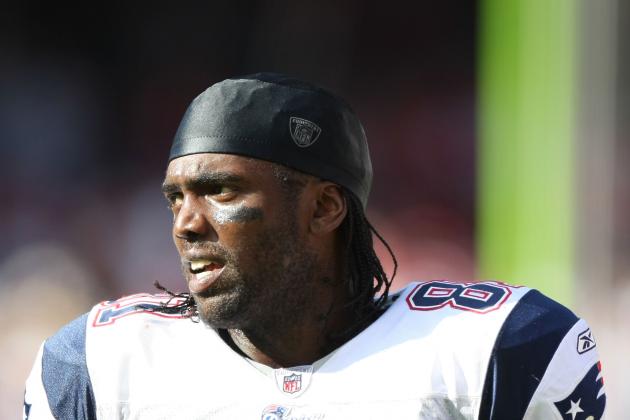 Jed Jacobsohn/Getty Images
Randy Moss joins the 49ers after sitting out all of 2011.
When the San Francisco 49ers signed Randy Moss this offseason, there were some snickers and incredulous looks. Moss did not play at all in 2011 and has a reputation for being hard to work with and less than committed, if he does not like the way things are going.
GM Trent Baalke and head coach Jim Harbaugh are willing to take a calculated risk that Moss can come back and make a positive impact to the 49ers' offense. If they are correct, this is the type of bold move that can help bring a championship to San Francisco.
In looking at this acquisition more closely, this really is a low-risk move because if Moss creates a negative disturbance, the 49ers will simply cut him. Moss also knows this and will likely be on his best behavior.
The real question is, at the age of 35, does Moss have enough left in the tank to contribute?
The initial outlook is that he most certainly does. Moss has looked good in the 49ers' first series of OTA's and is in excellent shape. He still has very good speed, and his experience is a tremendous asset.
Moss has also seemed to relish the role of mentor to the younger 49er receivers, including Michael Crabtree. Quarterback Alex Smith also appears to be building a good chemistry with Moss.
A certain Hall of Fame inductee when he's done playing, Moss has 954 receptions for 14,858 yards and 153 touchdowns. I believe he will be able to provide the 49ers with a deep threat they have not had since the days of Jerry Rice.
It will be up to Smith to get Moss the ball and keep him engaged. If he stays focused, Moss will make a positive impact for the 49ers.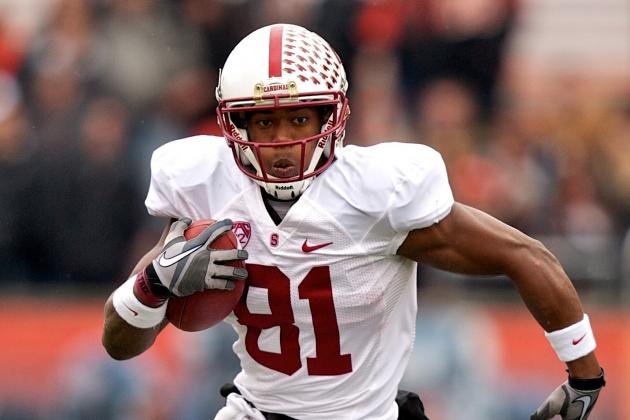 Craig Mitchelldyer/Getty Images
Chris Owusu must prove that he can stay healthy.
Chris Owusu played for Jim Harbaugh, during the coach's days at Stanford. He was not selected in the recent draft and was signed by the 49ers as an undrafted free agent.
Owusu has the athleticism and ability that would have made him a probable third- or fourth-round draft pick. However, his severe problems with concussions scared teams off. Owusu sustained three major concussions in a 13-month period.
I can still see the image of Owusu laid out on the field against Oregon, then being strapped to the gurney as they carted him off to an ambulance to take him to the hospital. It was a very scary sight.
In addition to the concussions, Owusu has questionable hands and has been known to drop passes, at times. In addition to staying healthy, Owusu will need to prove that he will catch everything thrown his way.
During his four years at Stanford, Owusu caught 102 passes for 1,534 yards and 10 touchdowns. These numbers are very pedestrian, especially when you consider that Andrew Luck was his quarterback. Owusu will need to perform much better if he has any chance to make the team.
Owusu is a tremendous athlete and has outstanding speed. He has a chance to make the 49ers' roster, but will likely need to beat out Ted Ginn or Kyle Williams to do so.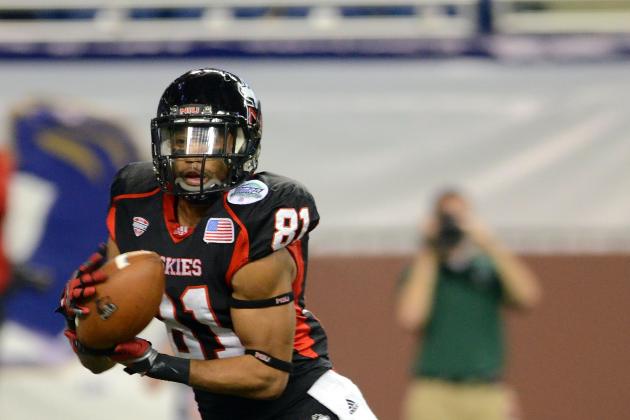 Mark A. Cunningham/Getty Images
Nathan Palmer is a long-shot to make the roster.
Nathan Palmer signed with the 49ers as an undrafted free agent. He played his college ball at Northern Illinois, where he caught 93 passes for 1,575 yards and 16 touchdowns, in his four years there.
Based on the logjam, the 49ers have at the wide receiver position, I do not expect Palmer to make the team.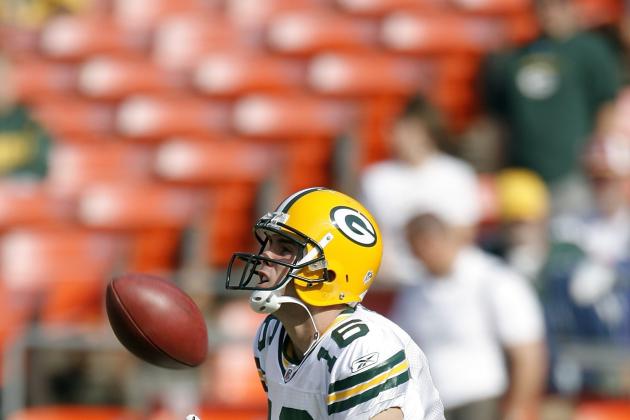 Greg Trott/Getty Images
Brett Swain began his career with the Green Bay Packers.
Brett Swain began his career in 2009 in Green Bay, where he played for two seasons. He signed with the 49ers as a free agent last year and appeared in five games.
Swain did not make much of an impact as a 49er, as he caught two passes for just 15 yards. He played mostly on special teams, and looking at the current stable of receivers, Swain will be hard-pressed to make the team.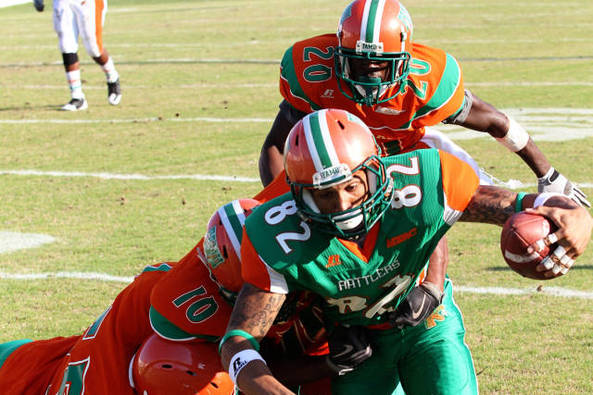 Brian Tyms played at FAMU.
The San Francisco 49ers signed Brian Tyms as an undrafted free agent. In 2011, he played at Florida A&M, where he caught 38 passes for 538 yards and three touchdowns.
Tyms is very unlikely to make the 49ers' roster. The best he can hope for is a spot on the practice squad.
Doug Pensinger/Getty Images
Kyle Williams' two critical mistakes cost the 49ers a trip to the Super Bowl
When we last saw Kyle Williams, he had fumbled away one punt and allowed another to bounce off his leg and be recovered by the New York Giants in the NFC title game. Williams' two major gaffes cost the 49ers a shot at the Super Bowl.
Williams will need to put all of that behind him and perform well in training camp in order to secure a job with the 49ers. The competition at the wide receiver position is fierce, and Williams' roster spot is tenuous.
In 2011, Williams caught 20 passes for 241 yards and three touchdowns. In his two seasons with the 49ers, Williams has also battled several nagging injuries. He will need to stay healthy and produce, in order to keep his job.
The mistakes against the Giants notwithstanding, Williams did show promise last year. He is best suited as a slot receiver who can utilize his quickness to make plays.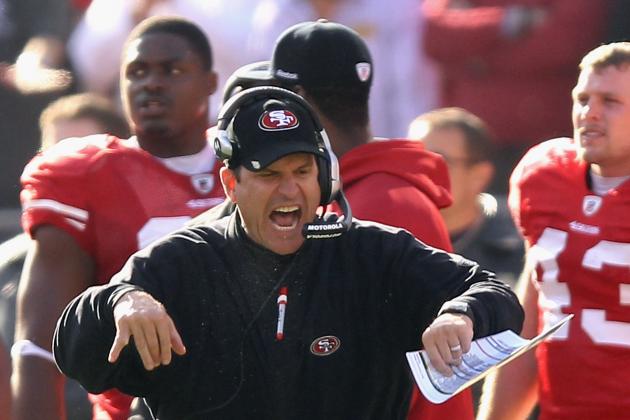 Ezra Shaw/Getty Images
Jim Harbaugh does not hide his intensity or passion for the game.
The San Francisco 49ers have upgraded the one area on the team considered to be their biggest weakness. I have listed all of the receivers on the 49ers' current roster and discussed their role on the team.
Head coach Jim Harbaugh has often stated that he wants competition at every position. It will be extremely competitive for the five or six roster spots the 49ers will use for wide receivers.
My gut feeling is they will keep six receivers on the roster, which gives marginal players like Kyle Williams, Ted Ginn, Chris Owusu, Joe Hastings and Brett Swain a better chance to stick.
One major thing the 49ers have accomplished is to add a great deal of explosiveness to their wide receiver corps. With a full training camp this year, Harbaugh will be able to incorporate his entire offensive playbook and fine tune the players to his system.
The 49ers have a very tough schedule this year, and although they may be a better team, it's entirely possible they will have less than the 13-3 record they accomplished in 2011.
One key to the 49ers' success this season will be how effectively can Alex Smith get the ball to his wide receivers. With much better personnel this year, along with an entire training camp, the 49ers offense should be much improved.