2012 NBA Playoffs: Why Westbrook and Durant Can Co-Exist in Oklahoma City
May 28, 2012

Ronald Martinez/Getty Images
When a young team starts to define itself, people immediately begin to question how long it can last. In professional sports, the NBA specifically, players tend to seek situations where they can really shine.
Russell Westbrook and Kevin Durant are both becoming NBA stars. I hear the same question from friends and fans alike: These two cannot co-exist because eventually, one of them will demand more of the spotlight—so who will go?
These two players are a new breed. A younger generation. They are influenced by Iverson and Kobe just as much as they are by Michael and Magic. They've seen what it takes to win NBA Championships, and they know history will largely judge them on that statistic alone.
When LeBron James and Chris Bosh joined Dwyane Wade in Miami, the landscape of the NBA changed. The idea of creating an all-star team was firmly in place. Other free-agents will start testing these waters in upcoming seasons, and the Heat will almost surely not be the only one of these teams.
The Oklahoma City Thunder have an all-star team of sorts, but they accomplished this feat through the draft, not free agency. 
I understand the speculation that either Westbrook, Durant, or even James Harden would go elsewhere to be the star of their own team, but I don't agree with it.
The argument is that there will eventually not be enough shots to go around for both Westbrook and Durant to be happy. From what I have observed, I don't see it. Both guys are unselfish, deflecting praise to each other whenever possible. 
The extension Westbrook signed back in January is an example of his dedication to the Thunder and the team concept. His deal is structured in such a way that it will allow the Thunder a lot of financial flexibility in the coming years to make sure he and Durant are surrounded by quality players.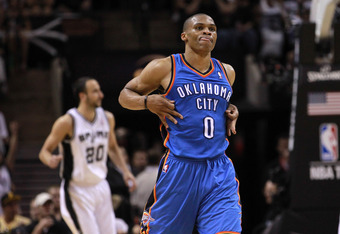 Ronald Martinez/Getty Images
With Durant and Westbrook signed, they will be in OKC until at least the 2015-2016 season. If these two guys were not committed to staying with the Thunder, why would they have both signed max deals? Neither guy has an opt-out clause, which basically guarantees they won't be going anywhere.
Since Durant's arrival in the NBA, he has been a true professional. He respects those who have come before him, yet he believes his time is coming. He has the work ethic of someone half as talented and the drive to be the best scorer the NBA has ever seen. 
Both of these guys are such humble people, and both are perfectly suited for the city they are in. Besides the contracts, I see the Thunder being a dominant team for the foreseeable future.
They are also very intelligent people. They know they have a great shot at making Oklahoma City a powerhouse in the NBA, and for them, that is more important than being alone in the limelight. 
For me, their attitudes are very refreshing. It helps me remember that basketball, at its core, is the ultimate team game. In a sport where individualism runs rampant, the Thunder's two star players are an example of what's right in the NBA.