Boston Celtics, San Antonio Spurs Showing Why Youth Is Overrated in the NBA
May 30, 2012

Drew Hallowell/Getty Images
As the NBA's conference finals get under way, one thing worth noting is this:
If you watch, listen or read about the Oklahoma City Thunder, you almost inevitably hear about their youth. After all, Kevin Durant and Russell Westbrook are only 23 years old, and James Harden is only 22. That's a pretty young, talented trio. 
Then again, two of the other three teams in the conference finals are anything but young. The San Antonio Spurs are led by their own formidable trio. Tim Duncan is 36, Manu Ginobili is 34 and Tony Parker is 30 years old. 
Travel to the Northeast, and the Boston Celtics are in the midst of a series against the Miami Heat. Yes, Celtics star point guard Rajon Rondo is only 26. What about the other three stars? Ray Allen and Kevin Garnett are both 36, and Paul Pierce is 34. That's not exactly a fountain of youth wearing green and white, is it?
Everyone loves young talent, but can it actually win you a title? More often than not, NBA champs are veteran-laden teams. Sometimes they're led by veterans who are in their primes, and rarely are they as all-around young as the Oklahoma City Thunder.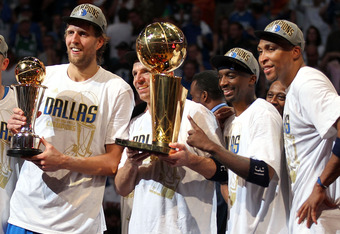 Mike Ehrmann/Getty Images
Last season, the Dallas Mavericks won the NBA title. Dirk Nowitzki was 32, Jason Kidd was 38 and Jason Terry was 33. The season before, it was the Los Angeles Lakers led by Kobe Bryant, who was 31, while Metta World Peace and Lamar Odom were 30 and Pau Gasol was 29.
The point isn't that you have to have a crew of aging veterans to win the NBA title. The point is that all that young talent the Thunder have might make it easy to conjure up visions of decade-long NBA dynasties, but it rarely ends up that way.
Could the Durant-Westbrook-Harden-led Thunder morph into the Lakers of the 1980s? Those Lakers teams didn't rebuild—they reloaded. When Norm Nixon started to age, they brought in Byron Scott, and forwards such as Jamaal Wilkes and Bob McAdoo yielded to James Worthy.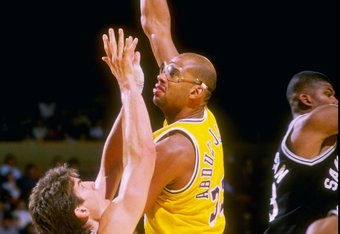 Mike Powell/Getty Images
Magic Johnson and Worthy were the catalysts, but from the moment the 20-year-old Magic arrived on the scene, he had 32-year-old Kareem Abdul-Jabbar as his teammate.
Nearly every title-winning team has had serious veterans on the roster—not just guys who are north of 30, like Derek Fisher is on the current Thunder team. They have key contributors, starters and All-Stars. Dirk Nowitzki, Kobe Bryant, Robert Horry, Chauncey Billups, David Robinson, Rick Fox, Horace Grant, Ron Harper—the list goes on and on. The Spurs and Celtics both have those types of guys. The Thunder really don't.
None of that means the Thunder won't win or that the Spurs and Celtics are destined for a ring. Of course, only one of the four remaining teams will eventually win the ring.
Youth is nice, and it's essential. A successful franchise needs to have a certain amount of youthful talent on its roster in order to prevent the type of total franchise collapse that the Lakers, Celtics and Bulls experienced when the Magic Johnson, Larry Bird and Michael Jordan eras concluded.
When a championship is in a team's reach, it just seems like veteran teams get the job done with more frequency than those dominated by young talent. Is youth overrated? Not if you're building a franchise for a long run near the top of the league standings, if you're a team headed to the next level, the top level—not just the finals, but winning the finals.
In those cases, it seems that youth is often usurped by experience when the ultimate goal is on the line.