2012 NBA Free Agents: Predicting the Future of Free Agents Still in Playoffs
May 28, 2012

Jim Rogash/Getty Images
With only about a month remaining in the NBA season, the offseason is creeping up very fast.
While everyone has their eyes on where the likes of Deron Williams and Steve Nash will land, I thought it would be interesting to take a look at how free agency will effect the future of the four teams still remaining in the postseason.
With that being said, let's take a look at how each current playoff team could look in the upcoming months.
San Antonio Spurs
Restricted Free Agents: Danny Green, Patty Mills
Unrestricted Free Agents: Tim Duncan, Boris Diaw, James Anderson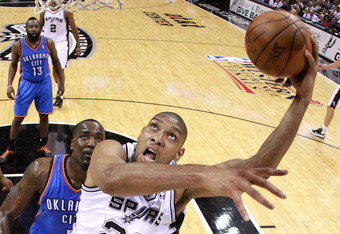 Ronald Martinez/Getty Images
Right now the Spurs have $49.1 million on the books towards the 2012-'13 season, which gives them a bit of flexibility.
Duncan will almost 100 percent be back, but not at nearly the $21 million he made this season, which will give San Antonio a bit more roster flexibility in the future.
That flexibility should also allow them to keep Green in town as well, as he's become a big piece of the Spurs rotation.
Diaw, Anderson and Mills will likely be allowed to walk, but there's really no big loss there. With the additional cap space, San Antonio will likely be able to add another piece or two, and that's a pretty scary thought for the rest of the NBA.
Oklahoma City Thunder
RFAs: None
UFAs: Royal Ivey, Derek Fisher, Nazr Mohammed
The Thunder already have $63.8 million committed to next season, so signing any free agents is an unlikely proposition.
As far as their three unrestricted free agents, it's doubtful the Thunder retain any of them, but if they were to signal out one, it would likely be the 14-year veteran Mohammed, who has value as a big body coming off the bench.
Miami Heat
RFAs: Terel Harris
UFAs: Eddy Curry, Ronny Turiaf (player option), Juwan Howard
Miami is way over the proposed $58 million salary cap, with $78.1 million already committed to next season.
As for the current Miami free agents, the team may elect to attempt to re-sign one or two of their UFAs due to the fact that the Heat are a very small team as it is. But if they allow all three to walk or possibly retire in Howard's case, it won't have much impact on how Miami performs in 2013.
Boston Celtics
RFAs: Greg Stiemsma
UFAs: Ray Allen, Brandon Bass (player option), Marquis Daniels, Keyon Dooling, Kevin Garnett, Jeff Green, Ryan Hollins, Sasha Pavlovic, Mickael Pietrus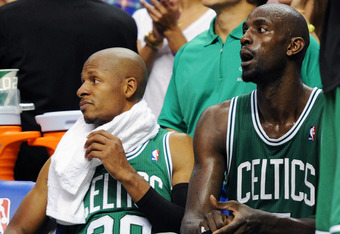 Drew Hallowell/Getty Images
The only team remaining in the postseason that will be truly effected by the offseason is the Celtics, evident by the ton of players whose contracts are set to expire.
Currently Boston has only five committed players to their 2013 roster, accounting for $35.5 million
Looking at Boston's three major free agents in Bass, Allen and Garnett, Danny Ainge has some decisions to make.
Bass could elect to become an unrestricted free agent and cash in on his success. If that's the case, then Ainge faces a very tough decision, but given the cap flexibility Boston has, it's doubtful he allows Bass to walk.
Allen is a different story, as there's almost no chance he is in a Celtics uniform next season. Several team could use some perimeter shooting, and despite Allen's rough finish to the 2012 season, he will have plenty of suitors. My prediction is that Allen is wearing a Los Angeles Clippers jersey next season.
He was nearly traded there before the trade deadline and could be the Clippers' top priority in the offseason.
Finally, there's Garnett and the toughest decision that Ainge faces.
Coming off the season he did, averaging 15.8 points and 8.2 rebounds per game, KG showed that he can still play.
Yet, he's also someone that Boston won't be investing three or four more years on.
If Ainge can get Garnett to accept a one-year deal, then I expect him back in Boston. But someone will offer him a multi-year contract, and this will be Garnett's final chance to cash in on big money.
My prediction is that KG is heading to Brooklyn, as the Nets made it clear in April that he will be a target in the offseason.