Stanley Cup 2012: What Another Title Would Mean for Martin Brodeur's Legacy
May 28, 2012

Paul Bereswill/Getty Images
Forget riding off into the sunset. Martin Brodeur still wants the spotlight.
It's not that he needs it, but at least that's how he's playing right now.
Brodeur outdueled New York Ranger's Henrik Lundqvist in the Eastern Conference finals, capping an epic six-game series win with a 3-2 overtime victory Friday night. Historically, the ticket to the Stanley Cup Final exorcises some demons from 18 years earlier to the day (May 25, 1994), when Brodeur's team lost a conference finals Game 6 to the Rangers before losing Game 7 in double overtime at Madison Square Garden.
As for the present, it means the greatest goaltender of all time moves on for a chance at a fourth title, while the greatest goaltender of today must sit at home and wait his turn.
It's not that Brodeur needed to exorcise the demons from that fateful interstate series 18 years ago. Certainly there weren't many—if any—left after hoisting hockey's holy grail three times and winning four Vezina Trophies as the NHL's best keeper.
But if Brodeur wasn't bothered by the past, he was definitely reminded of it. Today's New York and national media would never let him play Friday's game without first making him relive his rookie season when Rangers captain Mark Messier guaranteed a Game 6 victory then delivered with a hat trick.
The now-40-year-old future Hall of Famer was then, of course, forced to ponder 1994's Game 7 when his 22-year-old rookie self ended up on his back after Stephane Matteau scored a wraparound, series-winning, double-overtime goal to send the Rangers onto the final and Brodeur's Devils back across the river.
As Yahoo! Sports' Nicholas J. Cotsonika writes, "The last time the Battle of the Hudson was fought in the conference final, it seemed like yesterday if you read the New York papers this week and watched the first two periods play out."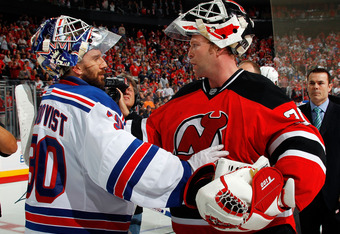 Bruce Bennett/Getty Images
Both times, the Devils won two straight and seized a 3-2 series lead to set up Game 6 on May 25 in New Jersey, Cotsonika notes. Both times, the Devils took a 2-0 lead in that next game and put the Rangers on the brink of elimination before a player from the former Soviet bloc cut the Devils' lead to 2-1 (only this time it was Ruslan Fedotenko, not Alexei Kovalev). Both times, the captain of the Rangers tied the game, only this time it was Ryan Callahan, not Messier.
But as the only player remaining from the 1994 series, Brodeur made sure history wouldn't completely repeat itself. Instead, he completely stonewalled the Rangers to allow time for another Adam Henrique overtime clincher.
Henrique—a 22-year-old rookie, just like Brodeur in '94—was the hero in a double-overtime Game 7 in the first round against the Florida Panthers, and he was the hero in again here in Game 6 of the Eastern Conference final. He scored just 63 seconds into overtime to send New Jersey on to his game's biggest stage.
So now every one can forget about 1994, right?
"I don't know about that," Brodeur said, according to ESPN's Mike Mazzeo.
He continued:
This is to go to the big dance. When you're a kid, you dream of having the chance to win the Stanley Cup, and by winning we'll have the opportunity to compete for it. And along the way, we beat a big rival, especially for me [given what happened] 18 years ago, every body's been talking about. So now it's at least 1-1. I don't know if they're going to give us credit, but it's 1-1.
As Mazzeo puts it, the New Jersey Devils have always been the other team in the New York metropolitan area. And recently, Brodeur has become the other goaltender behind Lundqvist, who isn't considered just the best netminder in town, but the best in the NHL.
But like Brodeur did as a 22-year-old rookie, Lundqvist must wait his turn. Right now, a 40-year-old future Hall of Famer gets his chance to complete his legacy with a fourth Stanley Cup.
It's not that he needs to. Whether you value rings or records, Brodeur is your man for greatest of all time between the pipes. His official site lists 25 NHL records to his name, including most wins all time (656) and most shutouts in both the regular season (119) and postseason (24).
In terms of cups, three already gives Brodeur the sixth most among goalies, while a fourth would tie him at fourth with the likes of Patrick Roy and Billy Smith.
No, Brodeur doesn't need to beat the Los Angeles Kings for his legacy. He already has that. Instead, he just wants it for himself and those demon-free Devils.
"It's definitely nice to compete against the top goalies in the NHL," Brodeur said, according to Mazzeo, "but again, I'm not playing against any of them, I'm playing for my team."