Oakland A's: Pros and Cons of Manny Ramirez's Return to the Lineup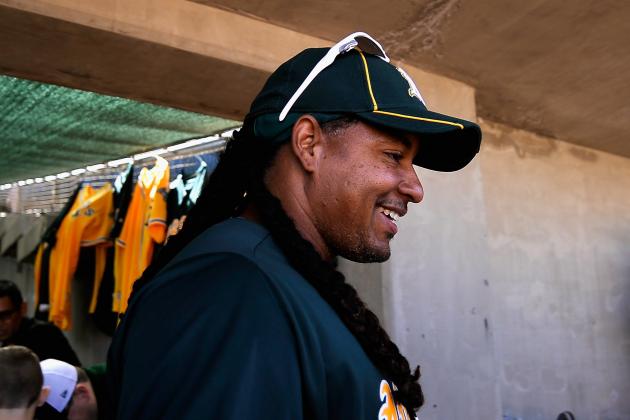 Kevork Djansezian/Getty Images

Manny Ramirez's much anticipated A's debut is just days away, with his suspension expiring on May 30.
With Oakland fans eagerly awaiting to see what the soon-to-be 40-year-old Ramirez is capable of after almost a year-and-a-half layoff, there are a few things to be wary of as Manny attempts his comeback.
Let's take a minute to examine the pros and cons of Manny's return to baseball with the A's.
Begin Slideshow

»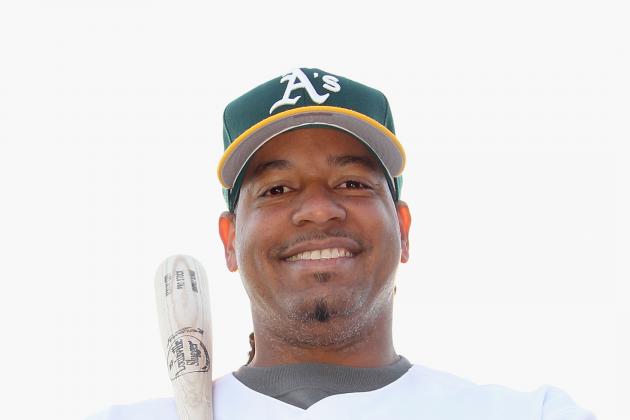 Christian Petersen/Getty Images
Manny Mania is about to begin a new chapter in Oakland
Rumors are swirling of the A's relocating away from their longtime home in Oakland, so anything to coax more persons to the box office is more than welcome in the East Bay.
With a headline name like Manny Ramirez inserted into the heart of the A's lineup, fan intrigue should increase and generate at least a small spike in ticket sales.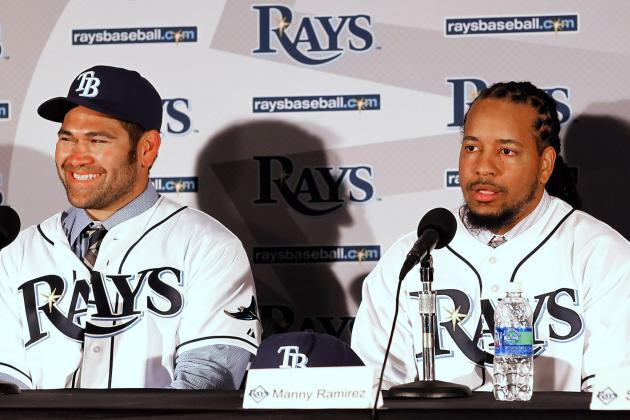 J. Meric/Getty Images
Manny's used to the spotlight, but most of the A's aren't.
Aside from the release of the blockbuster Academy Award-nominated film Moneyball last year, the A's have been relatively absent from the national spotlight for quite some time and a non-contender in the American league.
There should be a solid amount of media buzz surrounding Ramirez's return, and if Manny goes on a tear early in his comeback attempt, the A's could garner regular attention in mainstream sports media, which is always great for a small market franchise like the A's.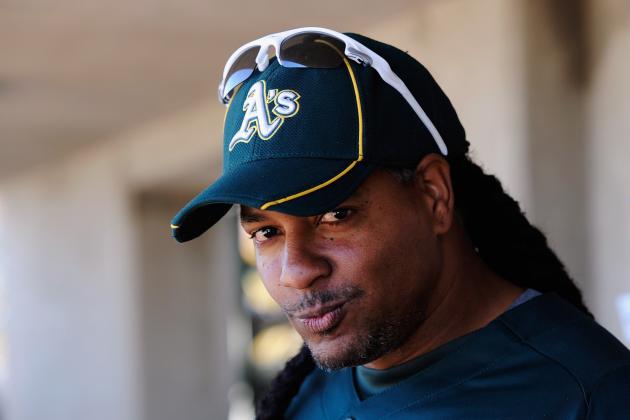 Kevork Djansezian/Getty Images
We're starting to see a little grey in the facial hair.
Manny might have been the man in his prime, but he'll be 40 on May 30, with his skills in decline.
A career .312 hitter with 555 home runs and a .996 OPS to boot, Manny hasn't played a full season since 2008. Though his numbers were solid in 2010 (.298 AVG, .915 OPS in 90 games and 265 ABs), players over 40 typically see a sharp decline in performance. It'll be tough for Ramirez to produce, since he's spent almost a year and a half away from the game.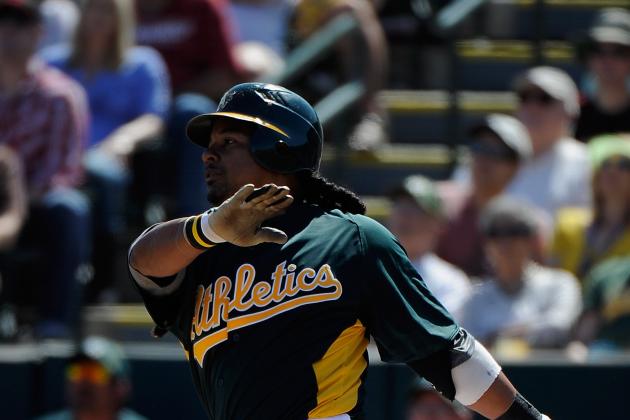 Kevork Djansezian/Getty Images

Regardless, Manny is a Hall of Fame-caliber player who should be a joy at the plate for A's fans, especially considering the hitting talent (or lack there of) in Oakland's lineup.
It's seldom that the bargain basement A's can afford to sign a talent like Ramirez, so fans and the organization should be looking forward to seeing his name etched in the starting lineup.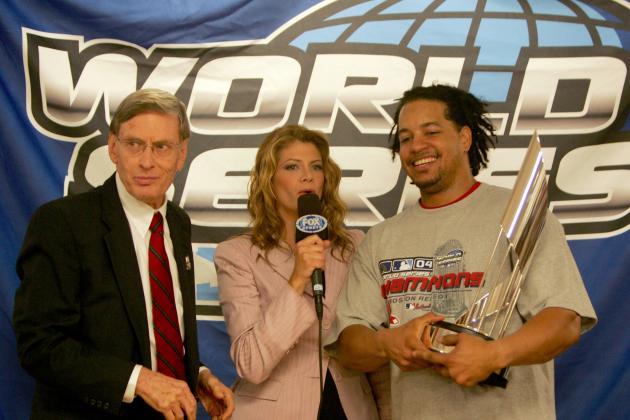 Ezra Shaw/Getty Images
No one will forget how Manny helped the Red Sox break the curse of the Bambino.
A celebrity, a baseball icon and and a character, Manny should be welcomed with open arms to the Coliseum. From his Manny being Manny segments on SportsCenter to guiding the Red Sox to their first World Series ring since the curse of the Bambino, Rarmirez brings the resume, talent and much needed swagger to give fans someone to focus their attention on when following the team.
Steroid allegations aside, Manny is the biggest name to play for the A's for some time. Superstars rarely make a pit stop in Oakland these days, and A's fans should enjoy it while they can.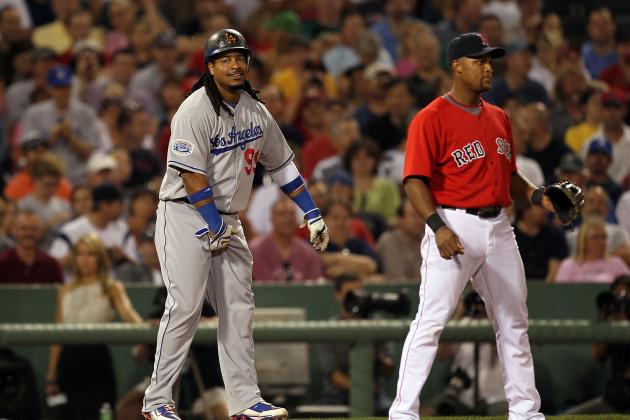 Jim Rogash/Getty Images
Manny still has to live with the bridges he burnt in Boston, LA and Cleveland.
Despite his talent and sometimes laughable antics, Manny has a bit of a reputation for being cancerous to MLB clubs. From being extricated from the Red Sox and Dodgers to his repeat offense regarding performance-enhancing drugs, Manny's off the field woes could far outweigh his production on it.
However, Manny recently claimed that he has rediscovered himself through God, leading to a positive change in his life. He said feels like he is ready to return to baseball and not be detrimental to his club.
Whether or not Manny can actually live up to his word remains to be seen.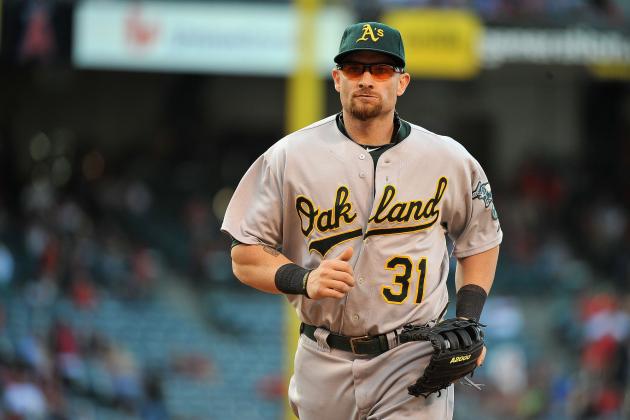 Jonathan Moore/Getty Images
Gomes hasn't been great, but manager Bob Melvin has the task now of juggling three guys who play the same position
The A's are particularly deep at both of Ramirez's positions, left field and designated hitter. While Jonny Gomes and Seth Smith haven't played well enough to justify regular starts on either side, it could prove to be a bit challenging for skipper Bob Melvin, as he works Ramirez back into the big leagues.
While depth does give Melvin the opportunity to rest the 40-year-old Ramirez, he will need to be wary of making sure Manny sees enough at-bats to adjust back to the majors effectively.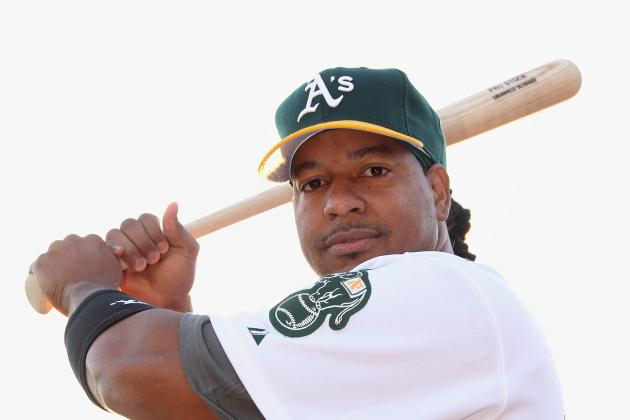 Christian Petersen/Getty Images
Manny might be part of the answer to the A's offensive woes.
The A's rank near the bottom of the majors in almost every offensive category, scoring just 158 runs on the year (28th) and hitting .209 as a team (last). While Manny might be far from his prime, he's a definite upgrade to most of the A's lineup on namesake alone.
With the A's starting to flounder below .500 at the quarter mark of the season, Oakland desperately needs someone to spark their lineup if they plan to chase a playoff berth down the stretch. Manny Ramirez could be the jolt they need to kick-start the offense.