Los Angeles Lakers: Step-by-Step Guide to the Offseason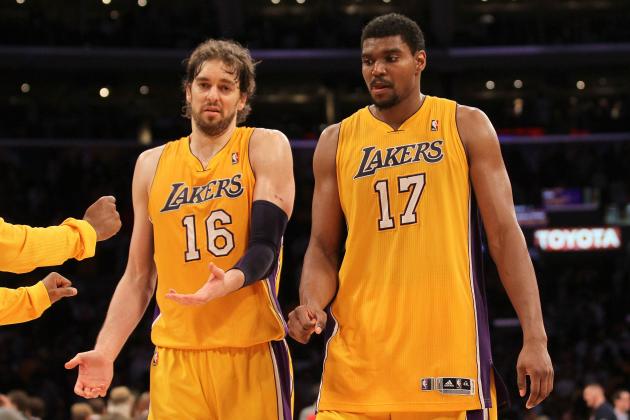 Stephen Dunn/Getty Images

The Los Angeles Lakers have been eliminated for a whole week now.
This is enough time for all Laker fans to step back and not make any rash decisions regarding the team.
The secret for future success isn't that difficult for the Lakers. No, it doesn't require blowing up the team. The Lakers are good enough with what they have at the core.
That being said, a new point guard along with some veteran bench players can propel the Lakers to a championship level team.
Here's a step-by-step breakdown of the 2012 Lakers offseason.
Begin Slideshow

»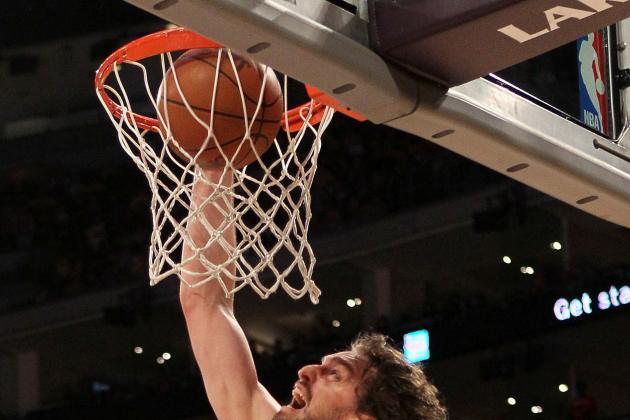 Stephen Dunn/Getty Images

That's right.
The Los Angeles Lakers should keep Pau Gasol in every circumstance but one. If the Brooklyn Nets are willing to offer Deron Williams for Gasol in a sign-and-trade, then the Lakers should obviously do that trade in order to answer their point guard questions and build the team for the future.
This trade might actually be enticing for the Nets, too. They'll get someone for Williams rather than letting him walk away for nothing.
However, if the Lakers aren't getting anyone as valuable as Williams for Gasol, then they should keep him. It makes no sense for the Lakers to trade Gasol for guys like Luis Scola, Kyle Lowry or Josh Smith.
The Lakers don't become a championship team by doing that trade. They simply trade a B-plus player for a bunch of B-minus players. Sure, they get deeper, but they don't get better.
Gasol is a fantastic player, and the Lakers know this. He had over 40 double-doubles this season, and he has consistently put up at least 17 points per game every season throughout his career.
So why in the world would the Lakers want to trade a player that exemplifies consistency and stability?
Sure, he didn't step up during some games this postseason, but there were other games where he showed up, and the Lakers won. He's merely a scapegoat. The Lakers' problem isn't Gasol, and every Laker fan knows that deep down.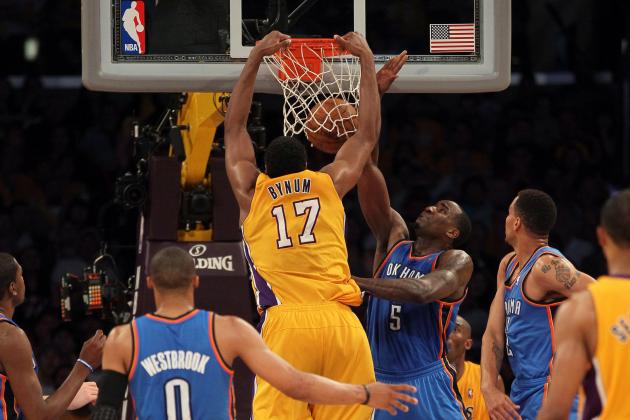 Stephen Dunn/Getty Images

This is the same story as Pau.
Andrew Bynum is much too talented to trade. There aren't many teams that are going to give the Lakers a mutually beneficial deal. Bynum is the second-best center in the league, and unless they're doing a sign-and-trade to acquire Dwight Howard, the Lakers must keep Bynum and sign him to an extension.
One may argue that Bynum is highly injury-prone, and that because of his injury history, the seven-foot center will get hurt again in the near future. That being said, Bynum is the type of player who you take gambles on. What if he doesn't get hurt? What if he stays healthy and continues to improve?
He showed this season that he could stay away from the injury bug, and that's enough for the Lakers to know that Bynum is deserving of an extension.
Is he a headache at times? Yes, but that'll change as he gets older. Everyone grows up.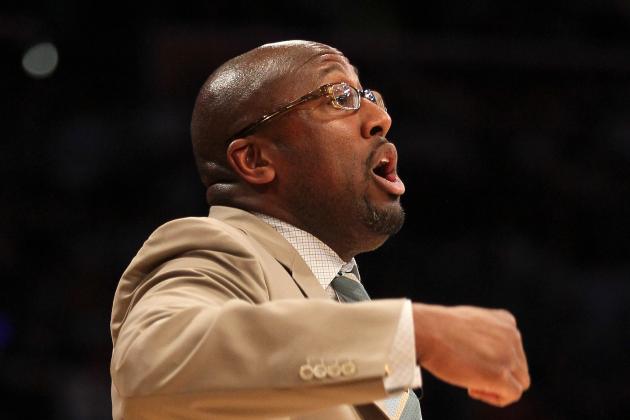 Stephen Dunn/Getty Images

Some Laker fans are after Mike Brown's head, too.
Really?
Brown didn't even have a full training camp to get his team ready for basketball. More than half the season was spent on trying to get the Lakers players used to Brown's system, which was immensely different than Phil Jackson's.
Brown also had to deal with many outside distractions like the Pau Gasol trade rumors, the Lamar Odom fallout and the vicious LA media.
Give Brown a chance.
As far as I'm concerned, next season is the first full season for Brown, and he shouldn't be evaluated until after next season.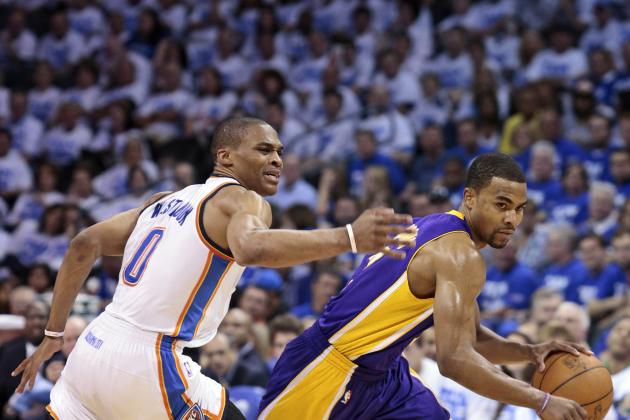 Brett Deering/Getty Images

Ramon Sessions has a player option, and if he exercises it, he'll be back in Los Angeles for his first full season for the Lakers.
Despite being a massive improvement over Derek Fisher, Sessions still has a few deficiencies, especially on the defensive side of the ball. Opposing point guards still torched the Lakers, as we saw during the Western Conference semifinals.
Even if Sessions exercises his player option, the Lakers could still use a point guard. Whether it's getting Deron Williams via sign-and-trade, placing an offer sheet for Jeremy Lin or even pursuing former rival Steve Nash, the Lakers must sign a new point guard to be their starter.
Having Sessions on the bench would be a luxury, and it would allow the team to trade Steve Blake.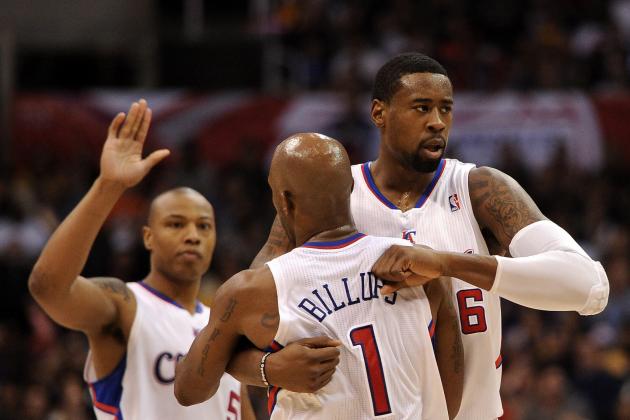 Harry How/Getty Images

When the Lakers lost Derek Fisher, they lost a plethora of experience and leadership.
Chauncey Billups can help restore that and bring excellent play from the bench at an affordable price. He only made $2 million last season, and he averaged close to 15 points per game.
Now that's value.
Not to mention the off-the-court presence he can bring for a franchise. He can be the new Derek Fisher. He's played in huge game throughout his career, and he can bring his veteran leadership to a locker room that needs it.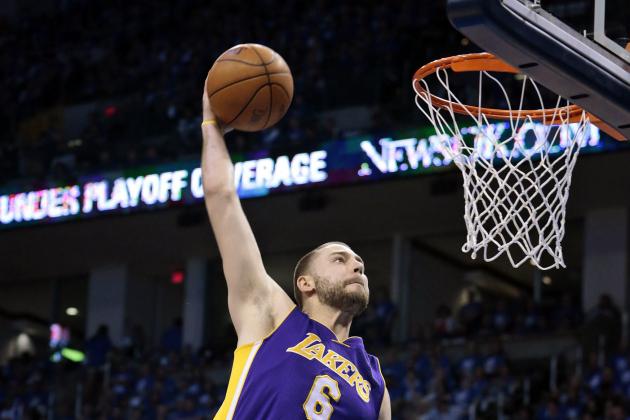 Brett Deering/Getty Images

Before the Los Angeles Lakers pursue some bench players, they must clear some cap space. They already have Troy Murphy, Matt Barnes, Devin Ebanks, Darius Morris and Andrew Goudelock coming off the books, but they still have Steve Blake, Christian Eyenga and Josh McRoberts under contract.
Blake and McRoberts combined will be making over $7 million. That's enough to bring a solid young bench player who could become an offensive specialist for the team.
The Lakers must trade Blake and McRoberts to clear up some space. They might even want to resort amnestying one of them.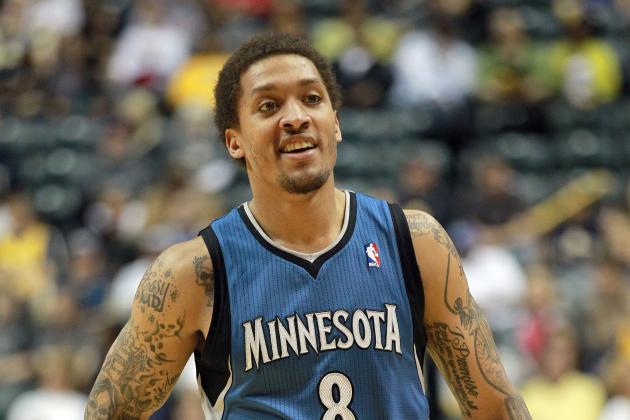 Andy Lyons/Getty Images

The Los Angeles Lakers had absolutely zero depth last season, and it showed, especially in the playoffs.
This could change this offseason.
The Lakers could add a variety of players from Michael Beasley to Jason Terry in order to improve their bench.
Beasley could add an infusion of youth to the bench, and he can instantly become a prime-time defensive specialist.
Terry, on the other hand, could be a momentum swinger. He can hit three-pointers at timely moments during tight games. The Lakers haven't had that kind of players since Robert Horry it seems.
If not Terry, then the Lakers could possibly go after Ray Allen. He would be an unbelievable three-point specialist.
Whoever they go after, the Lakers definitely need to go after someone.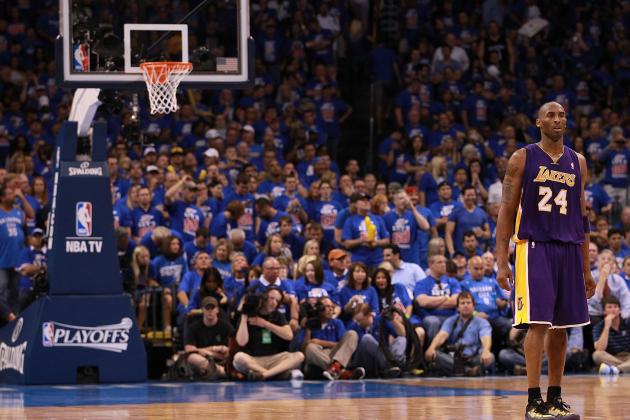 Ronald Martinez/Getty Images

Ideally, the Lakers starting lineup and rotation will look like this next year:
C - Bynum
PF - Gasol
SF - World Peace
SG - Bryant
PG - Jeremy Lin
Bench: Sessions, Billups, Beasley, Hill