Boston Celtics: 6 Reasons Bringing Back Ray Allen in Free Agency Isn't an Option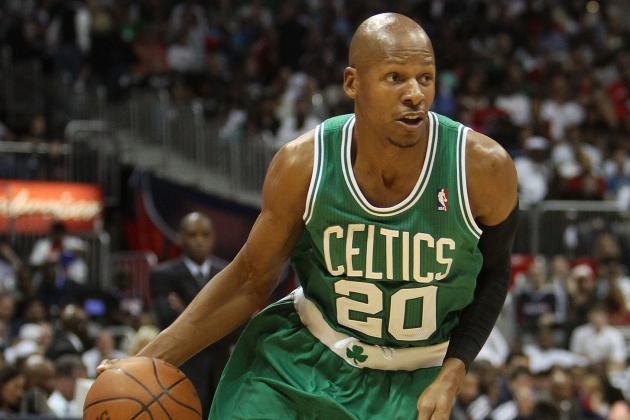 Mike Zarrilli/Getty Images

Boston Celtics guard Ray Allen may be a sure-fire, first-ballot Hall of Famer, yet there is no doubt that his days should be over and done with in Beantown.
This season, Allen has lost a step or two in his game on both ends of the floor, while suffering from injury as well.
It is tough to see a talent as consistent and dedicated as Allen go down. However, after this season, this could well be the end of the road for the He Got Game star.
Here are six reasons why the Celtics would make the right move in not bringing back Ray Allen next season.
Begin Slideshow

»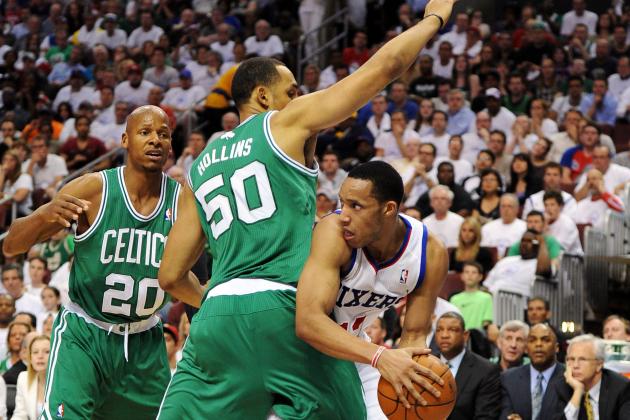 Drew Hallowell/Getty Images

In the second round of the 2012 NBA playoffs, it was clear Ray Allen was not in the shape he needs to be to play defense against younger, stronger players.
Evan Turner went to work on Allen throughout each of the seven games of the series, scoring nearly every time he decided to take him to the basket.
Although Allen showed significant improvement defensively in Game 7, this has to be a point of emphasis this offseason.
If the Celtics were to re-sign Allen, making sure he's physically fit to take on opponents defensively is a must. This is a team that defines itself on the defensive end, and Allen is a key part of that.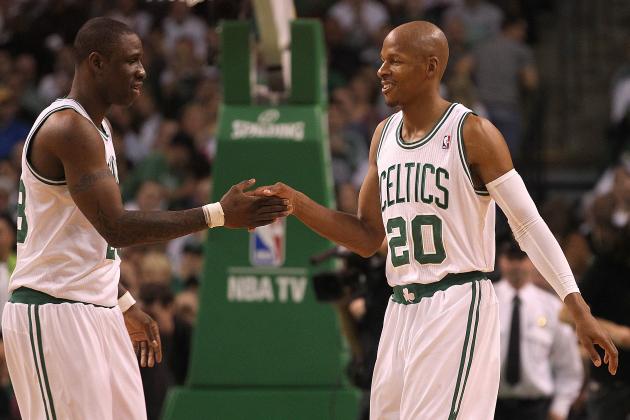 Jim Rogash/Getty Images

Of the 66 games this season, Allen played in just 46. Injuries kept him sidelined for a better chunk of the 2011-12 season.
As an organization, Danny Ainge and company have to make this a strong point to consider.
As great as Allen has been as a leader to his teammates throughout his tenure in Boston, the bigger point of emphasis has to be in his health. He may be a great talent, but not having him on the court is a problem that these Celtics cannot afford to have next season.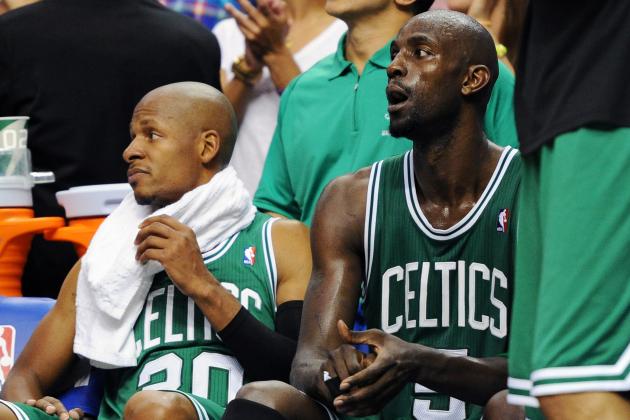 Drew Hallowell/Getty Images

The 36 year old, who will be 37 shortly after the end of the 2011-12 campaign, is nearing that age when players must consider leaving the game.
Considering his injuries, as well as the fact he is nearing the 40-year-old mark, there is no question the Celtics have big things to consider with re-signing Allen.
He is a tremendous talent, but it is difficult to imagine the Celtics will re-sign a costly player like Allen at 37 years of age.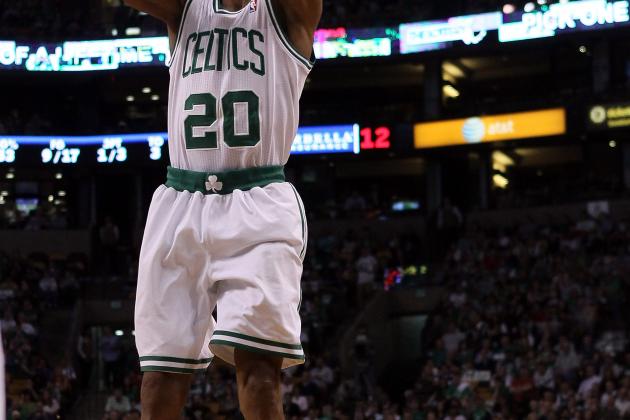 Elsa/Getty Images

Talk about a slump.
These 2012 NBA playoffs have been especially telling, as Allen has failed to deliver with consistency from three-point range.
Allen was just 12-for-50 from three-point range this postseason before hitting his final two three-point shots in the fourth quarter of Game 7 against the Philadelphia 76ers.
In spite of the injury, there is no question Allen has lost the "mojo" in his jumper. Make no mistake about it.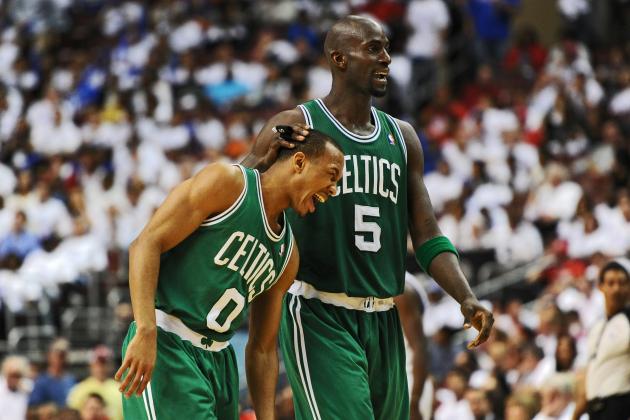 Drew Hallowell/Getty Images

In Ray Allen's absence, Avery Bradley has been just short of sensational in his minutes. More importantly, he has had his Celtics winning basketball games.
According to 82games.com, when the Celtics go with Bradley, Paul Pierce, Rajon Rondo, Brandon Bass and Kevin Garnett, they won 78.5 percent of their games this season. With Allen instead of Bradley in the lineup, the winning percentage goes down to 46.1 percent with a record of 12-14.
Bradley brings a defensive presence and quickness offensively that Allen simply doesn't bring with sore ankles and a struggling game overall.
Meanwhile, it is also important to consider the Celtics could well re-sign Jeff Green, who would also take up minutes and money that Allen has been earning.
If the Celtics are to develop significantly in the future, the improvement of these two young talents will be critical.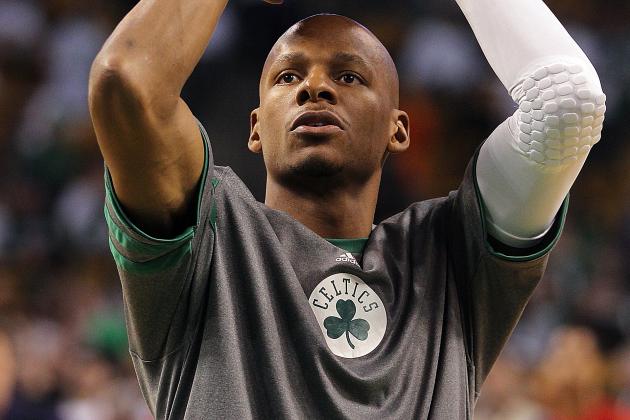 Jim Rogash/Getty Images

Ray Allen missed the last nine games of the regular season with injured bone spurs in his right ankle.
As a result, the Celtics had to play Avery Bradley for a better part of each game, which took a significant toll on the young stud. Bradley, now suffering from a shoulder injury, is in question.
If the Celtics cannot count on Allen's health this postseason, it is especially difficult to fathom this organization keeping him in green and white when it's all said and done.