Matt Kemp, Juan Rivera Homer in 1st Rehab Game, Kemp Set to Return to LA Tuesday
May 28, 2012

Doug Pensinger/Getty Images
The vacation is over for the rest of the National League as the potential MVP is about to make his presence felt once again.
The Los Angeles Dodgers are flying high with a league best record of 32-15 entering Monday. They have done all of this for the last two weeks without their leader Matt Kemp.
Kemp is ready to come back and the Dodgers are poised to leave the rest of the majors in the dust.
The Dodgers have also been without Juan Rivera, who ruptured his hamstring. Both outfielders began a rehab assignment on Sunday at Triple-A Albuquerque.
Kemp did not waste any time showing the Dodgers that he was healthy and ready to go at the big league level.
Kemp had an RBI single in the first inning followed by a two-run home run in his next at bat. After striking out in his final at-bat, Kemp was done for the night.
Rivera also added a two-run home run in his first game at Triple-A and was hit by a pitch which resulted in both benches being warned.
The Dodgers could not have been happy with the drama on the farm resulting in their big leaguers getting hit.
Nevertheless, the two men finished the game combining to go 3-for-5 with two home runs and five RBI.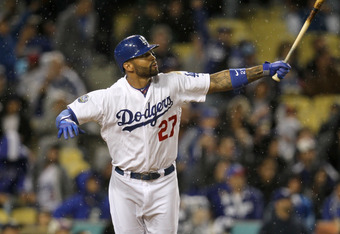 Stephen Dunn/Getty Images
Not a bad start to their rehab assignments.
Kemp will make on more appearance on Monday before being activated on Tuesday, the first day he is eligible, according to Dodgers.com. As for Rivera, he will likely head to Class A Rancho Cucamonga to continue to work on his timing.
Kemp has 12 homers and 28 RBI before being placed on the DL retroactive to May 14.
Kemp is ready to bring beast mode back to Los Angeles.