UFC 146: Power Ranking the Potential Bouts for the Heavyweight Winners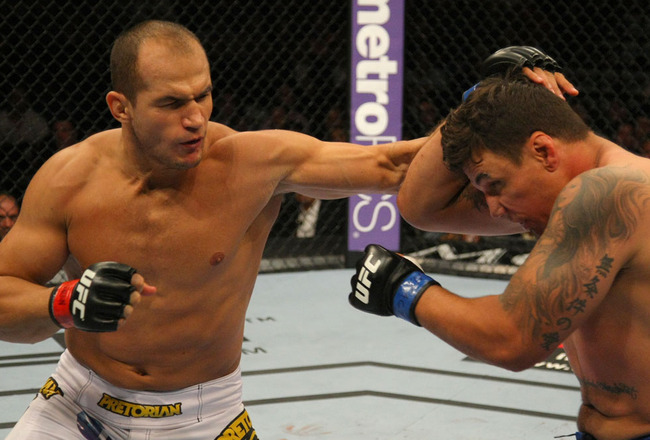 Photo via UFC.com

As expected, the UFC 146 main card made up of all heavyweights went a long way in defining the division's landscape.
With all five of the victors taking home stoppage victories and none needing the third round to finish the fight, all of the winners made an emphatic statement that they deserve a step up in the rankings. As exciting as the fights were, as fans we always want to know what's next. It's never too early to take a look at what may lie ahead for the winners.
Here are potential bouts for each winner ranked in order of potential awesomeness.
4. Stipe Miocic vs. Gabriel Gonzaga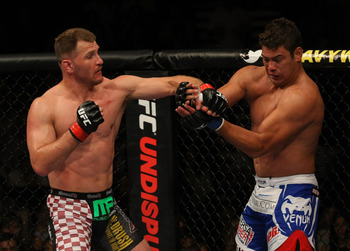 UFC.com
Stipe Miocic continued his impressive climb up the heavyweight ladder when he defeated previously unbeaten Shane del Rosario by TKO in the second round.
The win marked Miocic's third win in the Octagon and leaves him with a 9-0 record in his professional career. Miocic has a great blend of standup prowess and ground game that has led to two finishes and a lopsided decision victory over Joey Beltran.
The next logical step-up in competition for Miocic may be veteran Gabriel Gonzaga. Gonzaga has fought some of the biggest names in the history of the division and even fought for the title against Randy Couture at one point in his career. He now finds himself on the comeback trail after starting his second stint with the promotion successfully against Ednaldo Oliveira at UFC 142.
Gonzaga would present a winnable, yet challenging test as none of his opponents would bring the kind of tools and experience that Gonzaga brings to the table. This matchup would be exciting in the stand up or on the ground as both fighters are well-rounded.
3. Roy Nelson vs. Mark Hunt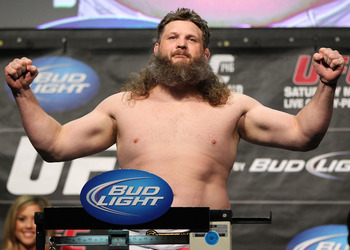 UFC.com
Roy Nelson could very well have been fighting for his job when he took on Dave Herman at UFC 146. If that was the case, the pressure certainly didn't get to him.
Nelson reminded us why you can never count him out as he landed a massive overhand right that forced Herman onto his backside and drew the referee stoppage a mere 51 seconds into the first round.
With all of his momentum, Nelson quickly turned his attention to letting Dana White know via Twitter that he is willing to take on former heavyweight champion Brock Lesnar.
That fight seems unlikely because Lesnar would first have to come out of retirement, and even if he does elect to fight again, the UFC will probably put him as close to a title shot as possible so that he can bring in the ratings and pay-per-view buys.
Personally, I think a Lesnar-Nelson matchup would be a lot of fun. However, a matchup between Nelson and Mark Hunt would be a nice consolation prize.
Two men with dynamite in their fists and not-so-stunning physiques showing off their iron chins in a slugfest is almost a guaranteed fight of the night candidate. Both fighters have made changes in their training recently and appear to be better than ever, so an eliminator between the two makes some sense and gives the fans a great fight to get excited about.
2. Stefan Struve vs. Fabricio Werdum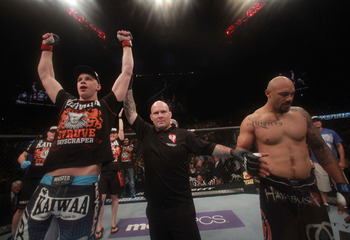 UFC.com
Frank Mir may have the best submissions in the heavyweight division, but Stefan Struve did his best Mir impersonation when he armbarred opponent Lavar Johnson in only 65 seconds.
Johnson was coming into the fight on short notice and with momentum after soundly defeating Pat Barry at UFC on Fox 3 so it was impressive that Struve was able to get the win so quickly. Johnson is a dangerous draw for anyone and Struve's ability to see the submission and go for it was a sign of his maturation.
At only 24 years old, Struve has 29 professional fights and has the momentum to earn himself a shot against a big name.
Fabricio Werdum would be a great matchup as he has a good deal of momentum himself after a one-sided beatdown of Roy Nelson that showed the fighter traditionally known for his world-class jiu-jitsu can also dish out punishment with his striking in the stand up and in the clinch.
While Johnson is primarily a striker who has struggled with submission artists in the past (he has five submission losses), Werdum would present a great challenge on the ground.
Pitting Struve and Werdum together would not only be a great fight stylistically, the winner would have a resume worthy of a No. 1 contender's bout or a title shot.
1. Junior dos Santos vs. Cain Velasquez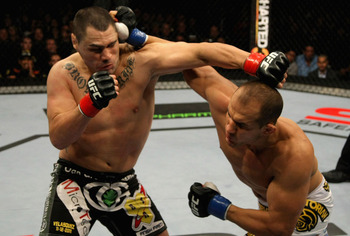 UFC.com
After watching both Junior dos Santos and Cain Velasquez do their thing at UFC 146, how could you not want to see these two fight again?
In the co-main event slot, we saw Cain Velasquez remind everyone how he became the UFC heavyweight champion. His relentless assault against poor UFC newcomer Antonio Silva left him a bloody mess with no shot at victory. Velasquez put the pressure on early and simply did not stop until he had his hand raised.
Not to be outdone, Junior dos Santos reminded us why he is considered the best heavyweight in the world. Despite a solid attempt in the beginning of the first round, Frank Mir was never able to drag the champion to the mat and that was the beginning of the end.
Simply put, the only way to beat Junior dos Santos is to put him on his back. Unfortunately for his opponents, he's made that look nearly impossible as nearly everyone he's fought has been forced to fight the fight at his pace and into his style.
Dos Santos stalked Mir and forced him into mistakes then bullied him with barrage after barrage of bombs that eventually left the challenger unable to defend himself anymore.
What UFC 146 showed us is that these two undeniably stand alone in the division (at least as long as Alistair Overeem remains in the shadows). We got to see this fight once, but it largely failed to deliver on the hype.
One perfectly landed Dos Santos overhand right that struck right behind the ear finished the fight early and Dos Santos was named champion. This time around the result may still be the same but the fight is almost guaranteed to bring more excitement. After watching both of these fierce heavyweights lay two solid opponents to waste, we must see these two cross paths again—it earns No. 1 billing in these power rankings.
Keep Reading