Indiana Pacers: 3 Reasons Roy Hibbert Is the Next Great Big Man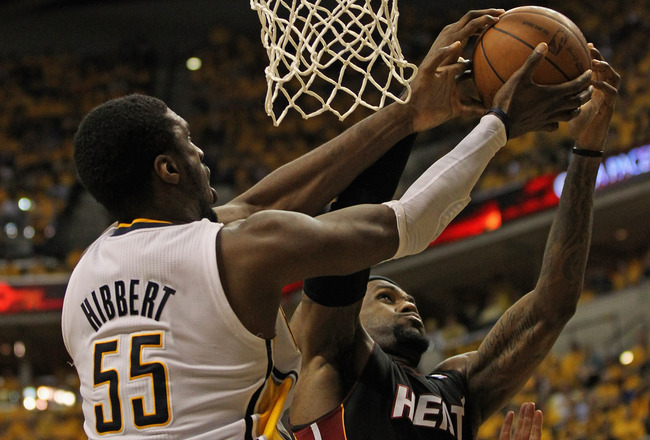 Jonathan Daniel/Getty Images
The NBA has now become a league driven by point guards. The days of centers dominating the league as well as the flow of the game are just about finished.
The list of elite NBA centers was quite slim with only Andrew Bynum and Dwight Howard. By the end of the 2012-13 season, Roy Hibbert will be added to that list.
After a couple years of adjusting to the NBA, Hibbert is finally scratching the surface of his potential. The first-round Georgetown product burst the scene this year with his first All-Star appearance, plus a playoff berth from the Indiana Pacers.
Hibbert showed some bright flashes during the regular and postseason of 2011-12. Plenty more lie in his path as a Pacer. Here are three reasons why Hibbert will become the NBA's next great big man.
1. Size/Skill Combo
Jonathan Daniel/Getty Images
Nothing more fortunate for an NBA team than to have a seven-foot giant apart of your game plan. To Hibbert's credit, he uses his 7'2", 260-pound frame offensively and defensively.
Hibbert's offensive numbers weren't astounding averaging only 12.8 points a game, but the Pacers' big man established a respected series of moves. Hibbert added a short baby hook as a go-to move on the block offensively.
Hibbert also made his presence felt on defense averaging 8.8 rebounds along with two blocks a game. Those numbers increased during the playoffs averaging 11.2 boards and 3.1 blocks.
Hibbert isn't a strict defensive specialist like Tyson Chandler, or an offensive one-trick-pony like Dwight Howard. Defenses learned to take notice of Hibbert on both sides of the floor. If Hibbert can consistently score on offense, and stay out of foul trouble, you'll be hearing from this man for plenty of years to come.
2. Perfect Fit for Pacers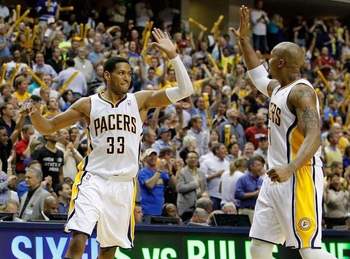 After a roster overhaul the past couple of seasons, the Pacers have finally put together a solid core to build around, especially in the frontcourt.
Hibbert has the luxury of playing next to two quality inside-outisde scorers in David West and Danny Granger. West has the capability to post up on the block, as well as spot up for open jumpers. Granger is more wing-effective with his jump shot and ability to drive the lane.
The Pacers are one of the more balanced teams in the NBA, and don't call for a dominant game from the same player night in and out. Hibbert does his job on defense, but isn't always a prime option in the Pacers offense. Because of the equal production along the Indiana roster, there isn't much pressure on Hibbert to dominate offensively every game. As long as his team stays involved and active, he's able to do his job as the big man in the paint.
3. Mentally Tougher Than Competition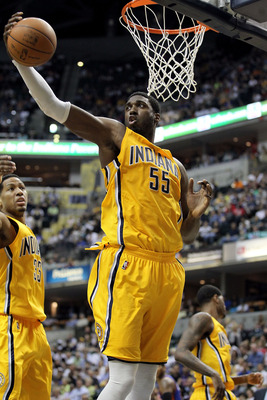 Andy Lyons/Getty Images
Dwight Howard and Andrew Bynum were the two lone complete centers this season before the emergence of Hibbert. Next season, Hibbert has a chance to separate himself from the pack.
The biggest difference between Hibbert and the rest of his two center competitors is his mental toughness. During the postseason, Bynum seemed to check out of games mentally for the Lakers. Howard had another great statistical season, but the majority of the Magic conversation this year surrounded trading the Orlando big man.
Both men are in chance of not finishing or beginning the 2012-13 season with their current teams. Hibbert should be a Pacer for plenty of years to come.
Hibbert always gave maximum effort when on the floor and never created a negative vibe in the locker room as did Howard and Bynum. Hibbert needs to become more consistent, and must learn to stay out of foul trouble. However, Hibbert is dedicating to winning and helping the Pacers win instead of creating drama off and on the floor.
Keep Reading

Indiana Pacers: Like this team?